On December 1st at Madison Square Garden in New York City, Miguel Cotto will challenge Austin "No Doubt" Trout for his WBA Junior Middleweight title. It's the biggest fight of Trout's career, and it's another chance for Cotto to recapture a championship belt.
Perhaps even more importantly is what's at stake for the winner. In my eyes, the winner of Cotto-Trout will be the leader in the clubhouse in terms of landing a May 2013 Cinco de Mayo weekend clash against Saul "Canelo" Alvarez.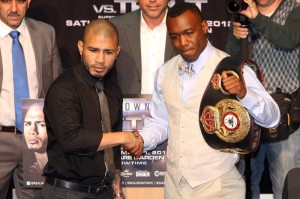 Trout (25-0, 14 KOs) is coming off the biggest win and best performance of his career, a dominant effort over Delvin Rodriguez in June, culminating in a wide Unanimous Decision victory. Cotto (37-3, 30 KOs) had fought less than a month earlier, acquitting himself excellently but ultimately losing in a game effort against Floyd Mayweather.
With Cotto vs. Trout, we'll see an excellent clash of styles, and a major test for both men. Cotto finds himself in the role of steely veteran, while Trout is looking for that true breakout win which validates his standing and launches him into stardom.
He'll get a chance to do that in front of a raucous pro-Cotto crowd in the ring at the Mecca of Boxing, televised live on Showtime. But the crowd won't be his biggest concern — the thudding blows, come-forward aggression and trademark body work that Cotto brings to the table will be.
Trout certainly has a chance to play matador in this fight and keep Cotto at the end of his crisp and precise shots. His youth, speed and five inches of reach advantage will all help him in that regard. Ultimately though, I'm not sure if Trout has enough firepower to deter Cotto from simply wading in behind his own jab, a continually underrated weapon.
Further, this is such a huge step up in class for Trout, and there are questions he hasn't been forced to answer yet. How well he takes a punch and how he responds to adversity being chief amongst unresolved issues.
I also believe that Mayweather will be watching Cotto vs. Trout very closely. Depending on who wins that bout, and what happens with the fourth fight between Manny Pacquiao and Juan Manuel Marquez, Mayweather may make a move to land a Canelo de Mayo bout for himself in 2013.
However, for Team Canelo, a fight against the winner of this fight – particularly Cotto – makes more sense for them. Cotto is the biggest boxing star in the country after Mayweather and Pacquiao, so he brings his mass appeal with him. Further, in their eyes, Cotto will offer an easier, albeit still daunting, challenge than Mayweather would. (Trout, for his part, doesn't bring the A-list attraction of either man, and his controlled boxing style will be less appealing as well).
You can be sure that Canelo Alvarez and Golden Boy will be watching the action closely over the coming months. If things play out the way I expect them to, then get ready for what would be a fantastic and thrilling Cotto vs. Canelo clash over Cinco de Mayo weekend in 2013.
Comments
comments