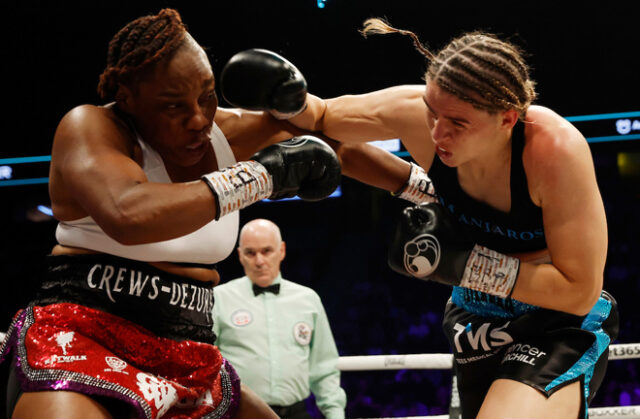 Savannah Marshall became the undisputed super middleweight champion at the AO Arena in Manchester, as she wrenched the WBC, WBA, IBF and WBO belts from Franchon Crews-Dezurn in an attritional majority decision win.
Crews-Dezurn had completed the full set of world titles in her most recent contest last April, widely outscoring Alin Cederroos to add the WBA and IBF belts to her WBC and WBO baubles, while Marshall was coming off a points defeat to bitter rival Claressa Shields for the undisputed middleweight title last October. Crews-Dezurn had suffered her only loss to Shields on debut over four rounds.
It was a cagey first round, but Marshall (13-1, KO10) was working well off her jab, and the second saw more give and take action with the American connecting with some decent blows. Crews-Dezurn (8-2, KO2) was walking into solid Marshall shots, and was content to stay in range and then hold. The champion was smothering Marshall's best work, and the fourth saw the two finally trade shots, but Crews-Dezurn looked to be tiring by the fifth, expending a lot of energy by holding the challenger at bay. Marshall was getting her shots off first,, and the two exchanged in the seventh, but it was a real war of attrition, with the stop-start nature causing hard to score rounds. Marshall looked tired herself in the eighth, but kept on her jab, while keeping the distance well, and the cleaner work from the Hartlepool native looked to have tipped the fight in her favour. The final round was a frantic one, with both swinging for the fences, and a gruelling clash went to the cards.
HEAVY SHOTS! 📈 🔥 pic.twitter.com/dWhQN0Qwxe

— Sky Sports Boxing (@SkySportsBoxing) July 1, 2023
One judge scored the contest 95-95, overruled by two tallies for Marshall at 99-92 and 97-93.
On the undercard, Ben Whittaker (4-0, KO3) put in another showboating performance, eventually forcing an eighth and final round stoppage against Vladimir Belujsky (13-7-1, KO9) in their light heavyweight encounter. Whittaker scored a third round knockdown with several chopping right hands, and then went through the motions, until unloading in the final frame, and with Belujsky slightly wobbled, the referee had seen enough.
The SPEED & FEROCITY of Ben Whittaker! That knockdown 😮‍💨 pic.twitter.com/wBollHKkni

— Sky Sports Boxing (@SkySportsBoxing) July 1, 2023
BEN WHITTAKER CLOSES THE SHOW! 🔥 pic.twitter.com/zS1RRciugA

— Sky Sports Boxing (@SkySportsBoxing) July 1, 2023
Natasha Jonas dropped down to welterweight, and took the vacant IBF world title with a one-sided eighth round stoppage of Kandi Wyatt (11-5, KO3). Unified super welterweight champion Jonas blitzed Wyatt with power shots in the opener, and that set the tone for the fight as she dominated proceedings. The end came at the start of the eighth round, when a salvo of combination punches convinced the referee that he had seen enough.
Natasha Jonas FORCES the stoppage! What a display against Kandi Wyatt 🔥

Now a two weight world champion 🏆🏆 pic.twitter.com/FEMykHOlZb

— Sky Sports Boxing (@SkySportsBoxing) July 1, 2023
Zak Chelli (13-2-1, KO6) was due to fight for the British super middleweight title against Mark Heffron, but Heffron withdrew through injury, and Chelli was upset by Mark Jeffers (16-0, KO4), who came in at just two weeks' notice to take a ten round decision win. Jeffers out-hustled Chelli, and had the better of the action, and was a deserved winner. A score of 97-93, and two scores of 97-94 confirmed Jeffers the victor.
Both men exchanging heavy shots! 🔥#CrewsDezurnMarshall | Now | AO Arena, Manchester | @SkySportsBoxing pic.twitter.com/EaZI3GErvg

— BOXXER (@boxxer) July 1, 2023
Super middleweight power puncher Callum Simpson (12-0, KO9) banked ten rounds for the first time in his career, as he was made to work by Boris Crighton (11-4, KO7). Barnsley's Simpson came through by scores of 99-91, 99-92 and 97-93.
💨 @CallumSimpson9 piles on the pressure! #CrewsDezurnMarshall | Now | AO Arena, Manchester | @SkySportsBoxing pic.twitter.com/r3jC5pNpv3

— BOXXER (@boxxer) July 1, 2023
April Hunter (7-0-1, KO0) gained revenge for a 2021 points defeat over six to Kirstie Bavington (7-5-2, KO2) as the super welterweight took a win on the cards over eight this time around at super welterweight. Bavington was dropped by a big right hand in the penultimate frame, and that proved crucial, as Hunter took the win by a single point at 76-75.
A 𝗛𝗨𝗚𝗘 right hand from @aprilhunterbox dropping @bavvo_ in the seventh💥#CrewsDezurnMarshall | Now | AO Arena, Manchester | @skysportsboxing pic.twitter.com/iZyKMSRISo

— BOXXER (@boxxer) July 1, 2023