Daniel Dubois is handling business in this 'new normal' in a typically calm and measured fashion and on Saturday night he continues his path of Heavyweight destruction against Ricardo Snijders.
The COVID-19 pandemic had put the burgeoning, unbeaten contender's career on hold like his fellow punching peers and the landscape has altered dramatically since the February announcement that he was set to face Joe Joyce in a fascinating domestic showdown.
Since then, the fight has been postponed twice, behind closed doors boxing has become the norm, Joyce has beaten Michael Wallisch and Dubois has seen Saturday's opponent change from Eric Pfeifer to the Dutchman Snijders, after the former failed to present an MRI scan to the British Boxing Board of Control.
However, perhaps most significantly of all 'Dynamite' has switched his day-to-day training from the renowned Peacock Gym in Canning Town to its new base in the quaint, rural town of Epping.
Owned by Dubois' coach Martin Bowers and brother Tony Bowers, the state of the art facility will house Dubois and his fellow promotional stablemates, Southern Area Super-Bantamweight champion Chris Bourke, Unbeaten Middleweight Denzel Bentley and Featherweight Louie Lynn amongst others, with a view to honing their talents in a private, modern space.
All four aforementioned fighters compete under the Frank Warren and Queensberry Promotions banner and the Hall of Fame promoter highlighted the significance of the move for the development of his young stable.
"Tony and Martin Bowers have done a brilliant job here in building this. For the fighters what an environment to train in," Warren told proboxing-fans.com.
"I think its an important move. Tony and Martin own the gym, it's their gym on their land and property and nearly all their fighters work with us, have contracts with us and I'm delighted.
"It shows you their commitment to the boxers that they've built this facility."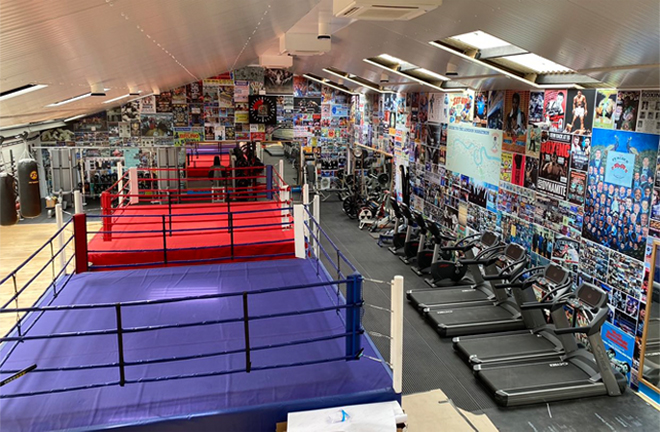 Its been a long-awaited switch from the famous gym, which the Bowers' admit has been accelerated due to the COVID-19 pandemic, but the move ends a long association in London's East End.
Martin and Tony spent years building the foundations for the gym, which has attracted the likes of Lennox Lewis, Frank Bruno and even the Klitschko brothers through its doors in recent years.
Originally renting out an unused building named 'The Rumpus Room,' the pair moved to a classroom in their first school, Drew Road to set up a gym, with the target solely of providing an alternative for the youngsters to delve away from the temptations of crime and disorder.
By 1981, The Bowers' moved base to the Railway Tavern, known locally as Cundy's, before switching back to their former school.
Identifying the perfect establishment continued for the Bowers' who utilised a function hall in the Peacock pub; one of the three Canning Town breweries they owned, as a gym before eventually opening their base in Caxton Street North in 1993.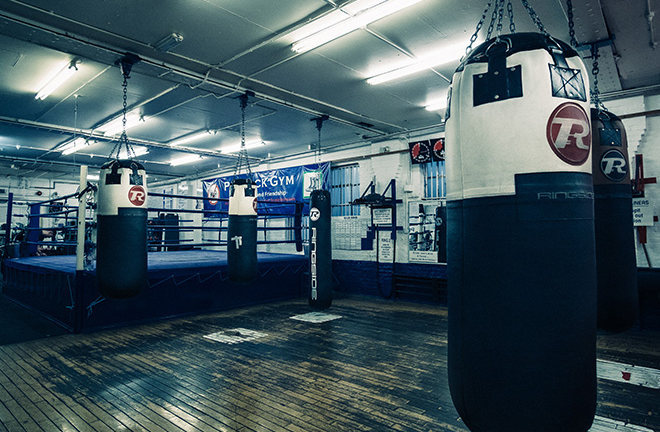 "It didn't start in Canning Town it started in Silvertown in a school called Drew Road school which is the school we went to as kids," Tony Bowers told proboxing-fans.com.
"In 1976, I started the gym and in 1978 we formed it together and from there on we've moved it from one place to another.
"The reason Peacock, was because the pub we owned at the time was where we had the gym and we were entering events under the name Peacock and it sort of stuck.
"We were doing running events, charity events, rowing events, all sorts of events and we had a little boxing club there called the Peacock.
"And that's how it carried on when we moved to the place in Caxton Street North where we are today.
"The 70s there was nothing for people to do, youth clubs were being closed, funding was being taken away from things and there was nothing for people to do.
"On our first day of opening in our new gym in Caxton Street North we had 1000 people join in the first week.
"We've had loads of people visit it especially from the world of boxing, from the world of film, there's been seven featured films done down there at one time or another."
They often say despite its brutality, boxing saves more lives than it loses and this saying seems applicable here.
The brothers achieved what they set out to do in providing a focal point for the community, predominantly for those that were lacking direction and Martin takes pride in what he has accomplished in the area, above all.
"Most of my standout memories are all community things," Martin Bowers told proboxing-fans.com.
"We've been lucky, all through that time we've had a lot of really good people around us, who've helped us along the way.
"So although boxing is our passion and everyone from the area, Canning Town, Silvertown have always followed boxing it's something that's ingrained in them.
"All areas need a community hub, whether it's a boxing gym, whether it's a football team you follow, whether it's a cricket team. Whatever brings your community together, boxing fortunately brings our community together.
"Whatever brings people to a club and gets them socialising and meeting people from different cultures and different backgrounds, you can't beat it."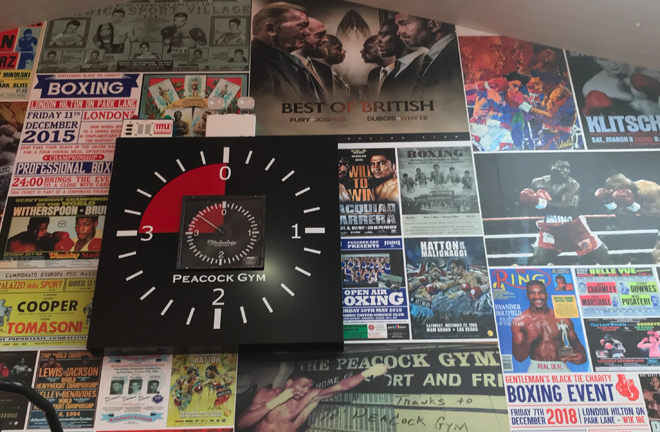 Floyd Mayweather Jr's 2009 public workout inside the main ring at the captured the imagination of the local crowds that filled in to get a glimpse of the pound-for-pound great, as he went through his paces with the late Roger Mayweather.
It's an establishment that developed and in turn attracted the very best from the globe, as well as nurturing it's own stable with Martin having trained the likes of former British Heavyweight champion Julius Francis, former Commonwealth Light-Heavyweight titbits Garry Delaney and the gym's first champion Graham Townsend.
🔥 DUBOIS EXPLOSIVE AHEAD OF SNIJDERS TEST

🥊 @DynamiteDubois was looking razor-sharp, as he pounded the pads & bag in the brand new @PeacockGym ahead of his ring return on Saturday against Ricardo Snijders! 💥

📺 FULL WORKOUT: https://t.co/JUye9z0CX9#Boxing #DuboisSnijders pic.twitter.com/lS1CoSb3Ci

— ProBoxingFans (@ProBoxingFans) August 26, 2020
"We've been fortunate over the years because of the unique position we're in in Canning Town, we get lots of different people coming along," Martin added.
"Lennox Lewis is from Forest Gate which is basically two minutes from us."
"From the world of boxing we've been privileged to have loads of people like Gerald McClellan, Lennox Lewis, Frank Bruno," Tony explained.
"When they first started off they came down, the Klitschkos."
As for Dubois, the highly-touted Heavyweight can set up a much-anticipated October 24 showdown with former GB teammate Joe Joyce, should he notch up an expected 15th straight professional victory.
However, with talk still rife over Dillian Whyte's shock upset defeat to Alexander Povetkin on Saturday, Daniel's coach Martin insists their only focus is on the challenge of the former Dutch Heavyweight champion on Saturday.
"Joe done well, Joe done his job, we've got to do ours Saturday night to make sure that fight happens, but we can't take our focus off the fight on Saturday night," Martin continued.
"That's all we've thought and that's all we've talked about.
"It's a great fight and it's a fight we all want to see, but we've got a job to do Saturday night and we've got to be very professional and keep focused on that.
"When we get past that we'll talk about Joe.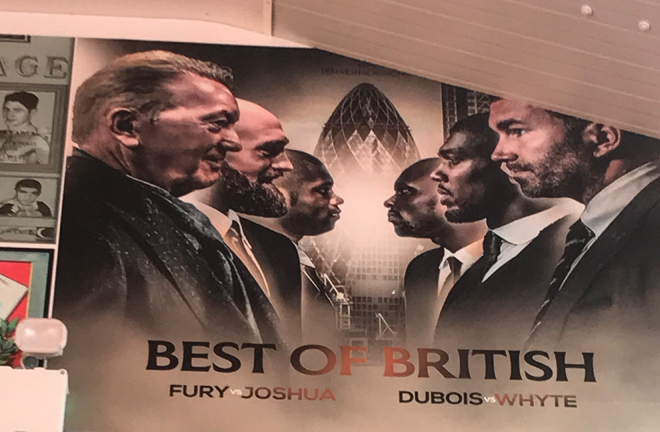 "Joe done his job and he done a good job of it, whatever you say, that's Joe's style and that's how he beats fighters."
A club steeped in history has taken a big step forward, generating a contemporary feel, whilst continuing to prompt its members of the significance of not only the club itself, but of the sport.
A constant reminder of what has proceeded them and what to strive for is visible all around with photos of some of the greatest fighters and fights of yesteryear, as well as memories from the now former site in Canning Town; traditions and history which will be carried through to the brand new facility.
Comments
comments