The highly anticipated and much-talked about fight for junior welterweight supremacy, Danny Garcia vs. Lucas Matthysse, has been finalized. Garcia vs. Matthysse will take place on September 14, as part of the Floyd Mayweather vs. Saul "Canelo" Alvarez event, The One, televised by Showtime Pay-Per-View.
Garcia vs. Matthysse would be a fantastic fight on its own, as the headline bout of a separate card. Yet, as part of the Mayweather vs. Canelo event, it makes for two excellent match-ups and a great night of boxing for fight fans.
ProBoxing-Fans.com currently ranks Matthysse at #1, and Garcia at #2, in the junior welterweight division.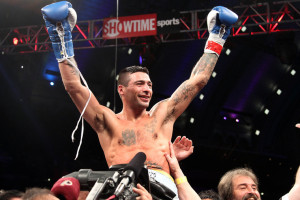 The announcement that Garcia vs. Matthysse has been made official for the Mayweather vs. Canelo PPV came this afternoon on a media conference call with Richard Schaefer and Leonard Ellerbe.
Schaefer ticked off lists of records and statistics about how much interest and business Mayweather-Canelo is doing already, basically going onto say that they didn't need to add Garcia vs. Matthysse to this event, but they chose to do so any way.
According to Schaefer, Mayweather vs. Canelo will break the Las Vegas gate record with over $19.5 million in ticket sales and 16,500 sold tickets, with another 12,000 closed circuit TV tickets in Vegas already sold as well.
Schaefer is right, you do have to credit Golden Boy, Mayweather and Showtime for adding this fight to the card. For one thing, any fight fan who wasn't already interested in buying Mayweather vs. Canelo absolutely will be interested now. You can't pass up on two fights this good.
For another thing though, the winner of Garcia vs. Matthysse becomes a fantastic opponent for Floyd Mayweather in his next Showtime-backed fight. It's smart business for all parties, even if it only incrementally adds revenue to the event itself.
The potential for other future matches between these guys and other big names in and around their divisions is also excellent.
Mayweather vs. Canelo and Garcia vs. Matthysse are two of the absolute best fights to see in the sport right now, and fight fans will see them both on the same night.