The Danny Garcia vs. Zab Judah 140 lbs title fight has been postponed from its original date of February 9th until April 27th. This is an official update following rumors which had been swirling that Garcia injured his ribs during sparring in camp, and he and his team were not going to go through with the fight at this time.
UPDATE:
An official statement has been released confirming the Garcia injury, and the postponement. The date has been set for April 27th:
Due to a rib injury sustained while training, Danny Garcia will be unable to compete in his scheduled February 9 world title defense against Zab Judah which was to be televised by Showtimefrom Barclays Center in Brooklyn, N.Y. As a result, the event, and its undercard bouts, have been postponed until Saturday, April 27 at Barclays Center and will be telecast live on Showtime.

All tickets purchased for the February 9 event will be honored on April 27.
ORIGINAL STORY: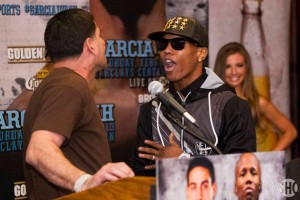 The key word is postponed, as this is still a fight that they will want to put together in the near future. However, with an entire slate of fights already planned for that night on Showtime and Showtime Extreme at the new Barclay's Center in Brooklyn, the event will go on. And there has been talk, at least from Zab himself, that he'll still be fighting against an as-of-yet unknown replacement opponent.
Certainly that makes sense, as Judah, a Brooklyn native, was the main draw for the event. And in an early-year boxing schedule which has been pretty ho-hum and devoid and big fights, it would be disappointing to lose a whole card. Not to mention that it's disappointing due to the build-up of this fight, and the near-brawl which occurred at the opening press conference.
Hey, Lucas Matthysse barely worked up a sweat on Showtime this Saturday night, landing a devastating one-punch knockout against his late-sub opponent. Why not a rematch of a controversial fight two years ago between Judah and Matthysse?
That's unlikely to happen, but we can certainly wish for it.
As of now, there's really nothing concrete to say in terms of when Garcia will be looking to fight next, and whether or not that will be against Zab Judah, and who, if anybody, Zab would face in two weekends on the Feb. 9th Brooklyn card.
Stay tuned for more updates on the cancellation/postponement of Garcia vs. Judah fight and what it means for all parties involved.