In this week's 3 punch combo, I will first feature an in depth look at two potential opponents for Floyd Mayweather that nobody is really discussing — Yuriorkis Gamboa and Paulie Malignaggi. Next, I will examine why Lucas Matthysse's electric performance on Saturday may make him a more avoided man in the Junior Welterweight division. And finally, I will look at Juan Carlos Burgos' future options in the wake of his controversial draw with Roman Martinez.
Floyd Mayweather's Opponent
Floyd Mayweather is scheduled to fight on May 5th. His opponent, however, has yet to be determined and has been under constant speculation for months.
We have all read about the two obvious opponents for Mayweather — either Robert Guerrero or Saul "Canelo" Alvarez seem to make the most sense. But for whatever reason, a deal has yet to be completed with either man. The Mayweather camp has kept very tight lipped about the opponent, only saying recently that any discussion of his impending fight against Guerrero was only a rumor.
Could this be because the person or persons they are discussing are currently on nobody's radar? Well, I'm going to throw out two names from left field that I feel might be under consideration: Paulie Malignaggi and Yuriorkis Gamboa.
Malignaggi's proposed fight with Shane Mosley fell apart this past week. Reportedly it was due to the financial demands of Malignaggi. Did Malignaggi back away from signing that contract in the hopes of getting something bigger? It is possible. He is a name and does hold a belt.
[Current Welterweight Top 10: Mayweather #1, Guerrero #3, Malignaggi #10]
Let's not forget that Floyd Mayweather is a brilliant business man. Why would he risk fighting a more dangerous opponent in Guerrero or Canelo when he could make good money fighting a less risky Malignaggi?
I know a lot of people probably think I am bit crazy even throwing Gamboa's name out as a potential opponent. It may be a long shot, but it's not as crazy as some may think.
Gamboa was recently discussing move up to 140 to face Timothy Bradley. If the money is right, then it is not unreasonable to think he would consider moving up a few more pounds to meet Mayweather at a catch weight.
Gamboa's promoter is 50 Cent. Considering the well-documented falling out between 50 Cent and Mayweather, it does not seem logical that they would want to do business with each other anytime soon. But remember what I wrote earlier about Mayweather being a brilliant business man. The bitter relationship between 50 Cent and Mayweather would be a great selling point for the pay-per-view. The 24/7 reality series, for example, would be must watch TV.
The announcement of Floyd Mayweather's opponent for May 5th is seemingly coming any day now, and don't be surprised if the chosen opponent is one that few are expecting.

Did Matthysse's Win Set Him Back?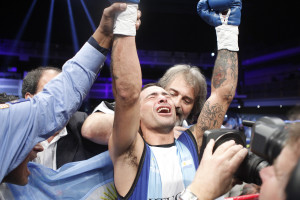 Lucas Matthysse scored an impressive first round knockout victory over Mike Dallas Jr. on Saturday. The performance, however, may have been too good for Matthysse if he has desires of facing the division's bigger names.
The Junior Welterweight division is arguably the deepest division in the sport today. While this can present many opportunities for the fighters in the division, the sheer number of ptions available can also cause for some very dangerous fighters to be avoided. Unfortunately, I think Lucas Matthysse will continue to be a very avoided man for the next year by the top fighters at 140.
The best fighter at Junior Welterweight is currently Danny Garcia. Garcia had a bout scheduled with Zab Judah, which has since been postponed, but I never thought the winner would be too anxious to get in the ring with Matthysse either way.
If Garcia defeated Judah, then he seemed to be on a collision course for a rematch with Amir Khan later this year. It's a simple risk versus reward scenario for Garcia. Matthysse is high risk. Khan, on the other hand, would seem to be a much lower risk given the fact Garcia KO'd him last year. In terms of finances, Khan's name would also certainly bring a bigger purse for Garcia.
Judah was ringside for Matthysse-Dallas and already had a very tough fight with Matthysse, in which he was lucky to escape with a victory. Do you really think he would want to face Matthysse if successful against Garcia?
Golden Boy, Matthysse's promoter, has been building him up as an entertaining brawler. Thus, for the time being, I foresee Golden Boy matching Matthysse with other brawlers in their stable at 140. First on that list will be fellow Argentine brawler Marcos Maidana. But don't be surprised if Jesus Soto-Karass and Josesito Lopez also end up as future Matthysse opponents. These are all solid fighters but none would be considered at the top of their respective weight classes.
If Dallas' speed had caused Matthysse issues, then he would have been in play to fight the division's best. But his thorough destruction of Dallas only enhanced Matthysse's power-punching reputation and will not make him an enticing opponent anytime soon for the top Junior Welterweights.
Juan Carlos Burgos' Future
Juan Carlos Burgos fought to a controversial draw last weekend with Rocky Martinez. There was an immediate call from the Burgos camp for a rematch. I feel Burgos, though, needs to go in a different direction.
Burgos was completely dominant against Martinez. Whenever Martinez tried to get to the inside, Burgos made him pay a severe price. And even on the inside the taller Burgos controlled the action with his devastating body attack.
The decision of a draw was absolutely ludicrous. There is universal recognition in the boxing community that Burgos not only won but did so convincingly. So why is there a need for a rematch? The only difference I see in a second fight that we did not see last Saturday would be the official scorecards would read in favor of Burgos.
Burgos is an entertaining boxer to watch. He throws a high volume of punches and is not afraid to exchange with his opponents. Burgos is also not the slickest defensive fighter in the world. All these factors make him a very TV friendly fighter.
Burgos has recently fought at Featherweight but seemingly has the frame to easily make the transition as high as Lightweight. There are many good potential matchups that exist for Burgos between those divisions.
One enticing bout that exists is against Lightweight Champion and rising star Adrien Broner. Broner has made it very clear that he is not leaving the Lightweight division anytime soon. However, finding suitable opponents for him has been a challenge of late. Burgos would certainly fit the mode of an opponent that both HBO and Golden Boy would find appropriate for Broner.
Even if he does not face Broner, there are many other directions Burgos can head. Mikey Garcia would be an interesting match at Featherweight. Burgos could also face Antonio DeMarco in what has the potential to be an all-out war. There are other possibilities that exist as well. In my opinion, any of these options would be better than a rematch with Roman Martinez.