Fight Prediction: Ward vs. Pavlik
The pride of Youngstown, Kelly Pavlik, will return to world championship boxing on January 26th, and in doing so he will attempt to scale what is arguably the highest peak in the sport by taking on WBC-WBA champ Andre Ward. Although The Ghost is a past top dog of the middleweight division, Pavlik has never held a super middleweight title and is coming back from an alcohol-fueled career slump. It's not the best background for taking on the "Son of God," the #2 Pound for Pound fighter in the world and a man who has chewed up and spat out most of the top tier boxers at 168 and 175 lbs.
Kelly Pavlik (40-2, 34 KOs)
6'2 1/2″, 75″ reach, 30 years old
Former World Middleweight Champion
Pavlik earned his place as the true (if not undisputed) world middleweight champion for good reason: he is a formidable puncher. Big for a middleweight, Pavlik is rangy, has good hand speed, can take a punch, and cracks with the best of them. He is also deceptively good with his feet, able to catch up with and corner some truly skilled and graceful individuals.
All of those things are still true, but the question mark hanging over Pavlik is just how true are they these days. Pavlik has wrestled with substance abuse, which takes a lasting physical toll on even young, redoubtable fighters. More to the point, no one outside of Pavlik's camp is really sure when he went deep into the bottle, since his career started spinning in neutral a year and a half before his loss to Sergio Martinez.
Ultimately, Pavlik would be very lucky if he could come back to being 90% of what he was when he dethroned a prime Jermain Taylor. Yet even at 100%, his next challenge would still be the biggest he could ever take on in his entire career, and his ability to prevail would be doubtful.
Andre Ward (26-0, 14 KOs)
6'0″, 71″ reach, 28 years old
Current WBC-WBA Super Middleweight Champion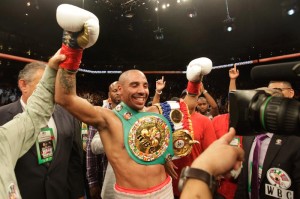 Ward is the man who prevailed in the Super Six tournament, dethroned the reigning light heavyweight champ, stands just behind Floyd Mayweather as the best boxer in the world, and is sometimes whispered of as the man to eclipse Roy Jones. With a background like that, I believe all I really need do here is summarize why Ward is so great.
He isn't the slickest customer in the division, nor the strongest or the biggest puncher (those are Andre Dirrell, Mikkel Kessler and Carl Froch respectively). Instead, he is the Swiss Army Knife sitting astride the middle of boxing, the fighter who is good at everything and supremely adaptable. Whatever happens and whoever Ward fights, we can be 100% certain that he will find a way to neutralize whatever it is the other guy does best.
Analysis and Preview
Ward is such an obvious favorite in this clash that some rumors suggest that Bob Arum is cashing out on Pavlik by setting him up in such a way. That has to do with a mix of Ward's fearsome reputation and Pavlik's questionable status. Rather than focus on the latter, I prefer to pose the question of how would a prime Pavlik defeat Ward?
I don't think he could. Ward would use his considerable defensive prowess to neutralize Pavlik's offense, get up close where Pavlik has no power, and smother him with messy-but-skillful infighting skills. A prime Pavlik might be able to produce some fireworks, but I just see him getting blunted, frustrated, and ultimately dropping a lopsided points decision.
In his prime, Pavlik couldn't beat the almost ageless wonder Bernard Hopkins; if he had been in his prime, I would have given Pavlik no better than a 50-50 chance of victory against Sergio Martinez. Both of these guys took Pavlik's best fight away from him, so how would even a prime Pavlik have implemented his best game plan against Ward?
As I said, a prime Pavlik might have produced some fireworks here and there, but ultimately dropped a points loss. A less than prime Pavlik (and I think it would be optimistic to describe him as 90% of what he used to be) won't even be slightly competitive. Yet even so, Ward is not a real puncher, and it takes quite a lot to hurt Pavlik (who, unlike Dawson, won't be drained by making weight). I see this as Ward pitching a shut-out game, dominating Pavlik while failing to put him down or stop him.
Prediction: Andre Ward UD12 Kelly Pavlik