This past Saturday, former three division world champion, Vic "Raging Bull" Darchinyan (38-5-1, 27 KOs), resurrected his career with a dominating victory against previous unbeaten Puerto Rican contender, Luis Orlando Del Valle (16-1, 11 KOs).  With the gutty win, Darchinyan roars back into world title contention as he captured the vacant NABF title in the super bantamweight division.
After becoming a world champion in multiple divisions, Darchinyan's win against Del Valle was his first at the super bantamweight division.  Many opportunities arise with the victory.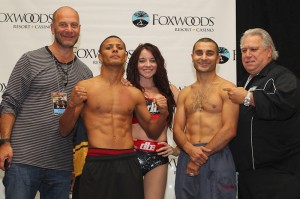 "I felt very strong coming into this fight and I was in great shape." said Darchinyan. "I'm going to campaign at super bantamweight moving forward and I believe I still have the power to keep my opponents honest."
Darchinyan felt that coming into this fight as the underdog, was a slap in the face.
"I could not believe that I was the underdog coming into this fight." continued Darchinyan, "I was thinking, what has this kid done to be the favorite against a fighter who's won eight world championships.  It really surprised me that I wasn't the main event and that the fight was only a 10-rounder.  All this inspired me to prove everyone wrong and dominate this fight.  Now I'm calling out all champions….LET'S GO!
Darchinyan's promoter, Gary Shaw, feels Vic has a lot of fight left in him and believes he should be next in line to fight all champions in every sanctioning organization.
"Look for Darchinyan to be in a big fight next time he steps in the ring because he showed everyone he can still fight at the elite level," stated Gary Shaw. "In his astonishing career, he's faced the best challenges that have come his way and his win against a very talented young fighter in Del Valle, is proof he can fight at the championship level."
"Darchinyan and his thrilling style is responsible for bringing the little guys back to TV and in the limelight.  I believe when Vic hangs up the gloves he will be a first ballot Hall of Famer."