Gary Shaw Productions former three division world champion, Vic Darchinyan (37-5-1, 27 KOs), and undefeated Puerto Rican sensation, Luis Orlando Del Valle (16-0, 11 KOs), will battle for the vacant NABF super bantamweight title is Saturday September 29, 2012.  The fight will be televised live on HBO BOXING AFTER DARK® beginning at 9:30 p.m. ET/PT.
Darchinyan, known for being a warrior in the ring with a never say die approach to boxing, is looking to get back in the win column after losing to Japan's Shinsuke Yamanaka (16-0-2, 11 KOs) and Panama's Anselmo Moreno (33-1-1, 12 KOs) in back to back world title fights.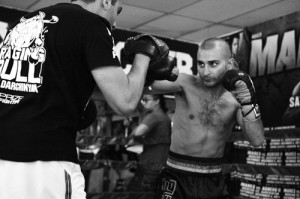 "I'm the ultimate road warrior" said Darchinyan. "I've traveled all over the world to scrap with the best fighters in my division.  This Saturday will be no different when I step in the ring with Del Valle.  I'm looking forward to giving him his first loss while I get myself back into title contention."
"Del Valle better be ready for a rough fight because I'm coming hard every round.  Gary should not have invested his money in DelValle, because it was a bad investment and he is going to lose his money."
Darychinyan's promoter Gary Shaw believes Vic has nothing to lose and will give Del Valle all he can handle.
"Right now Darchinyan has his back against the wall and he's going to give every ounce of energy to win this fight," stated Gary Shaw. "Del Valle is a great young fighter with a tremendous amount of talent, but he's never been in the ring with an experienced fighter like Vic.  I'm expecting an exciting fight this Saturday between these two and I won't be surprised if Darchinyan comes out victorious."