Armstrong vs. Mayweather: Who Wins?
Given the increasing unlikelihood of Manny Pacquiao vs. Floyd Mayweather Jr. (and, anyway, it's gotten pretty stale by now), I've come up with an alternative opponent for "Money" — one even more worthy than "Pacman":  Henry Armstrong. Here's a look at how a fight between Floyd Mayweather and "Homicide" Hank would play out in the latest boxing fantasy fight from ProBoxing-Fans.com.
The Fighters:
Armstrong (150-21-10, 101 KOs) defeated 16 champs and remains the only fighter in the history of the sport to simultaneously hold three universally recognized titles — featherweight, welterweight, and lightweight.
He took the featherweight crown from Petey Sarron in 1937, and that was after defeating 22 opponents in a row that same year.  With the exception of Aldo Spoldi, whom he beat on points, Armstrong won every single one of those matches by either KO or TKO.  He then took the welterweight title from the great Barney Ross in May 1938, and won the lightweight title from Lou Ambers three months later.
Moreover, Armstrong came awfully close to becoming the first in the history of the sport to win four separate titles (at a time when there were only eight divisions) when he took on middleweight champ Ceferino Garcia in 1940.  Although the fight was declared a draw, most observers and reporters (as well as boxing analysts and historians) think Armstrong was robbed.  The post-bout remark of Garcia's manager is certainly telling:  "You need a baseball bat and a knife to fight that guy."
Bert Sugar ranks Armstrong second only to Sugar Ray Robinson as the greatest fighter of all time.
[Also See: Mayweather vs. the top 10 welterweights in history].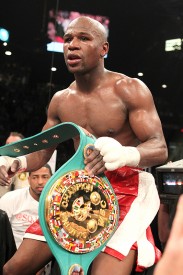 Floyd Mayweather (43-0-0, 26 KOs) is an eight-time world titlist and the current number 1 pound for pound fighter in the world.  He took the WBC super featherweight championship from Genaro Hernandez in 1998; the WBC lightweight championship from Jose Luis Castillo in 2002; became WBC light welterweight champion in 2005 by defeating Arturo Gatti; took the IBF welterweight championship from Zab Judah in 2006; the WBC and IBA welterweight crowns from Carlos Manuel Baldomir the same year; the WBC light middleweight title from Oscar De La Hoya in 2007; and, most recently, was awarded the WBA's super world light middleweight title following his defeat of Miguel Cotto earlier this year.
Mayweather boxes the way a grandmaster plays chess — always several moves ahead.  He also has an unerring eye for weakness, and a seemingly endless supply of counter moves.  He reminds me very much of Willie Pep, that ultimate defensive technician.  And he's very patient — he seems to have an almost preternatural knowledge of when to pounce, and with what blow or series of blows.  And he does so, invariably, with devastating effect — as made clear by his undefeated status, and the string of world champions he has defeated.
Armstrong vs. Mayweather The Fight:
Armstrong, swarming and brutal, is on Mayweather like white on rice at the first bell.  Rights and lefts, machine-like and hard as stone, come down like winter rain.  But Mayweather roots himself in the center of the ring, refusing to be powered onto the ropes — moving, defending, and counter punching.   The first round ends with neither fighter tired, though Mayweather is somewhat the worse for wear. Seeing that Armstrong doesn't bother to sit, Mayweather follows suit.
Mayweather realizes that he can only defend himself so long, and goes on the offensive in round two.  Armstrong is indifferent and seemingly impervious.  He has no defense to speak of; he doesn't need any.  His training, his experience, the very essence of who he is as a man and a fighter trigger the only action he knows — and no one knows or does it better:  He's an attacker, a chastiser, a wearer-downer.
Nothing Mayweather does stops or even distracts him; Mayweather's efforts amount to those of a fly buzzing about a horse on a languid summer day — a minor annoyance to be met with shakes of the head and flicks of the tail.  Mayweather, running out of both time and options, goes for the KO in round three.  Though he lands a couple of hard blows, Armstrong is anything but impressed.  He continues to both hit and hurt his opponent.  Blood streams from above Mayweather's eyes.
He's still fast, but no longer accurate; he can't see.  He's on the ropes, with Armstrong pummeling him at will.  Shots to the arms, the ribs, the head.  The round ends.  There's the bell for round four.  Mayweather, always gutsy, is game.  But not so his corner; the cuts over his eyes are too deep.  They look at the blood and keep him on his stool.  Armstrong stops Mayweather in the fourth.
Assessment:
"Homicide Hank" was unstoppable with his rapid-fire throwing of jabs, hooks, crosses, uppercuts, and combinations.  His opponents — many of whom were nothing short of outstanding — could do what they willed.  They could advance, retreat, circle, attack, defend…but they almost always lost, and Mayweather wouldn't have been among the handful of exceptions.
It comes down to Jack Dempsey's observation:  "All the time he's boxing, he's thinking.  All the time he was thinking, I was hitting him."  Without in any way diminishing, let alone dismissing, Mayweather's skill and accomplishments, his rather cerebral approach would have been no match for the punishing whirlwind that was Armstrong.
Unless…well, if only he had that baseball bat and knife.