The most hotly anticipated boxing match in Britain this year will take place on July 14 at Upton Park, when David Haye meets Dereck Chisora. The pair first clashed in the post-fight press conference following Chisora's losing effort against Vitali Klitschko, when Haye tried to steal some limelight for himself and got attacked by "Del Boy" for his trouble. According to Haye, Chisora has spent much of the time since that scuffle in March stalking him, which led to a second scrape in a London restaurant.
Haye is British boxing's biggest loudmouth, while Chisora is its biggest thug. Some think the angry heat between the two men is 100% canned, pre-processed hype, and the British Boxing Board of Control (BBBoC) might block the fight. Still, that hasn't stopped fight fans in the UK from going nuts over the bout, with 17,000 tickets selling on the first day. It's no wonder the Brits are salivating, since this bout has all the classic angles: grudge match, cross-town rivals, fight for national bragging rights, stylist vs. brawler, etc.
Dereck Chisora (15-3, 9 KOs)
6'1 1/2″ tall; 74″ reach; 28 years old; Five-fight weight average: 246 lbs
British (born in Zimbabwe)
Former British and Commonwealth Heavyweight Champion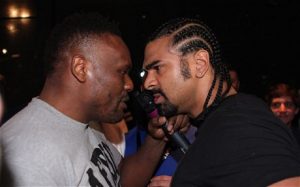 Del-Boy is the bad guy of British heavyweights, but even so he is little more than a fringe contender at this stage in his career. He is a tough, strong, hard-working, hard-hitting, rough and tumble customer, and has gobs of determination. Where he is lacking is in the skills and discipline departments.
Even so, his 0-3 record in big fights is easy to misread. Against Tyson Fury, Chisora showed up at an all-time high weight and blew it. Bad luck and hometown judging explain his loss to Robert Helenius in a controversial decision, while his defeat at the hands of Vitali Klitschko was a foregone conclusion.
David Haye (25-2, 23 KOs)
6'3 tall; 78″ reach; 31 years old; Five-fight weight average: 215 lbs
British
Former WBA-WBC-WBO Cruiserweight World Champion; former WBA heavyweight champion
The Hayemaker has come under such a cloud since his disappointing non-performance against Wladimir Klitschko that a reminder of his assets are in order: fast hands, able footwork and boxing skills, and fleet feet. There are some questions about Haye's chin, and at heavyweight he has shown a cautious hesitancy when matched with out-sized opponents, but as a rule Haye is an energetic, fluid and hard-hitting offensive stylist.
Haye vs. Chisora Preview & Analysis

Despite being shorter and owning the lesser reach, Chisora will prove the bigger guy in the ring. Even at 240 lbs, Chisora is a little soft around the middle, but he still has an easy 20 lbs of solid muscle and bone on Haye, who is basically a cruiserweight. In the departments of strength and durability, Chisora is a clear winner.
Yet Haye has a clear lead in all other departments. His hands are obviously faster, his feet clearly fleeter, his skills plainly more polished. I also think whereas Chisora has thudding, crushing power, the Hayemaker is a cracking, explosive puncher, and that means Haye hits harder when he has the range.
There is an old axiom in boxing: in a battle of punchers, pick the guys who catches best. With Haye's chin suspect, that is Dereck Chisora. I also have a personal rule about how boxing is mostly psychological, and barring a blatant mismatch, the guy with the concrete guts usually prevails. In this instance, that is also Dereck Chisora, as anyone who compares their respective Klitschko fights can easily see. Despite his deficits, Chisora is very much a live opponent in this fight.
But at the bottom of it, having the guts to stick it out to the bitter end and having the will to win are two different things (albeit easily confused). Chisora has the former, not the latter. His sole hope of victory is to get in close, mix it up, and fight a dirty game of punch-and-clutch. If he can make a brawl of it, Chisora's high work rate, clubbing power and sheer strength will give him the edge.
Haye vs. Chisora Prediction
Haye has the much easier job. With his height, reach and mobility, Haye can fight the kind of bout that he prefers, namely one where his mobility and hand speed set him up for an all-angles, punching from the outside assault. All he needs to do to blunt Chisora's assault is to keep moving and stick the jab. The harder Chisora tries, the more Del-Boy will set himself up for hard counters.
For that reason, I see David Haye bagging a clear, unanimous points win. However, for the same reason, I also think Chisora will end the night on his feet. Klitschko, Helenius and Fury couldn't get Chisora out of there, so I can't see Haye having a chance at a knockout without mixing it up, which would be profoundly unwise for him.
Prediction: David Haye UD12 Dereck Chisora
Comments
comments