The match-up between David Haye vs Tony Bellew 2 returns to the O2 Arena, London on May 5. 2018 continues to be an interesting year for British boxing and boxing around the globe with Haye-Bellew one of the many upcoming highlights.
The rematch, originally slated for December 17, had to be postponed after Haye (31-3, 26 KOs) tore his bicep in a freak accident. "The Hayemaker" will look to return to form when they climb back into the ring. The 37-year-old realises the significance of this fight and that his career may hinge upon this performance.
Haye was quoted, "After my freak accident down a stairwell last month, I was heartbroken not to give everyone the ending to 2017 I wanted. Since then I had to accept the cards I had been dealt, remain positive and focus on factors which are within my control; rehabilitation and rescheduling the fight."
Fellow British fighter Tony Bellew (32-2, 19 KOs) will aim to send Haye off into retirement and looks forward to proving that his upset win in their first battle was no fluke.
Bellew declared "I now have a very clear plan for 2018 and that is to knock out David Haye and then knock out Tyson 'Stavros Flatley' Fury and end both of their careers but first things first I need to rid the sport of David Haye on May 5 and look forward to doing this in what I believe will be an explosive fight."
Bellew caused one of the biggest upsets in British boxing history when Haye's team threw in the towel in the 11th round to save their visibly injured fighter during the March 2017 grudge match. Haye had previously ruptured his right Achilles in the sixth round but continued to fight on courageously despite being a sitting target.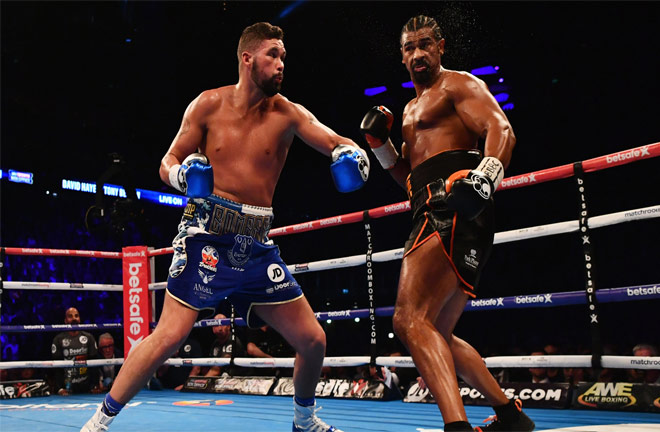 Bellew also suffered a serious injury during the fight – breaking his right hand in the early stages of that fight although he continued to dominate the fight.
The night left more questions than answers setting the stage for the fiery build-up to the climatic rematch. Prior to the fight, many felt that the first fight was a mismatch; now it is a virtual pick 'em fight with serious questions hanging over both gladiators. Will the 32 year-old be able to weather the early storm again to snatch victory from the jaws of defeat? Can Haye's injury-prone body hold up against a more confident opponent, who is not as wary of his vaunted power?
Questions aside, this is still a thrilling matchup on paper given the drama of their first showdown. It's well documented that these guys genuinely do dislike each other.
Whether witnessing the pulsating action live at the O2 London, or tuning in from home on Sky Box Office, you will not want to miss the unpredictable ending to this sequel.
Comments
comments