After the official news came that the David Haye vs. Tyson Fury fight was set for September 28 in Manchester, the fighters and their teams didn't wait long to meet the media and begin stirring things up. The opening press conference for Haye vs. Fury was held today, and right here, you can find a collection of quotes from the fighters, a video of the presser, and more. Take a look.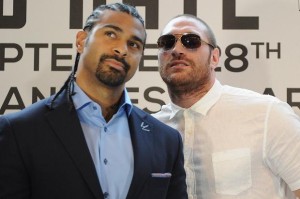 Their coming together marks not only perhaps the most important heavyweight encounter of 2013, but also perhaps the biggest fight staged in Britain for many, many years. And, given the world-ranked pair's outspoken nature and ability to score eye-catching knockouts, this heavyweight showdown is likely to live long in the memory.
The 32-year-old Haye is a hard-hitting former WBA heavyweight champion of the world, as well as the former WBC, WBA and WBO cruiserweight titleholder. The Londoner has finished 24 of his 26 professional victories via crushing knockout and suffered defeat only twice.
"A lot of people don't believe he (Fury) deserves a shot, but he's unbeaten in 21 and is up there," said Haye. "I want to win a world title again and facing a big, strong guy like Tyson will bring out the best in me.
"I'm the seasoned veteran on this occasion, which is new territory for me. He's claimed he's the best ever, which is a bold statement, but he's got the chance to shut me up and prove it.
"I believe this will be his last shot at the big time and I'm happy to give him a nice pay day. I'm going to show why I'm the Hayemaker!"
Manchester's Fury, meanwhile, boasts a perfect professional record and has won all 21 of his pro bouts to date, ending 15 of them within the scheduled distance. The 25-year-old is a former British, Commonwealth and Irish heavyweight champion and a born entertainer – inside and outside the ring.
"Let's not get things confused here," he told Haye. "You're the dog and I'm chucking you a bone. Before the Tyson Fury fight where were you going to go? Who were you going to fight? Nobody. I'm giving you a chance. I'm the young up-and-comer, the one on everyone's tongue. You're the one that stinks the place out and blames it on their toe.
"He has a lot to say, people like to hear what David Haye's got to say. After the fight with me he'll have a lot to say, and a lot of people can laugh at him.
"He may be the Hayemaker, but I'm the playmaker!"
Together, Haye and Fury make the most intriguing heavyweight pairing of 2013. Whatever the result, fans are advised not to blink. This could be both quick and explosive.
Tickets for Haye vs. Fury can be purchased now by calling 0844 847 800 or by visiting eventim.co.uk