David Haye has signed a contract to fight British rival Tyson Fury in September 28. Haye vs. Fury would be a great fight for the heavyweight division and for British boxing fans, and would rival and perhaps exceed the dual trash-talking prowess of the recent Paulie Malignaggi-Adrien Broner clash. However, the fight isn't finalized yet, and according to Haye, he's waiting for Fury to officially sign the contract.
ProBoxing-Fans.com currently ranks Haye at #3 and Fury at #5 in the heavyweight division.
Story Update:
Yes, Haye vs. Fury is now a done deal. The fighters and their teams have made an official announcement about the fight, confirming the bout for September 28 in Manchester, England.
"David Haye and Tyson Fury, both world-ranked, charismatic and dangerous, have agreed to a highly-anticipated domestic showdown on Saturday September 28 at the Manchester Arena. It marks not only the biggest heavyweight encounter of 2013, but also the biggest fight staged in Britain for many years."
There's reported to be £10 million on the table for the two fighters. That's about $15 million USD, and rumors are that the money will be split evenly down the middle for each man.
Original Story:
Here's what Haye had to say about Tyson Fury, their upcoming fight and the contract on Twitter: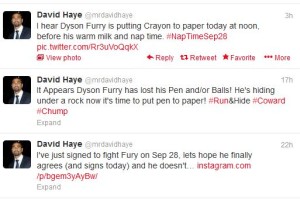 I've just signed to fight Fury on Sep 28, lets hope he finally agrees (and signs today) and he doesn't keep delaying. Word around "Camp Fire" is Fury is looking to duck me and fight Toney "The Tiger". Lets hope they are just to rumours

It Appears Dyson Furry has lost his Pen and/or Balls! He's hiding under a rock now it's time to put pen to paper! #Run&Hide #Coward #Chump

I hear Dyson Furry is putting Crayon to paper today at noon, before his warm milk and nap time. #NapTimeSep28
The first Tweet from Haye was accompanied by a video in which Haye signs the contract on the boxing ring in his gym and talks about getting things finalized. The other Tweets have followed since.
We'll keep you posted with any further updates on the bout and if Haye vs. Fury becomes finalized or not. Fury may indeed be seeking to capitalize on a Tony Thompson fight after Thompson's second straight stoppage win over fellow British rival David Price.