Seventy years ago today (January 13, 1948), Ezzard Charles defeats Archie Moore in their epic trilogy in a non-title bout. Charles bested Moore in their prior non-title meetings even decking the ageless wonder in both contests. It is difficult these days to match two talented boxers in their prime but not so in the 1940's, especially among black fighters. Fight three was arguably the best of the entire series.
The fight, scheduled for fifteen rounds, started at a furious pace with both boxers pressing the action. Ring Magazine reported:  "Charles won the first two rounds, lost the next two, and then won the next three. They set a terrific pace…. Midway in the eighth round, Moore caught Charles with a terrific left hook and followed his advantage…. Charles was definitely on the verge of a KO… but, to the surprise of everyone, he snapped out of his dazed condition, landed a volley of left hooks and then a perfect right cross."
The Associated Press said: "A crashing left and right dumped Moore to the floor. He struggled around on one knee trying to rise immediately and Charles then applied the finisher, another right. Moore grabbed feebly for the ring rope as Referee Jackie Davis finished his toll of 10, but couldn't reach his feet again for some 20 seconds–and then only with the help of his handlers."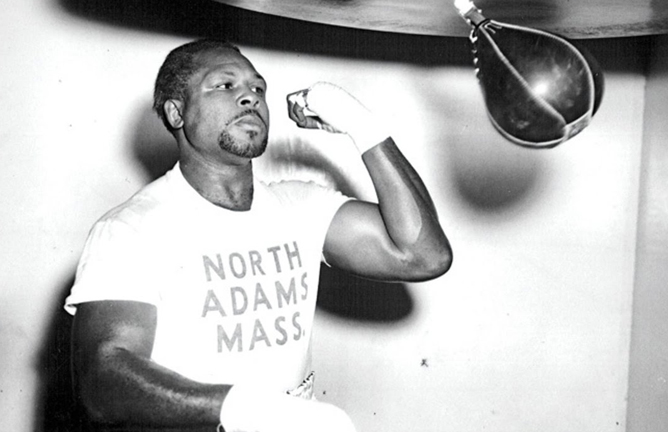 The eighth round was indeed climatic. Some felt Moore had Charles on the verge of being knocked out, although others believed Charles was playing possum. We will never know which version is exactly true but they put on quite a show. They would never face each other again but went on to obtain great individual success. The "Ol Mongoose" participated in over two hundred prizefights and holds the world record for most knockouts scored by a professional boxer. The "Cincinnati Cobra" is widely considered the finest fighter ever at light heavyweight. He even captured sport's biggest prize with a win over Jersey Joe Walcott at heavyweight. Rocky Marciano had the pleasure of being in the ring with both fighters.
No doubt, spectators witnessed something very special that cold night at Cleveland Arena in January of 1948.