Controversial Chisora vs. Scott Results from London:
Dereck Chisora registered a sixth round KO victory over Malik Scott on Saturday night at the Wembley Arena in London, U.K. Leave it to a fighter like Chisora to have a fight end in controversy even when he has his hands raised in what should be triumphant fashion. Here though, the ending itself has come into question, with replays showing that the previously undefeated American Scott beat the count and was up and ready to fight before the referee's count of 10.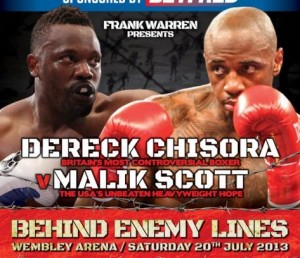 Scott's corner of course protested furiously, although Scott, perhaps a bit dazed still, or perhaps unsure of whether he did in fact beat the count, seemed to accept the defeat in the moment.
The Chisora vs. Scott fight played out in much the way that most predicted it would. Chisora was the aggressor and was looking to work inside, while Scott played the outside game and kept his distance around the ring. There wasn't a great deal of action, and the fight had been pretty much even through the first five rounds.
In the sixth, it was a signature Chisora overhand right that sent Scott careening down to the canvas. He either lost track of the time, or was far more hurt than he even showed, and ultimately, the referee counted him out and waved off the fight despite the fact that he appeared to be up in time.
Neither of these two fighters can catch much of a break, can they?
Either way, assuming the result stands, Chisora is back with a fairly high profile win, and Scott is sent back down the pecking order in the heavyweight division.