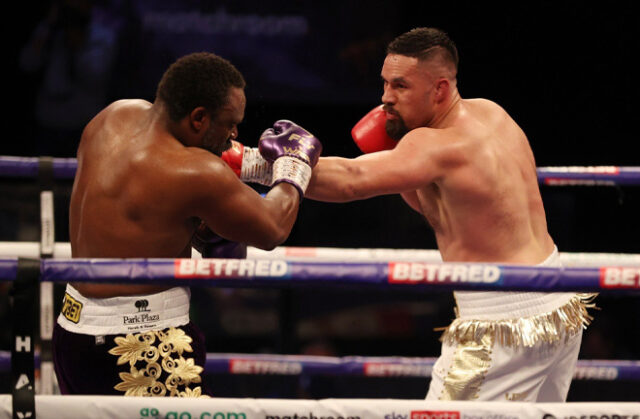 Joseph Parker claimed the vacant WBO Intercontinental Heavyweight title with a gruelling split decision win over Derek Chisora at the AO Arena in Manchester.
Chisora was making yet another pay-per-view appearance, but was in last chance territory in his ambitions of operating at the elite level.
After a bizarre bust up after the weigh in, where Chisora threatened to walk away from the contest after losing a coin toss as to who would ring walk second, Derek's mother stepped in to calm her son down, and he eventually saw sense and relented.
Parker was down in the opening ten seconds, decked by a cuffing right hook over the top by Chisora, but it was more a flash knockdown, and the New Zealander made a slow start.
Joseph awoke in the final minute of the opening frame, landing with multiple jabs and some solid shots to come back into things.
Parker was utilising a classy jab, but Chisora was his usual rough and tough self, upsetting the visitor's rhythm and not giving him a moments peace.
When Parker kept things at range, he impressed, but too often 'Del Boy' would smother him, and bore his way in to rough his opponent up.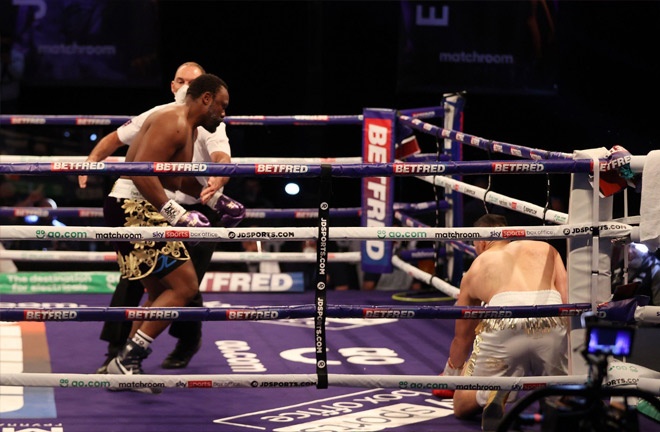 Joseph had a much better fourth, but he was still under intense pressure, with Chisora landing well to the body in the fifth and a looping right hand also found the target.
Auckland native Parker had his best frame of the contest in round six, letting his hands go and landing with some chopping blows, and the seventh saw more good work from the 29-year-old, keeping his man at a distance and firing off combinations, one of which seemed to stop Dereck in his tracks.
The Finchley-based 37-year-old gained a second wind with a decent start to round eight, but Parker ended it the stronger, landing with some heavy blows and having the better of the exchanges in the session.
Parker boxed well in round nine, and he kept his man on the end of a strong jab in the tenth.
It looked all to play for in the final couple of rounds, and again the former world champion was able to dictate the action and kept Chisora at arm's length in the penultimate round, and although he had to take a couple of clubbing right hands in the final frame, he unloaded some hurtful punches of his own as the fight went to the scorecards.
Howard Foster saw the contest 115-113 in Chisora's favour, but he was overruled by 116-111 and 115-113 tallies for Parker, who did seem to edge the contest after a slow start.
"It was a tough fight," said the victor to Sky Sports Box Office post fight. "I got caught right at the beginning, but I had to dig deep, stay focused, and follow the plan. Derek is a very tough opponent.
"There's a lot of things that I have to work on, and I only got to show a little fraction of working with Andy [Lee]. We could do a rematch [with Chisora] next fight."
"I'm beyond getting upset now" said a dejected Chisora. "I train hard, I fight, I put the pressure on, and this is the treatment I get from boxing. I won the fight, even his coach said I won the fight. I was bringing it, I don't know what the judges were seeing. I can't get upset anymore. What do you do? I'll not let them slow me down, and I'll go again. They want to see me retire, but I'm not retiring yet".
Chief support came in the form of a cracking looking rematch of a 2012 Olympic Games classic, and it most certainly didn't disappoint, as Katie Taylor took a razor thin unanimous points win against old rival Natasha Jonas to retain her undisputed Lightweight title in a classic.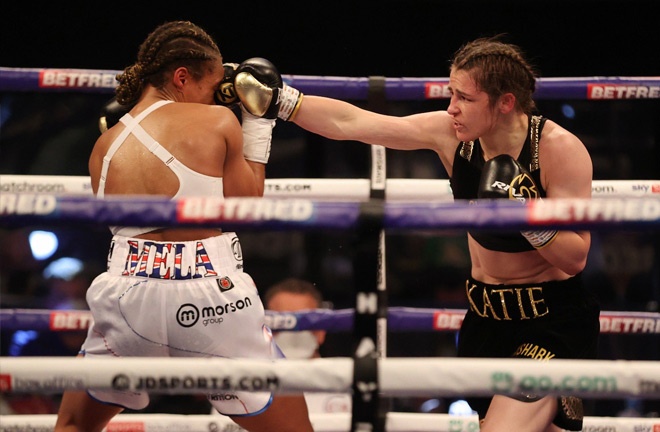 Taylor was making the third defence of her haul of belts after completing the set against Delfine Persoon in June 2019, and was coming off a landslide points win over Miriam Gutierrez at Wembley Arena in November 2020.
'Miss GB' Jonas was last seen in a thrilling draw that could have gone either way in a challenge for Terri Harper's WBC and IBO Super Featherweight crowns at Matchroom HQ in August of the same year.
Jonas made a swift start, but had to be on her mettle, as the Irishwoman did likewise, possibly shading the frame with her busyness.
The second saw Taylor utilise her supreme boxing skills, opening up with blinding hand speed, and the two exchanged some quality punches in the third frame, with Taylor sinking in shots to the body of the challenger, while Jonas was accurate with her work and landed some decent shots of her own.
Liverpool's Jonas was warming to her task, much to the delight of her trainer, Joe Gallagher, but the fourth belonged to Taylor, who dictated the round.
The pair traded in the fifth, but the champion was in charge of the action in the main, but round six saw Jonas' best effort of the contest to date, and she followed that good work up in the next, landing with a flush left hook and beating her decorated opponent to the punch.
Taylor came out for the eighth with intent, but she was again forced to engage as she walked into a body shot from the 36-year-old, but then retaliated with a hard right hook that seemed to buzz Jonas momentarily.
Katie sensed that she needed to dig in, and the ninth was a much better showing by her, landing another solid right hook, as well as with some flashy combinations.
The pair went for broke in the final round, with both having success as the frantically went to the finish line in what was absorbing action, but the fight went to the cards with the two swinging until the final bell.
Two scores of 96-95, and a third at 96-94 ensured Taylor took a tight decision win, and she retained her WBC, WBA, IBF and WBO world titles, remaining undefeated in eighteen fights as a professional.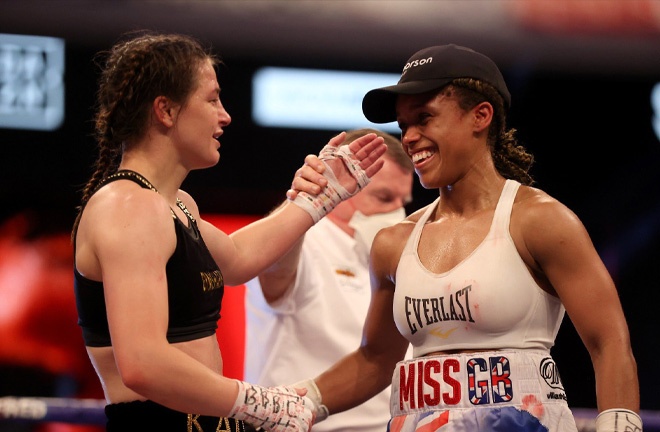 "I'm delighted with the win. Every time me and Tasha have fought, it's been an edge of your seat kind of fight," said the champion to Sky Sports post fight.
"I had a slow start and was a bit flat early on, but I dug deep in the end and won the championship rounds. I knew I had to win the end rounds to take the fight."
"I feel I belong at this level. Twice I've proved it, and I want to stay at this level and win belts," said Jonas. "There were rounds where I thought I hurt her, but I'm still learning, and I want to be here at championship level."
Campbell Hatton made it two wins from as many fights, as he took an entertaining four round points win against the tough Levi Dunn at Lightweight.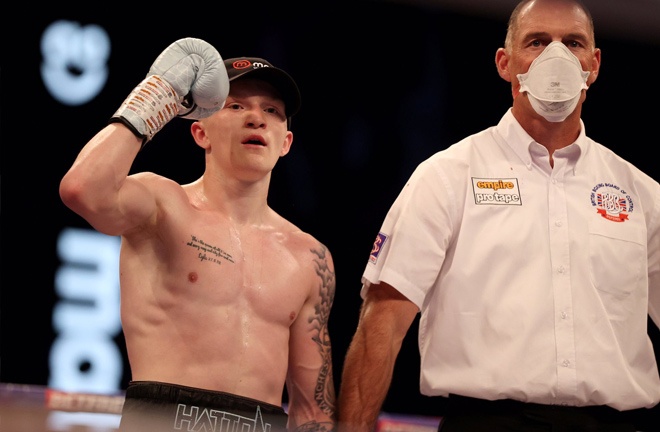 It was a familiar Hatton family venue, with dad Ricky packing out the same arena several times during his legendary career.
'Hurricane' Hatton made a fast start, whipping in power shots especially to the body of his opponent in the first round.
Dunn though kept Campbell honest, and gave the Manchester man plenty to think about, but Hatton enjoyed a solid third, letting go some eye catching power punches.
Try as he might, the 20-year-old just couldn't budge Dunn, and had to settle for a 40-36 win on referee Steve Gray's scorecard.
Chris Eubank Jr returned to action, and comfortably outscored Marcus Morrison over ten rounds at Middleweight.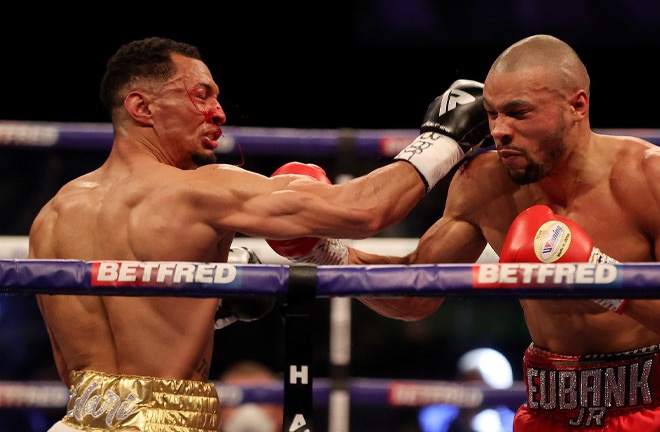 Eubank was being trained by the legendary pound-for-pound great, Roy Jones Jr, and it was a curious performance from the Brightonian which involved much posturing, and it appeared as though he was keen to bank some rounds after a long layoff. 
Eubank had Morrison in trouble with a volley of punches in the second session, but then chose to back off and allow the Manchester man to regain his senses. Morrison grew in confidence, and had a decent third, and, after a quiet fourth, the pair opened fire in round five with some frantic action and exchanges, which left Morrison with a bloody nose. 
Jr decided to up the ante in the sixth, tearing into 'Sweet MNM' with a flurry of spiteful shots, but that was then followed by a mainly pedestrian seventh, and the pair again exchanged to begin round eight, but the action was only in small bursts when it came. 
The final round saw Eubank pepper Morrison with his jab, and although the underdog gave his all, Junior was always a spiteful step ahead, and went through a variety of punches as the fight came to a close. All three judges scored Eubank a 98-92 victor.
Craig Richards gained much praise in defeat, as his daring attempt to become WBA Light Heavyweight champion was halted by Dimitry Bivol, who retained his belt via an unanimous decision victory.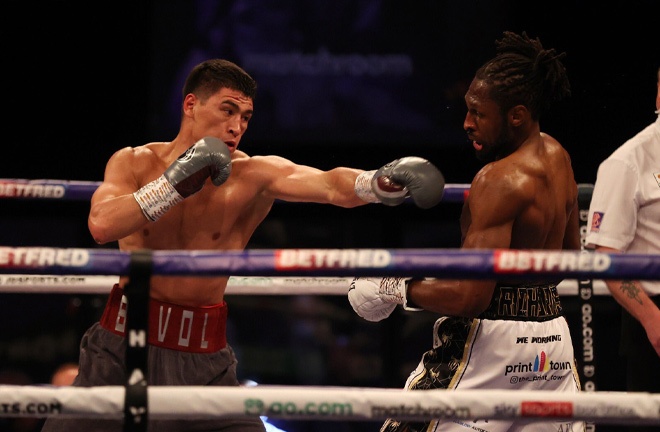 British champion Richards gave it his all in a spirited effort, but Bivol just had a little bit more seasoning at the top level, and he took the win by scores of 118-110, 115-114 and 115-113. 
It wasn't as close as the final two scorecards suggested, but Richards' stock only rose as a result of his brave showing. It was a seventh successful title defence for Bivol, and he will surely look to target the big names in the division going forward.
There was a stunning upset in the contest for the vacant IBO Lightweight title, as little-known Mexican, Jovanni Straffon, wiped out the much fancied Irishman, James Tennyson, inside a round.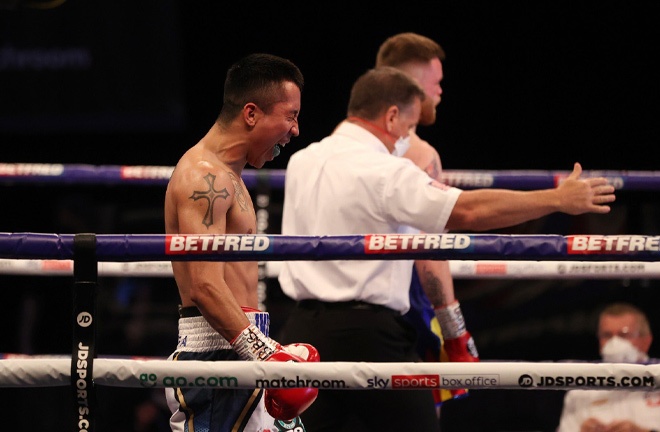 Tennyson had built a fearsome reputation at the weight with some highlight reel knockouts, but he never recovered from a right-left combination from Straffon that robbed him of his legs, and although he beat the count, a follow up attack saw the fight waved off.
Opening the show was the return of former British Super Welterweight champion, Scott Fitzgerald, and the Preston man stopped France's Gregory Trenel in three rounds in a Super Middleweight contest in what was Fitzgerald's first outing since October 2019.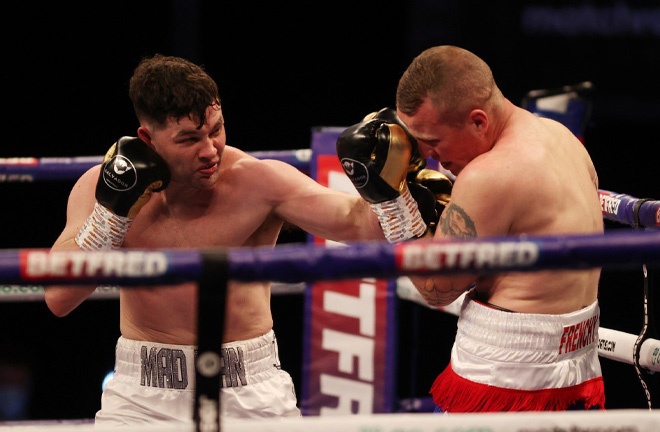 Johnny Fisher had his second outing as a professional, and 'The Romford Bull' stopped the game Phil Williams in three.