In keeping with the theme of the evening, as dictated by the horrendous Sturm-Macklin decision, Devon Alexander took home a split decision over Lucas Matthysse. While not as egregiously terrible as the aforementioned bout, it was a questionable verdict to say the least.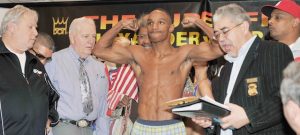 Both men started the fight with a fast pace, each looking to undo previous wrongs. For Matthysse, he came on too late against Zab Judah and lost a close verdict. For Alexander, he dropped the ball on the big stage and received a boatload of criticism for his performance against Timothy Bradley.
In the fourth round, Matthysse dodged an Alexander attack and decked him with a straight right hand, sending him down to the canvas for the first time in his career. Though not badly hurt, it was a solid shot, and it certainly won Matthysse the round while boosting his confidence.
They traded stanzas more or less until the 7th, when Matthysse began busting Alexander up. He landed thudding straight rights one after another to the body, backed up Alexander to the ropes and pinned him there, and connected with hooks, uppercuts and just about everything he had in the arsenal.
The 8th seemed to certainly be a round for Lucas Matthysse as well, while Alexander rebounded in the 9th by dictating the action with his superior technical ability and movement, creating angles while staying busy. The 10th saw lots of good work by both men, although Matthysse appeared busier and landed the harder, more telling blows.
If nothing else, a 95-94 verdict which had the bout split 5 rounds a piece with Matthysse taking a nod via the knockdown would have been appropriate. A draw would have been sufficient. But the scorecards came home… 96-93 Alexander… 96-93 Matthysse… and 95-94 Alexander, winner by split decision, the hometown kid himself, Devon Alexander.
Saying that Alexander won 7 of 10 rounds in the bout is absurd, and I'd be hard pressed to say that 6 of 10 was much more reasonable, as the two judges who scored in his favor awarded him. Nonetheless, he takes home the decision and gets to move quickly away from Lucas Matthysse, while Matthysse suffers yet another hard to take, close loss against a bigger name American rival on his home turf.
In earlier action…
Cornelius Bundrage avenged his loss to Sechew Powell from their famous double knockdown fight, to somewhat easily win a 12 round decision and retain his junior middleweight strap. Bundrage was the busier man and controlled the action more or less from beginning to end, although Powell had his moments and also landed some good shots.
Tavoris Cloud took care of business against Yusaf Mack, winning by 8th round knockout. Cloud certainly, finally, deserves a big-time fight against one of the "names" in the light heavyweight scene. A fight against the now-comebacking Jean Pascal seems to make sense, and should be intriguing to both men as well as the networks. Get it done.
Somehow, HBO showed Ray Austin vs. Bermane Stiverne. I'm not going to say anything else about the fight. Besides… SOMEHOW HBO AIRED THIS. Good lord. What a terrible waste of time, money and television. When you look back on your life as a boxing fan, and think about all of the fantastic fights that never sniffed any real exposure because they were sub 118 lbs, or featured two European or Asian fighters, or anything else, then also take a minute to think about how many times Ray Austin has, via Don King, squeezed onto major boxing broadcasts. Ridiculous.