Lucian Bute stepped up his quality of opposition on Saturday the 26th, traveling to Nottingham and defending his IBF title in Carl Froch's backyard. Bute stepped up, only to see Froch swat him down, and the Cobra didn't need the hometown advantage this time (as he did against Andre Dirrell). By prevailing in a fight few picked him to win (not including yours truly), and none picked him to win by knockout, boxing really needs to ask the question: was Lucian Bute exposed?
Protected by Good Matchmaking?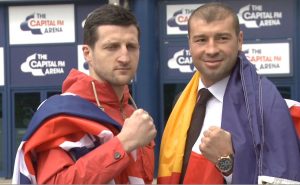 Over the last few years, whereas many observers have been praising Lucian Bute as a top super middleweight and a pound-for-pound entrant, I chose to focus on Bute the Businessman. After pricing himself out of the Super Six Tournament, Bute prospered from the spotlight on the 168 lbs division without even participating in the tournament, as the holder of the only belt that wasn't tied up by the Super Six.
He deftly used that status to play HBO and Showtime off each other, resulting in a string of lucrative, cable-televised bouts against second rate opposition. It was a brilliant and successful business move, but at the same time it is now obvious that it left Bute woefully unprepared for a clash with a man of Carl Froch's caliber.
It sometimes happens that even the most sagacious observers succumb to group-think and propaganda, and I think that is what happened in the case of Bute. During the period that Carl Froch made himself into the division's iron man, taking on several of the biggest fights available in a row, Bute took on the likes of Edison Miranda, Librado Andrade and Glen Johnson.
Because Bute was winning consistently and easily, people thought he was great. Because Froch had a bunch of hard fights, culminating in a rout at the hands of Andre Ward, many thought he wasn't (not me, but many). The information was out there, and yet for some reason we all bought into the Bute hype, at least to a degree.
That the rough-and-tumble, middle aged Road Warrior was the best opponent of Bute's prior career should have said something to everyone. While tough, Johnson simply lacked the tools to threaten the faster, younger Romanian-Canadian, and spent most of the night sheltered behind a high guard and firing limited one-two's back in the face of Bute's higher work rate and quick fists. Le Tombeur won a lopsided, flashy victory over Johnson, but had to work very hard to do so.
Froch didn't beat Johnson with nearly as much flash, but by contrast he had a much easier time doing it. If Bute's resume didn't leave serious question marks hovering over his head in his first outing against a top-tier opponent, then a serious study of Bute vs. Johnson and Froch vs. Johnson should have.
Exposed
Before addressing this question directly, I wish to muse a bit on what might have happened if Lucian Bute had fought Andre Ward or Andre Dirrell instead. The failure of Ward vs. Bute to come about wasn't Bute's fault, but it should now be obvious that Ward would tear Bute to pieces if the two should ever meet.
Dirrell poses a more interesting question, since hesitancy has thus far defined Dirrell's career as a contender. He was hesitant against Froch, which cost him that fight. He has been hesitant about getting back on the horse ever since Abraham knocked him off it with a dirty blow, and I think he would have been gun shy for a big fight with Bute. Bute clearly would have been better off if he had held out for the Dirrell fight, since Dirrell certainly wouldn't have forced the action from Square One like Froch did, and Bute could have exploited that reluctance.
Now back to Froch TKO5 Bute. Le Tombeur performed much as I expected him to in the 1st Round, but then Froch came on in the 2nd, and hurt him badly in the 3rd. Bute recovered in the 4th, but was hurt again, and then hammered into submission in the 5th. The beat-down reminded me very much of what happened to Bute in his first clash with Librado Andrade. A tough, but otherwise unremarkable fringe contender, Andrade wasn't able to gain any traction against Bute until the Romanian-Canadian decided to mix it up in hopes of a knockout. Bute was lucky he did that in the 12 Round, instead of earlier in the fight, otherwise Andrade might have claimed his scalp that night.
Carl Froch was a fighter of an entirely different caliber, and therefore didn't need to rely on Bute making tactical mistakes to land his power. This was not a case of landing a lucky shot. Froch smashed Bute twice on the way to stopping him, and it is plain that if Bute had somehow survived the 5th Round, Froch would have bludgeoned him again.
The results of this fight confirm that Bute has a merely average chin, and that he has yet to learn how to deal with adversity very well. Bute fought bravely, but make no mistake, he lacked that gritty experience that allows a fighter to turn courage into tenacity, and then find a way to win. Bute could develop such grit, but to do so he will need to psychologically recover from a crushing knockout defeat, one of toughest challenges a boxer can face.
So was Bute exposed? In the sense that he clearly doesn't belong in the same league as Ward, Froch and Kessler, yes. At the same time, the answer is NO in the sense that Bute would probably be a favorite in a fight with a Bottom-5 contender from the Top 10. If Bute were to have a rematch with Johnson or challenge Robert Steiglitz for his WBO strap, would you pick the other guy? I thought not.
What Now for Bute?
Given Bute's canny career sense, I would be very surprised if he took the second contracted fight with Froch. The guy got his ass handed to him, and he has never displayed the gladiatorial character of a Shane Mosley. For his part, Froch might instead prefer to seek a rematch with Kessler, or a clash with the winner of Dawson vs. Ward. If the Cobra's track record is anything to go by, the Briton will go for the biggest challenge he can get, and that ain't Bute.
This underscores the third reason Froch vs. Bute II probably won't happen: who would pay to see it? It's not like a rematch would brim with the drama of the unresolved, and people who want to see Bute get his ass kicked again can watch the highlight reel for free on YouTube.
Mikkel Kessler is already at 175 lbs now, and Dawson vs. Ward points to Andre Ward perhaps going up to light heavyweight as well. Froch might follow. It seems the top talent in the super middleweight division is moving on and up. If Bute waits a year, any number of title belts might be vacated and up for grabs, and then he can go about rebuilding his career in clashes with the Bottom 5 contenders I just mentioned. A move like that, down the path of least resistance, would be very much in keeping with Lucian Bute's standing business strategy.

Comments
comments