Dillian Whyte (26-1, 18 KOs) got off the floor to beat Oscar Rivas (26-1, 18 KOs) to claim the interim WBC heavyweight title via unanimous decision at the O2 Arena last night. Whyte prevailed by wide scores of 115-112 (twice) and 116-111.
The victory solidifies his ranking as No. 1 by the WBC, a position that he has held consistently for nearly two years without getting a title shot at their champion Deontay Wilder.
It's been a frustrating experience for the Londoner, who has defeated every opponent placed in front of him only to see his hopes swallowed up in failed negotiations and other options fall through.
Rivas provided yet another stiff test for the would-be world champion. The Colombian was an unbeaten former Olympian with the aggressiveness, power and speed to give Whyte many problems.
Rivas started strong forcing Whyte backwards in the beginning and looked especially sharp. A big right hand from Whyte in the second round appeared to stun Rivas momentarily but he showed good survival instincts to withstand the onslaught.
However, Whyte soon started to take control, working behind his long jab and keeping Rivas at bay or tying him up when he got too close. By round three, Whyte was starting to go to the body as well.
You could tell that Rivas was trying to bait and set Whyte up for the big right hand, but he was having none of it. Whyte began to really open up with some big shots in the fifth round as Rivas slowed down.
Then Rivas finally connects with a right hand in the sixth, but Whyte takes it well and goes back to the jab. It's more of the same for the next two rounds with Rivas throwing a lot of leather but failing to land anything noteworthy as Whyte dances away from harm and peppers him in return with jabs.
The only time that Whyte was in real danger occurred in the ninth round when he was drilled by a vicious uppercut which dropped him hard to the canvas. His legs were clearly wobbly when he regained his footing but he somehow managed to survive even as Rivas went for the finish.
Whyte came back in round ten firing early and throughout after being dropped in the last frame. The crowd is on their feet as Whyte connects with the jab and those patented hooks.
Round eleven plays out much like the previous one with Whyte continuing to fight with a renewed urgency after the knockdown but Rivas is also returning fire and having some mild success in connecting on several power shots.
Sparks fly in the twelfth and final round as the men exchange heavy shots again. Whyte is hurt toward the end but shows tremendous resilience in keeping Rivas at bay to complete his dominance.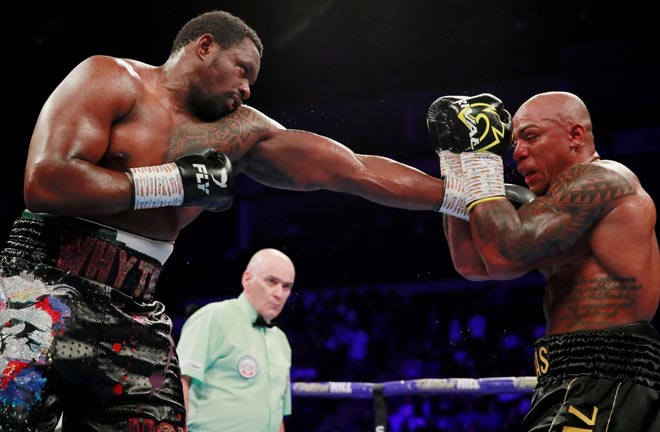 The "Body Snatcher" was the heavy favourite going into this bout and boxed well throughout. Rivas certainly had his moments but was mostly unsuccessful in maintaining a sustained attack to keep Whyte from dictating the pace of the fight.
It's obviously a setback for the 32-year old Colombian and a tough road back to title contention if he ever gets there again. He's too small to compete with the other notable heavyweights and does not quite possess the skillset to compensate for this. However, he was competitive in this fight and never in real danger himself.
The 31-year old hometown hero could still face a long wait before getting a title shot as he must wait to face the winner of Wilder-Fury 2 early next year – presuming both fighters win their interim fights later this year.
Undercard Results
David Price dominates and stops David Allen – Price (25-6, 20KOs) simply outclassed Allen (17-5-2, 14KOs) in their all Brit dustup. Allen had no answers for the longer, taller and rangier Price, who did not succumb this time to his usual signs of fatigue. Price was up 98-92 after 10 rounds when Allen's corner stopped the fight. Medical personnel examined him afterwards as Price celebrated. His eye was almost completely shut and there was significant swelling indicating that his injuries may be more severe than initially suspected. It's a wholly satisfying win for Price and as good as any other one he's ever scored. He not only won unexpectedly but did so impressively by completely dominating and dissecting a dangerous opponent. Price should continue to enjoy some name value with this win from rising heavyweights looking to test themselves against the one-time top prospect.
Dereck Chisora KOs Artur Szpilka – Chisora (31-9, 22 KOs) was absolutely devastating against Szpilka (22-4, 15 KOs) as the Pole had no chance against his firepower. The former world heavyweight challenger hurt him in the second round with a right hook to the head followed by five more hard shots before the referee stepped in to wave off the action. Chisora tore straight into Szpilka from the onset with vicious right hooks to the body. He turned it up a notch in the second round this time going upstairs to the head before connecting with a spectacular right. The blow left Szpilka out on his feet, with only the ropes holding him up. Chisora is probably no longer competitive against the very best in the division but can be sensational against your B-level type fighters.