Manny Pacquiao knocked Keith Thurman down in the first round and then went on to edge him out in an exciting split decision win on Saturday night in Las Vegas to capture the WBA super welterweight crown.
Two judges scored the bout 115-112 for Pacquiao while one scored it 114-113 for Thurman.
Pac-Man (62-7-2, 39 KOs) dominated the opening frames with a combination of power, speed and tenacity reminiscent of his incredible ascendancy years ago to become the sport's lone eight-division champion.
Thurman (29-1, 22 KOs) failed in his bid to retire the 40-year old politician and make good on his trash talking where he belittled Pacquiao's technical skills.
Tonight, there was no disrespect between the fighters as they embraced after the final bell and complimented each other.
"It was fun, "Pacquiao said. "My opponent is a good fighter and boxer. He was strong….I think he did his best, and I did my best. I think we made the fans happy tonight because it was a good fight."
"I knew it was close," Thurman said.
"He had the momentum because he got the knockdown in Round 1….I wish I had a little bit more output to go toe to toe. My conditioning, my output was just behind Many Pacquiao's tonight. Tonight, was a blessing and a lesson."
Two years ago, Manny lost a controversial decision to little known Jeff Horn and it was believed at that time that the legend had begun to fade. Then with his political career on the rise, Pacquiao attempted a comeback and posted two solid back-to-back wins over Lucas Matthysse and Adrien Broner.
Thurman was supposed to represent another step up in competition and the litmus test to prove whether he truly belonged among the welterweight elite.
The fighters started out quickly with good exchanges, but Manny quickly took over landing a left to the body and a right hook that sent Thurman to the canvas with 25 seconds left in the first round. Thurman rose quickly and did not appear to be hurt while the crowd roared in approval.
Pacquiao continued to outwork his younger opponent over the next two rounds rocking him with an assortment of body shots. Thurman was left bleeding and appeared to be unsure of himself at this point.
It did not take long for the champion to regroup though as "One Time" stormed back to decisively beat Pacquiao throughout the middle rounds while testing his chin with heavy shots in the process.
Pacquiao turned the tide yet again in the championship rounds by delivering some big shots of his own to include a debilitating body punch that made Thurman grimace in pain.
Pacquiao continued to throw more body shots throughout the 11th round, realizing that he hurt Thurman, but the champion responded with a strong left uppercut and right hook. Thurman buckled Pacquiao's knees with a straight right but takes his foot off the gas as the round comes to an end.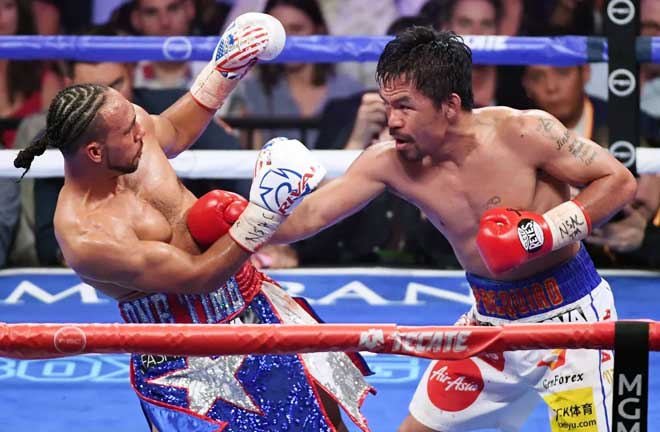 Thurman appeared to sense that he was down on the scorecards and came out swinging in the 12th. Pacquiao did a good job of avoiding any damage as the fight came to an end without either fighter having significant success.
Overall, it was an extremely entertaining and competitive bout and potential Fight of the Year candidate. Pacquiao continues to defy expectations at 40 years of age and in doing so, has managed to win another title and hand a formidable opponent his first professional defeat.
With long-time rival Floyd Mayweather seated at ringside, Pacquiao was fast and powerful and mostly out-boxed Thurman for long stretches. Thurman was fighting for only the second time since his 22-month long absence and fought well enough to win on most nights, but not against an opponent as special as Pacquiao.