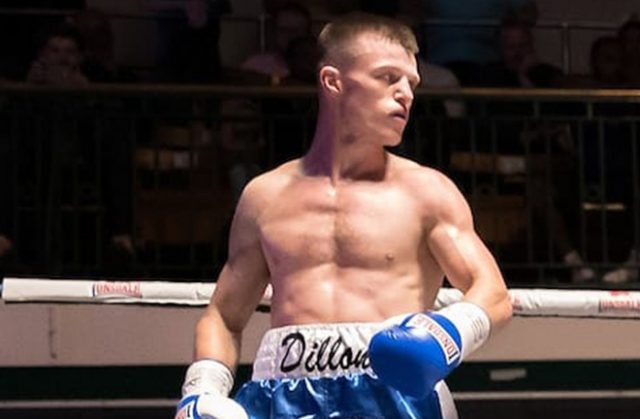 Last time in a professional ring Liam Dillon took part in what can only be described as a fight of the year contender back in November 2019, as he and Youssef Khoumari battled it out for 10 action-packed rounds for the vacant English Super Featherweight. The fight was non-stop, swinging both ways, so much so that the 3 judges ringside, couldn't split them, scoring it a draw.
Fast forward 4 months to 21st March 2020 on the Steve Goodwin promoted HOUSE OF PAIN show at York Hall and Liam Dillon will get a second bite at the same cherry.
But this time it will be a different opponent staring at him from across the ring. Step forward undefeated Super Featherweight Dennis Wahome, in fact, a stablemate of former foe Khoumari. Wahome undefeated in 7 contests gets his first opportunity at a major title, one he hopes to grab with both hands.
Will Dillon grab the title on the second time of asking? will Wahome seize the opportunity presented to him? This stars as the main event for a huge show.
Which also features Former Super Welterweight Southern Area Champion Sean Robinson who takes on Adrian Martin in an English Title Eliminator.
This is a contest that has the mouths watering, Robinson and Martin have shared many rounds of sparring together over the years and helping each other prepare as they paved their way through the rankings.
But sometimes paths come together and friendships have to be put aside as each fighter takes their careers into their own hands or be it, fists. Robinson currently sits with 10 wins, 1 loss & 1 draw with his only loss being to a close points decision to former Olympian Steven Donnelly in the Ultimate Boxxer tournament.
Having vacated the Southern Area title in pursuit of bigger things, he gets to take one step closer to major titles if his hand gets raised on 21st March.
However, Martin has aspirations of his own, for the best part of 6 months now Martin has been waiting pateintly for his opportunity.
He feels he is ready to take on all comers in the division & he says so with merit. He boasts a similar record winning 11 of 12 contests with the only defeat coming on points against former Champion Camero.
Martin had a strong finish to 2019 with improved, classy performances which set him up nicely for this opportunity. One thing is for sure, this is a chance Martin will not want to let slip.
Also on the card sees the rematch of Light Heavyweights Darrel Church vs Dominic Felix. The pair fought it out back on 30th November 2019 over 6 rounds with Felix taking it 58-56 on the scorecards.
They go again but over 10 rounds in a Southern Area Light Heavyweight Title Eliminator with more on the line this time as the winner will move into prime position to challenge for the title later in 2020.
The undercard features a whole host of talent including the debut of Jordan Warne, Exciting Mo Gharib in a 6 round contest & as he looks to hunt the winner of Dillon vs Wahome, Anelle Massey returns looking to add to her winning run, Jake Spring trained by his father Gary Spring will be looking to move to 3-0, Ipswich's Ryan Copland is back in action for the first time since September, Former Southern Area Super Flyweight Challenger Jack Hughes makes his long-awaited return for the first time since June 2019. Popular "The Savage" Dana Zaxo looks to build momentum in 2020.
Bradley Spencer looks to make it 5 from 5 in a 4 round contest. Jack Newham returns under new tutelage and ready to fulfil his potential. Neon Samuels takes on Jordan Grannum in his 2nd pro contest. Aylesbury's very own Shocki Khan is in a 4 rounder. Adrian Redman takes on Tom Barrett with Redman looking for big opportunities this year. Plus the late addition of Portsmouth's fan favourite Bailey Donald in a 4 round contest.
Tickets are on sale now via www.goodwinboxing.co.uk
One thing is for sure. On 21st March 2020, York Hall really will become a HOUSE OF PAIN.
Comments
comments