A deal has been made for an April 27th fight in Las Vegas between Nonito Donaire and Guillermo Rigondeaux, according to a report published on both BoxingScene and PhilBoxing. The WBO and WBA titles at 122 pounds will be on the line.
Donaire vs. Rigondeaux is a great fight, and one that fans have been wanting to see for some time. Of course, it's not as spectacular as the showdown between Nonito Donaire and Abner Mares, derailed by the ongoing idiocy between Top Rank and Golden Boy.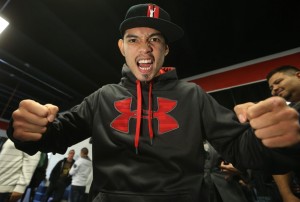 Still, we rate Donaire and Rigondeaux at #1 and #3 respectively at 122 pounds. We also have Donaire ranked as the #4 pound for pound fighter in the world, and Rigondeaux at #16. (Mares is ranked as the #2 Super Bantamweight, and the #6 pound for pound fighter).
Think back to this summer, before Mares defeated Anselmo Moreno, and most people actually had a fight against Rigondeaux listed as a higher priority for Donaire. As such, it's certainly a high quality match-up, even if it falls short of what Donaire vs. Mares could be.
Unfortunately though for fans, Donaire vs. Rigondeaux has the potential to be an uninteresting fight due to Rigondeaux's defensive, counter-punching style. But those are the reasons that he'll be such a big challenge for the offensively minded Filipino Flash.
Hopefully it turns into a real showdown and not a staredown, but we'll have to wait and see.
Rigondeaux will be looking to keep cool and pick off Donaire when he's attacking. Donaire will need to find a way to get effective work done without leaving himself open to return fire. It's going to be a tactical battle, but if Donaire lands anything big, we'll learn more about Rigondeaux's chin and willingness to exchange in a hurry.
If the powers that be at Top Rank and Golden Boy had any semblance of intelligence, the winner of this fight would get matched against Abner Mares immediately. We lost Floyd Mayweather and Manny Pacquiao due to bickering and delays, let's not lose another mega-fight, shall we?
Comments
comments