Boxer Danny O'Connor Flying the Flag for Boston Boxing With the Help and Support of his Friends the Dropkick Murphys
Highly touted junior welterweight boxing prospect Danny O'Connor is ready to rock n roll in 2012.
The Framingham, Massachusetts boxer has the new support and backing from the popular musical group Dropkick Murphys. The band plans to call on their legion of fans to get behind Danny O as they announce Clan O'Connor to the world. Dropkick Murphys founder Ken Casey and his band mates are proud to be mentoring such a fine young man and hope to help him achieve his goals of championship glory while at the same time restoring the proud tradition of Boston boxing.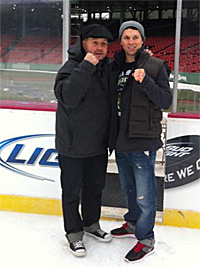 The Massachusetts products formed an immediate bond after O'Connor became an active participant in the Claddagh Fund, the official charitable organization of the Dropkick Murphys. Casey, a self-described sports fanatic has vowed to use his extensive influence to help raise O'Connor's profile and establish a rabid fan base similar to the Murphys. He explains, "Danny is the genuine article. He has a highly decorated amateur pedigree, a blue collar mentality, and the required desire to make it to the top. I'm also confident he will serve as a great ambassador for the Boston area as well as the sport of boxing. Myself and my band mates plan to work hard to see that he is in the very best position to be successful."
With ambitions of fighting in Boston landmarks such as Fenway Park and the Boston Garden, the goal is to make O'Connor and the sport of boxing a prominent fixture in the city's sports landscape. O'Connor reveals his excitement for the future, "Being associated with the Dropkick Murphys is a dream come true for a local kid. As a working class Irish American fighter from the Boston area, the relationship is a natural fit. I know nothing was ever given to them and they went out and earned every fan one at a time. As a fighter you have to have that same approach. Dropkicks provide a way to grow my popularity all while staying true to my morals and values. I wear Boston pride on my sleeve and I'm ready to show the world."
The newly formed relationship will surely transcend the traditional boxing enthusiast and galvanize the regions sports crazed culture as well as all the Murphy diehards. Casey reveals, "We envision a Danny O fight to be an extension of a Dropkick Murphys concert. A real cast of characters…fight enthusiasts and loyal Boston sports fans to soccer hooligans and punk rockers all uniting to cheer on Danny." O'Connor's goals for 2012 are to move closer to a world title shot, expand his fan base, and make a lasting impression on the boxing world. He is currently training hard in Houston, Texas under the watchful eye of renowned trainer Ronnie Shields.
O'Connor's next fight will take place May 24th at the House of Blues on Lansdowne Street in Boston, Massachusetts as he headlines a Boston versus New York themed boxing card. The event will be the first professional boxing promotion at the House of Blues and will also include a full night of live music. Ticketing information is available at www.dannyoconnorboxing.com or by emailing management@dannyoconnorboxing.com.