In less than a full year, undefeated super middleweight Edwin "La Bomba" Rodriguez has turned into a ring chameleon, capable of brawling or boxing, pending the situation and, of course, particular opponent.
In his recent (Mar. 17) HBO debut at Madison Square Garden, Rodriguez (21-0, 14 KOs) captured the United States Boxing Association ("USBA") super middleweight title, turning in a brilliant boxing exhibition to outclass tough Donovan "Da Bomb" George (22-2-1, 19 KOs), en route to a dominant 10-round decision for the Dominican native.
Unlike in many of his past fights, in which he simply stayed in the pocket, blasting away to his opponent's head and body, the 26-year-old Rodriguez patiently executed his trainer Ronnie's Shield's game plan, which stressed a stiff jab, defense, balance, and head-and-upper body movement.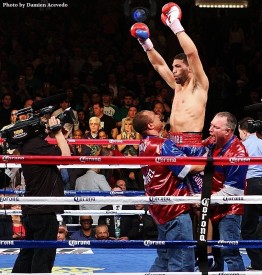 "When Ronnie teaches," Edwin recently reflected on his sterling performance from his Worcester home, "you don't really have a choice. He goes over the game plan, over and over, and you just listen and do it. We got it done in training camp. I proved in this fight that I'm more than a brawler. I showed everybody a different look and will continue to do so each fight. It's a big mental adjustment in the ring. A few times, when I got hit by George, I was itching for the old me to come out and make it a war. But I've matured and understand that I need to stay relaxed in the ring and follow instructions from my corner. I'm maturing as a person, father, fighter, and in the ring.
"I proved in this fight that I'm skilled, not just a fighter, but I can still punch and my future opponents will have that in the back of their minds when they study my old fights. They can't go into a fight crazy, thinking I'm still going to stand and fight; I can box or brawl and both will only cause more problems for them. Ronnie's made me into a complete fighter and I can't say enough about Victor Conte's work. I'm much more dimensional than my nickname. My manager, Larry Army, has assembled one of the best, if not the best team in boxing. For now, I'm going to enjoy time with my family and let my body rest. I'll let my promoter, Lou DiBella, and Larry decide what's next for me."
Edwin is ranked among the top 15 contenders by all four major governing bodies: #3 International Boxing Federation ("IBF"), #5 World Boxing Council ("WBC"), #8 World Boxing Association ("WBA") and #14 World Boxing Organization ("WBO").
"Now," Army noted, "we're in the driver's seat, especially in the United States. The Super Six guys have already fought each other. There's talk of us fighting (Andre) Ward or (Glen) Johnson. We could move up to light heavyweight and fight (Jean) Pascal. Edwin has the size, height and reach to fight at super middleweight or light heavyweight. We're in no rush, though, and Edwin can always use another fight or two working with Ronnie. It all depends on the most lucrative opportunity. Let's just say all offers will be seriously considered.
"Edwin came of age in that ring last week. The last 4 ½ years of hard work and sacrifices came together at Madison Square Garden and on HBO. Edwin made a very good fighter look average. Great fighters shine in the spotlight and that's what he did. Remember, Edwin's still only 26 years old and Edwin and Ronnie have only worked together a total of 22 weeks."
Against George, Rodriguez came out throwing a remarkable 47 jabs in the opening round, 413 in 10 rounds to go with 305 power punches, out-punching Donovan, 718-560 (215-156 total punches connected.)
"Under the guidance of Ronnie Shields," DiBella added, "Edwin is realizing his potential as the preeminent young American 168 pounder and a future world champion. The best is yet to come. You ain't seen nothing yet!"
Shields, a two-time world title challenger, believes that there's a similarity between one of his past fighters — the late, great Vernon Forrest — and his new student, Rodriguez. "Neither was real patient until they understood the process," Shields explained. "Edwin reminds me of Vernon Forrest. Vernon sparred Pernell Whitaker and a lot of other good guys. He wanted to fight for the world title and was in a rush. I told Vernon then, Edwin now, that I don't want them to fight for the world title. A lot of guys have done that. I want Edwin, like Vernon, to win the world title and defend it multiple times to make money to take care of his family. Edwin's close right now, one or two more fights, and then he'll be ready for anybody in the world.
"I'm so proud of him because he listened to me. Last week's fight was perfection. It was all about defense because we knew all Donovan George could do was hit Edwin with his right hand. Edwin caught his right, or made him miss and came out from the opening bell firing his jab into George's face. He didn't know what to do. Edwin could have fought him toe-to-toe and maybe knocked him out, too, but the only chance George had of winning was to get lucky with a big punch. Edwin was the more skilled boxer and better fighter, so why take that chance? I kept it simple for him this fight and he did a great job. We've worked on correcting some bad habits and will continue doing that. You have to crawl before you walk and it does take time. Most importantly, Edwin proved that he's not just a brawler."
"La Bomba" is now a boxing chameleon – world class boxer-puncher.