Emmanuel Navarrete defended his WBO Featherweight title for the first time, as he finally broke down the tough as nails Christopher Diaz to score a final round stoppage win.
The fight topped a card in front of a partisan crowd at Silver Spurs Arena in Kissimmee, Florida, on a Top Rank promoted bill. Navarrete was coming off a tougher than expected points win against Ruben Villa to win the vacant title in October 2020, while Diaz was challenging for a world title for a second time.
The brave Diaz took a lot of punishment here, but was spirited and competitive, down four times in all before being rescued by his corner with just eleven seconds of the contest remaining. 
After a dominant first few rounds, Navarrete cranked up the pressure in the fourth, and Diaz hit the canvas hard from a long Navarrete left uppercut. Diaz beat the count, but had to take the rest of the round to regain his senses. 
Diaz's only successes came when he landed to the body of the champion, but he simply couldn't get inside often enough, and it allowed the Mexican to dictate matters, although Diaz did enjoy solid rounds five and six. 
The seventh though saw the challenger deducted a point for a kidney shot, and as if his task wasn't getting insurmountable already, Diaz was then down twice in round eight, both from well timed combination punches from Navarrete, and he did well to beat the count both times.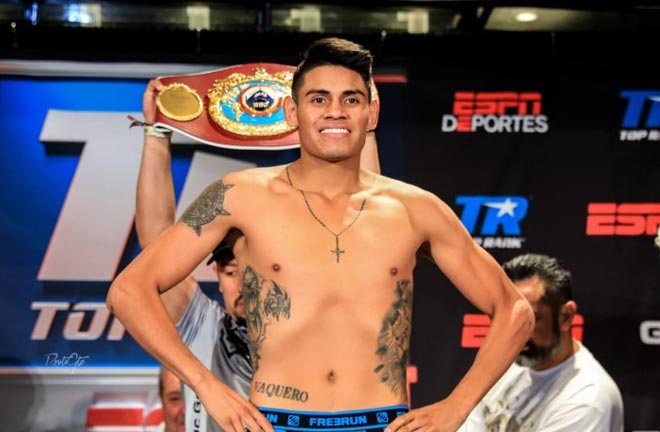 Diaz though still had the will to win, and he continued to match his opponents work rate and output, but Navarrete would invariably have the last word in any exchanges. 
Try as he might, Diaz just couldn't find the punches to keep his man off, and he knew going into the final round that a knockout was needed. 
The Puerto Rican went for broke, but more dominant combination work had him on the floor for a fourth time, and although he bravely rose once again, his corner spared him from any further punishment with seconds remaining. 
Thoughts quickly turned to the future, where Navarrete is chasing the biggest fights available to him in his weight class and beyond. But he still paid tribute to his vanquished opponent. 
"Every time I hurt him, every time I knocked him down, he came back stronger" said Navarrete post fight. "He brought out the best in me, I've got a lot of respect for Diaz".
"Leo Santa Cruz still holds a belt, I'd like to fight him. Gary Russell Junior is another name in this weight class. I hope they'll step up and fight me".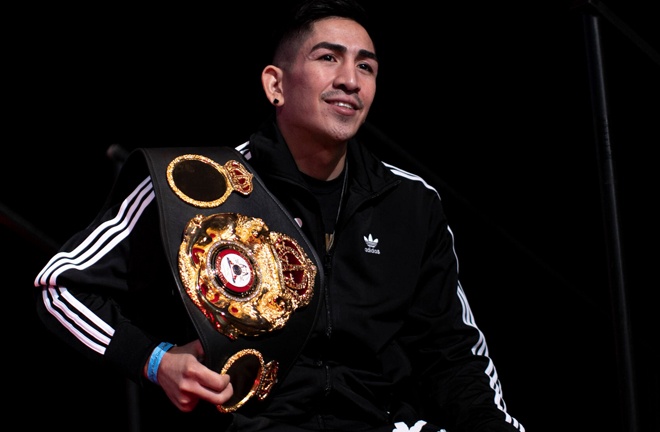 "If those options aren't available to me, I can go to 130".
Edgar Berlanga had knocked out all 16 of his professional opponents in the first round, but try as he might, the Super Middleweight just couldn't shift Demond Nicholson, who clung on to hear the final bell after eight rounds, despite being on the canvas four times throughout the contest. 
After a hat trick of knockdowns, Berlanga very nearly secured another inside the distance win when he floored Nicholson heavily with just seconds remaining of the final frame, but the bell came to the underdog's rescue. 
Two scores of 79-69 and a third at 79-68 ensured the 23-year-old New Yorker remained undefeated.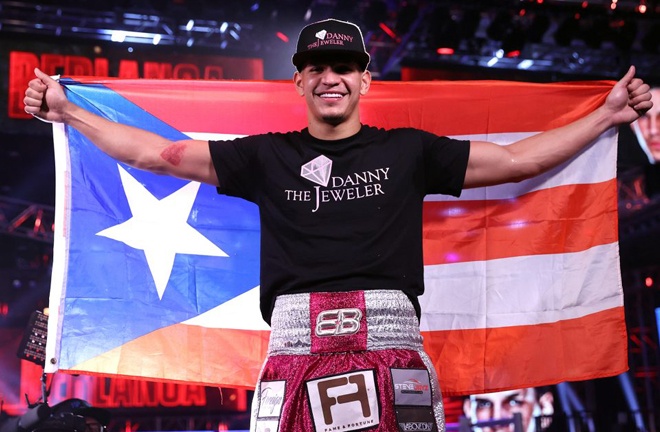 Xander Zayas scored a first round knockout over Demarcus Layton at Welterweight
Super Lightweight prospect, Josue Vargas, pounded out a ten round decision win against the tough Californian Willie Shaw. Two scores of 99-91 and one at 98-92 gave Vargas a 19th win against a sole disqualification loss.
Two unbeaten fighters couldn't be split, as Lightweights Jasmine Ortiz and Joseph Adorno played out a thrilling eight round draw. Ortiz was decked in rounds two and seven, and this reflected on the scorecards, where two 75-75 tallies ruled a 76-74 vote for Ortiz redundant.
Puerto Rican Featherweight, Orlando Gonzalez Ruiz, took his record to 17-0, with a clear points win over eight against Juan Antonio Lopez. Scores of 79-73 (twice) and 78-74 were enough for the 25 year old to get his hand raised.
Whilst at Super Featherweight, Zayas' brother Jacob also notched a first round win, against Mobley Villegas. At Super Bantamweight, Jeremy Adorno took a majority decision win over Ramiro Martinez.