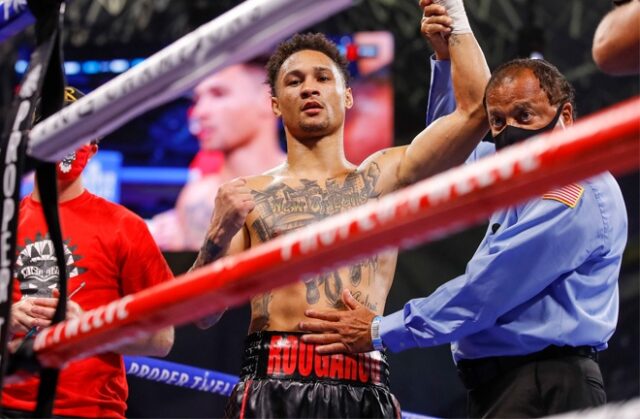 On a night which was saw a YouTube sensation in Jake Paul fight a retired MMA fighter in Ben Askren, Snoop Dogg on commentary and another former UFC fighter and a Colombian reggaeton artist make his debut, it was surprisingly the clash between Regis Prograis and Ivan Redkach which produced the most drama on a dramatic night in Atlanta last Saturday.
The showdown between former 140lbs champion, Prograis and experienced contender Redkach was the fight on the card which appealed to the hardcore boxing fans, but concluded in bizarre circumstances.
'Rougarou' dominated proceedings and after striking the Ukrainian with a left hand to the head, Prograis followed up with a body shot which left the 35-year-old crumpled on the canvas, claiming he'd been struck by a low blow.
Referee Jim Korb ruled the shot, which on replay was clearly above the belt line, a low bow handing the American a technical decision win with 'El Terrible' stretchered out of the ring after receiving medical attention.
An understandably furious Prograis vented his frustration after the bout, but was given his justice on Monday when the Georgia Athletic and Entertainment Commission reversed the referee's decision, handing him a 6th round TKO victory, his second win by stoppage since a sole loss to Josh Taylor by majority decision back in October 2019.
Reflecting on the bout, the 32-year-old believes his opponent was looking for a way out of the fight, but was glad to see the decision overturned.
"Those last two rounds I started to hit him hard, I started to catch him," Prograis told proboxing-fans.com.
"I just think he wanted a way out, that's the main thing, I just think he wanted to get out he didn't want to fight no more and he faked it.
"He'd get a big Oscar award for that because he faked that shit good!
"It wasn't low for sure. Even when I hit him I knew it wasn't low. I really don't ever hit nobody low, even if I'm fighting an orthodox fighter or a southpaw fighter.
Just want to thank everybody who tuned into the fight Saturday night. It was a bizarre ending but overall good experience. Who do you want to see me fight next? @triller #TrillerFightClub #rougarou 👊🏽🥊#wolfpack 🐺 pic.twitter.com/I92XNJ49UZ

— Rougarou (@RPrograis) April 20, 2021
"Of course everybody can make mistakes, but I just don't do that and I knew it didn't hit him low, I knew he was bullshitting."
"That was the main thing I wanted [the decision changing to a TKO]."
Prograis revealed that an apology was given by Redkach and his wife, although the trio did not communicate in person after the fight.
It was Triller's second event since their inaugural exhibition between Mike Tyson and Roy Jones Jr in November and featured performances from Diplo, The Black Keys, Saweetie, whilst there was a win for 44-year-old former Cruiserweight world champion, Steve Cunningham who came out of retirement to beat former UFC Heavyweight, Frank Mir.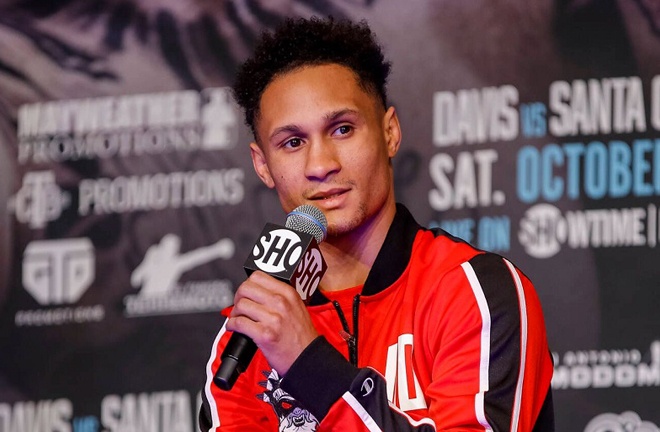 During a unique and unconventional broadcast, which received mixed reaction online, Oscar De La Hoya made a surprise appearance and later apologised for making some outlandish comments and Prograis says he felt the event was slightly excessive at times.
"I think it was too much, I'm not going to lie. They could have done it, but not so much.
"I had to be at the arena for 6pm and then I didn't start walking [to the ring] until 11.40pm or something like that, so I'm literally sitting in a dressing room for close to six hours, waiting, waiting and waiting.
"We saw all these acts, all these performers they were doing all this stuff and it was kind of loose.
"Another thing people don't know, Ivan's wife she kept coming into our dressing room offering us stuff.
"She was offering us sandwiches and food and bananas and coffee!
"She was real nice. I think that was her first time actually being in something like that and I think she was working as his assistant or something like that.
"But she kept coming in, she was offering us all kinds of things. She was like, 'yeah, you know they say you've got to keep your friends close and your enemies closer.'
"She was joking around, she was real nice about it, but it was just a different type of experience."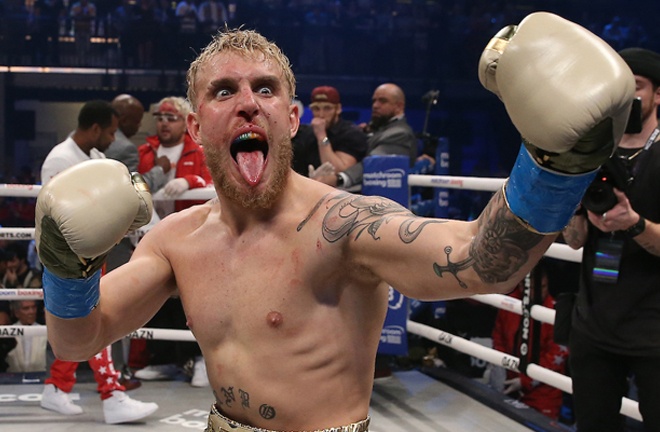 Prograis' fight was followed by a performance from Justin Bieber before Jake Paul stopped Ben Askren inside the first round, to secure his third professional win.
Paul, who has amassed over 20m subscribers on YouTube has drawn widespread criticism in the boxing community, raising eyebrows during the fight week press conference when he described himself as an "elite boxer" despite his other two wins coming against a fellow internet sensation in AnEsonGib on debut, before halting former NBA star, Nate Robinson.
However, 'The Problem Child', who is linked with a future clash with Tommy Fury is drawing huge attention and a new audience to the sport, claiming on his YouTube channel that the fight had generated over 1.5m pay-per-view buys and Prograis, who has named Adrien Broner as a potential opponent for his next fight believes the 24-year-old is having a positive impact on the sport with the awareness he is bringing.
"Even before the fight that's why I agreed to be on the card, because they were like 'do you want to fight on [the] Jake Paul [undercard]?'
"Of course I'll fight, he's bringing different eyes to the sport. If I'm not mistaken they said the pay-per-view numbers are crazy, they're big numbers right now and I don't even think they tallied all of them up yet.
"My opinion of him didn't change at all. He's bringing different eyes to the sport and hey if they can do that through a boxing fight, let them do it."
Watch the full interview where Prograis reflects on his fight with Redkach below and take a look at what he had to say about his future on our YouTube channel.