The undercard of the upcoming March 30 fight night in Monaco, headlined by Gennady Golovkin's title defense against Nobuhiro Ishida, has two bouts which make up the semifinals of a million dollar box-off event the promoters have put together. Each of these fights are worth watching both for their specific merits and for their ability to answer some larger boxing questions: Zsolt Erdei vs. Denis Grachev and Edwin Rodriguez vs. Ezequiel Maderna.
With just a little luck, both fights will result in a clear verdict, and with it we will have a little more clarity in the rankings for 168- and 175-pound weight classes.
Erdei vs. Grachev
Largely unknown outside of Europe, Zsolt Erdei is a 38-year-old career light heavyweight from Hungary. The reason this undefeated former WBC cruiserweight and WBO light heavyweight champion has remained obscure in America is because he has followed the conventional European career path of staying close to home and avoiding world class opposition.
He captured the WBO 175-pound title in 2004, defended it against a succession of fringe contenders and upper tier journeymen, and then made a brief and singular foray into the cruisers. Rather than remain a cruiser (and Erdei weighed in at 178 pounds for a 200-pound fight night), the Hungarian changed his career tactics: he returned to light heavyweight and moved to the United States.
So we know Erdei has some legitimacy, because no one hangs on to a title for as long as Erdei did without some real ability. However, his best opponents to date are guys like the mid-2000 version of Julio Cesar Gonzalez and the modern, very washed up version of Byron Mitchell. He is making his break for true world class status very late in his career, so the question mark hanging over Erdei is "can he?" If he gets past Grachev, the answer is "yes."
Facing Erdei is Denis Grachev, the guy who recently lost his "0" in giving Lucian Bute a difficult time in the Canadian's first light heavyweight outing. Because of that loss, we'll learn a lot in this fight about not just Erdei and Grachev, but also Bute.
If Grachev wins or puts on a great show in losing, it confirms that he really is a solid light heavyweight contender, and in so doing he confirms Bute's status, tarnished as it is by his knockout defeat at the hands of Carl Froch. If Erdei dominates Grachev, it diminishes both Grachev's and Bute's stock.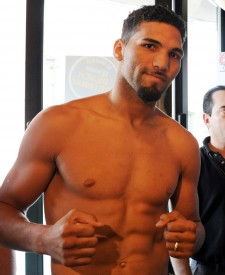 Rodriguez vs. Maderna
The reason why Rodriquez vs. Maderna is a big question mark fight is a little more obvious: both guys are rising, undefeated fighters. Rodriquez is the USBA champion, and thus in line for a crack at the IBF title if he keeps on winning. Maderna is the next big thing out of Argentina, the country that has produced so many exciting, hard-hitting world class fighters as of late.
Both guys had decent amateur careers, but nothing spectacular. Both have good power. While Rodriguez has defeated the likes of Don George and Will Rosinsky, some wonder whether or not he has peaked, or if he has another gear we've yet to see. Maderna, meanwhile, hasn't fought anybody of note in his career to date. This clash of undefeated young boxers should tell us a lot about both of them.
The winners of these two bouts will square off in Monaco in the summer, with the ultimate winner being well-positioned to call out some of the bigger names in and around the 168 and 175 lb divisions.