If the middleweight division has a rising star, that is Gennady Golovkin. Just as boxing goes around asking if this heavyweight or that heavyweight is ready for Wladimir Klitschko, many wonder if the big puncher from Kazakhstan is ready to challenge middleweight top dog Sergio Martinez.
On March 30, Golovkin defends his WBA title against a lesser known, but certainly veteran fringe contender in the form of Nobuhiro Ishida. This fight won't prove whether Golovkin is ready for the slick, aggressive, marvelous Argentine one way or another, but it will certainly be an entertaining main event for a splashy Monaco fight card that includes Zsolt Erdei vs. Denis Grachev.

Nobuhiro Ishida (24-8-2, KO 9)
6'1″ tall, 72″ reach, 37 years old
Japanese
Former (fake) WBA Light Middleweight Champion, Former Japanese Light Middleweight Champion
Ishida is probably the best middleweight you've never heard of. As a 17.5 to 1 underdog, Ishida destroyed an undefeated James Kirkland in a single round, sending the American to the canvas three times. Prior to that, he had a brief stint as the interim (fake) WBA Light Middleweight Champion, but was unable to hang on to his interim (fake) belt long enough to translate it into the genuine article. Last year saw him dominated by Paul Williams and #6-ranked Dmitri Pirog.
So, while Ishida is a better fighter than his lack of name recognition might suggest, it would be accurate to describe him as a tall, rangy example of an upper tier journeyman or a fringe contender, and not much more.
Gennady Golovkin (25-0, 22 KOs)
5'10" tall, 30 years old
Kazakh living in Germany
WBA Middleweight Champion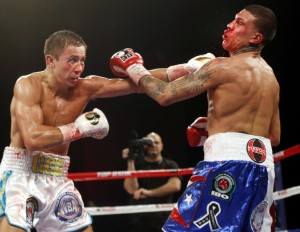 Gennady Golovkin is a knockout artist with a sterling pedigree. A 2003 World Amateur Champion and 2004 Olympic Silver Medalist, Golovkin has blasted a path of destruction through the lower tiers European middleweight picture since turning pro. His current knockout rate of 88% is the highest of any middleweight champion, past or present.
The Kazakh slugger's best opposition thus far consists merely of top journeymen and fringe contenders, such as Gabriel Rosado, Grzegorz Proksa, and Kassim Ouma, so whether he will continue smashing the opposition when he fights a more competent class of fighter remains to be seen. However, Golovkin is the #3 middleweight in the world for a reason, and is no mere paper tiger. It is safe to say that in the present middleweight division, he is more the avoided party than the one doing the avoiding.
Golovkin vs. Ishida Analysis and Preview
Ishida is a good trialhorse for Golovkin, but not much more. The Japanese boxer has the height, range, and defensive skills to make life frustrating for Golovkin, should the Kazakh show up unfocused and/or ill-prepared. Ishida likes to play the matador and spear opponents from a distance, so if Golovkin lets him, the Japanese boxer will stick from a distance all night.
Yet all Golovkin needs to do to take him out of his game plan is step an inch or two inside those rangy arms and unload. Ishida has been dropped before, and by far less powerful men. It's hard to see him surviving Golovkin's leather once the champ starts to land it from inside Ishida's comfort zone.
Prediction: Gennady Golovkin TKO 6 Nobuhiro Ishida