On June 8th at the Home Depot Center in Carson, California, contrasting fighting styles will collide as Junior Middleweight contenders Alfredo Angulo and Erislandy Lara will square off. This is a huge bout for both, as a solid performance should cast the winner of this bout into the conversation for major fights in the near future, and the loser into a serious downward drift.
Erislandy Lara, (17-1-2, 11 KO's) a quick, counterpunching boxer, and former Cuban amateur standout with over 300 amateur fights to his credit. Alfredo Angulo (22-2-0, 18 KO's) is a come-forward puncher who has fight altering power. Truth be told, the prowess of both fighters is tough to get a handle on right now, based upon their performances in recent fights.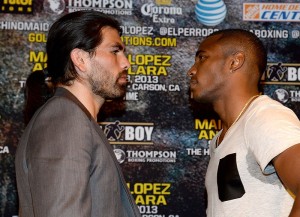 Lara is coming off a technical draw with Vanes Martirosyan, after an accidental head butt caused a cut to Martirosyan, with the fight going to the judges' scorecards in the 9th round.  Lara started slow in the fight and was actually behind on one of the ' cards, but appeared to be gaining steam and taking control of the fight when the cut occurred.
This was a disappointing result for Lara, as it seemed to stall his momentum. Still, an impressive outing against Angulo should get him back on track. Prior to the Martirosyan bout, Lara lodged impressive wins facing Ronald Hearns and Freddy Hernandez. He was also denied a win against Paul Williams in 2011, in one of the biggest robberies in recent memory, and his draw against Carlos Molina looks better in retrospect than it did at the time.
Angulo will be coming off a lackluster outing versus Jorge Silva. Silva surprisingly gave Angulo a lot of trouble and scored big shots repeatedly against the minimally elusive Angulo. Though Angulo scored the unanimous decision victory, it wasn't pretty.
In 2011, he was KO'd by James Kirkland when he gassed out after almost stopping Kirkland early. He then had a 13-month layoff, seven months of which were spent in a detention center due to visa and immigration issues.
Lara does not appear to be a good style matchup for Angulo. This will be Angulo's third fight under the tutelage of trainer Virgil Hunter and Hunter will have his hands full in game-planning for the slick, counter-punching Lara. Angulo has a come-forward style and lacks defensive focus and movement.
Reportedly however, he has spent some time sparring with stable mate, Amir Khan, to help him get used to an opponent with superior hand-speed and movement. In Lara, Angulo will face a good counterpuncher with great hand speed who seems to have good success versus a fighter who will come to him. Lara will be quicker, more elusive and hard to hit at times, which add up to a formula that could spell doom for Angulo.
Lara vs. Angulo Prediction:
In a recent interview with Boxingscene.com, Virgil Hunter said, "You don't change Alfredo Angulo." If that is true, it may not be good news for Angulo and his fans.
Lara does best against opponents who will come to him and Angulo appears certain to oblige that preference. Lara is a southpaw and Angulo struggled defensively versus the last southpaw he faced in James Kirkland and otherwise doesn't have much experience versus southpaws, and the difference in skill between Lara and Kirkland is miles wide.
All of this begins to build up a good case for Lara to walk all over Angulo. However, Lara, though in their mold stylistically, is no Guillermo Rigondeaux or Floyd Mayweather. He likely won't overwhelm Angulo, as his pace and activity is at times inconsistent and he does not seem to do well when guys smother him and work in tight, as Molina did.
Versus the heavy handed and aggressive Angulo, Lara will need to be sharp or he could get beat up and caught.  If Hunter were able to change Angulo into being a guy with faster hands, better head movement, and more of an ability to cut off the ring, I'd like his odds better. But, as he is, Angulo is not a great ring manager, doesn't have good movement and I think will be simplistic enough in his approach to allow Lara to get off, gain confidence and fight the fight he wants.
Though Angulo does have the power to turn this fight on one punch, ultimately, I think Lara is good enough to outpoint the slower Angulo and keep him off balance. Hunter is probably right that he can't change Angulo, and as mentioned, that's not a good thing in this instance.
Prediction: Lara by Unanimous Decision.
Comments
comments