The Worst Decision and Biggest Robbery in Boxing in 2011
2011 was a year in boxing filled with controversy, headaches and hassles, and yes, plenty of bad decisions and roberries. One fight definitely stands out as being the most atrocious and mind-boggling, but make no mistake about it, all throughout the year there were terrible verdicts and controversial endings which left fight fans scratching their heads.
The Biggest Robbery of 2011: Paul Williams vs. Erislandy Lara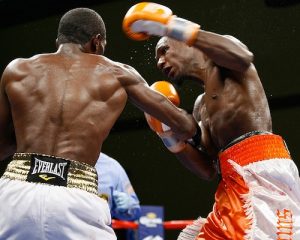 On July 9th, Paul Williams met Erislandy Lara in a junior middleweight showdown in Atlantic City. Paul Williams ended up winning a Majority Decision with scores of 116-114, 115-114 and 114-114, and well, let's just say that people didn't agree.
How you know when a decision is pretty bad: all three judges who score the fight end up suspended by the commission. The HBO announcing crew is worried about the victor being killed in the ring. Roy Jones thinks Paul Williams needs to stop fighting, yes, that Roy Jones. We clamor to find ways of how to fix the incompetence and/or corruption involved in boxing judging. It goes on from there.
Lara controlled the action throughout the fight. He landed crisp, clean and hard shots all evening long while dictating how the fight was playing out. The second half of the contest was all Lara, and Williams looked like a bloody, beaten mess.
Most neutral scorecards had Lara winning nine or 10 rounds out of 12, and the reading of the decision was devoid of any suspense, because it was such an obvious, foregone conclusion as to who won. But then Williams got the nod. Terrible stuff.
Meanwhile, how is Lara repaid for the crime against him? He's been inactive since then with nothing on the schedule. Williams has a fight on HBO in February. And so the boxing world carries on.
Don't forget to check out the rest of our 2011 boxing awards for dozens of different year-end awards and honors!
Runner Up: Felix Sturm vs. Matthew Macklin
Matthew Macklin underwent the classic German scorecard treatment when he challenged Felix Sturm for his WBA middleweight strap in June. By all accounts, Macklin took the fight to Sturm, outworked him and landed the better shots.
He should have taken home the middleweight title, but instead, Sturm retained it, and won eight rounds on two scorecards. The final verdicts were 116-112 and 116-112 for him, and one card of 115-113 for Macklin, and indicate that the judges may have had their minds made up about who won the fight before it even began.
Macklin got jobbed, and then jobbed again, when Sturm promised him a rematch and then failed to put a fair deal together for it to actually take place. At least has Macklin signed with DiBella Entertainment, and seems to be headed to the United States in hopes of landing some high profile, high paying fights in 2012.
Contenders:
Robert Helenius vs. Dereck Chisora: In the beginning of December, a lean and mean Dereck "Del Boy" Chisora went into Helenius's hometown, outfought him for 12 rounds, and went home empty handed after Helenius got a Split Decision win. Even Helenius's promoter admitted that the win was lucky for his guy. Chisora is now slated to face Vitali Klitschko, while the Nordic Nightmare better close some holes in his game if he wants to take on one of the brothers.
Devon Alexander vs. Lucas Matthysse: The same day as Sturm-Macklin, Devon Alexander also enjoyed some hometown love on the scorecards as he won a Split Decision over Lucas Matthysse. The hard-luck Matthysse knocked Alexander down in the fourth, and in the second half of the fight came on strong, was aggressive, threw more shots, and landed harder ones. Yet, Alexander won 7 rounds on one of the scorecards and won the decision.