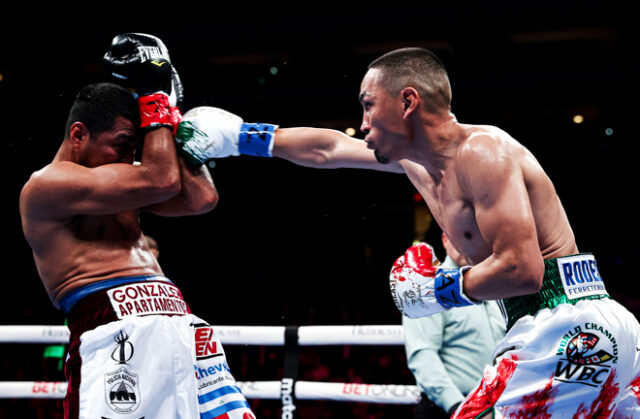 It was another classic at the Gila River Arena in Glendale, as Juan Francisco Estrada took the vacant WBC super flyweight title with a majority decision win against Roman 'Chocolatito' Gonzalez in their trilogy meeting.
The pair originally met back in 2012, where Gonzalez (51-4, KO41) took the win on the cards for the WBA light flyweight belt, and last year, Estrada (44-3, KO28) turned the tables in a split decision victory to take WBC and WBA super flyweight straps.
After a surprisingly cautious first round, Estrada opened up in round two, landing with a body attack and an uppercut. The pair the exchanged in round three, and they both landed cleanly as they took turns to dish out punishment. Estrada was getting the better of the argument though, and started to take over in the middle section of the contest. Gonzalez was looking sluggish, and at the end of the fifth, he was read the riot act by his corner. By round seven, Estrada was in a groove, landing with combinations and targeting the body of the Nicaraguan, but Gonzalez wasn't done, and finally came to life from the eighth, where he enjoyed his best round to date, landing with aggressive punches.
Things are starting to pick up now 💥#EstradaChocolatito3 pic.twitter.com/NQqz708tqS

— DAZN Boxing (@DAZNBoxing) December 4, 2022
Gonzalez was upping the ante, boxing Estrada in as he forced Estrada into a close quarters fight, and in the tenth he poured on more pressure, swarming all over the Mexican. There was an argument that Gonzalez shaded the penultimate round, but Estrada stuck to the task, with the final frame seeing him hurt his opponent to the body as the absorbing clash came to a close.
📈📈📈 #EstradaChocolatito3 pic.twitter.com/6VfwKCtKyR

— Matchroom Boxing (@MatchroomBoxing) December 4, 2022
Gonzalez's slow start seemed to be the difference, as a 114-114 draw was overruled by verdicts of 116-112 and 115-113 for Estrada ensured he was crowned as the new champion.
The undercard saw Julio Cesar Martinez (19-2, KO14) returning after defeat to Gonzalez last time out, and the Mexican dropped back down to flyweight, defending his WBC title with a majority nod against Spain's Samuel Carmona (8-1, KO4). Martinez didn't have things all his own way, and Carmona did better than expected, but the champion prevailed, with scores of 117-111 and 116-112 good enough, as a third tally of 114-114 was made redundant.
Cristofer Rosales (35-6, KO21) showed there was still life in him yet, as the former WBC flyweight champion took a unanimous decision win over ten against Joselito Velazquez (15-1-1, KO10). Rosales was adjudged the winner by three scores of 97-93.
Cristofer Rosales comes out on top for his 35th victory 🇳🇮#EstradaChocolatito3 pic.twitter.com/N6gts6NTT7

— DAZN Boxing (@DAZNBoxing) December 4, 2022
In other ten round action, Austin 'Ammo' Williams (13-0, KO9) waved up for a potential meeting with Felix Cash in 2023 with a ten round decision win against Simon Madsen (13-1, KO10) at middleweight. Williams came through widely, by identical scores of 99-90.
Ammo Williams pick up his 13th victory 💪#EstradaChocolatito3 | @autozone pic.twitter.com/eUSoorfBQf

— DAZN Boxing (@DAZNBoxing) December 4, 2022
Diego Pacheco (17-0, KO14) remained unbeaten, scoring a second round stoppage against Ricardo Adrian Luna (24-9-2, KO16) to defend his WBC United States middleweight title.
THIS GUY @realdpacheco 🌟#EstradaChocolatito3 pic.twitter.com/1JA2Dz1Op8

— DAZN Boxing (@DAZNBoxing) December 4, 2022
Marc Castro (9-0, KO6) took a lop-sided points win in the sole eight rounder on the bill, as he took an 80-71 win across the board against Maickol Lopez Villagrana (16-4, KO8) at super featherweight.
The Marc Castro hype train keeps rolling, as he gets his 9th win 😤#EstradaChocolatito3 | @autozone pic.twitter.com/ewhOF7lv63

— DAZN Boxing (@DAZNBoxing) December 3, 2022
Beatriz Ferreira (2-0, KO1) dropped down to two minute rounds, and took her first early win, a second round stoppage of Carisse Brown (7-3, KO4) at super featherweight, and at bantamweight Anthony Herrera (4-0-1, KO3) halted Christian Sullivan (8-1, KO5) in three.
Anthony Herrera finishes it 👊#EstradaChocolatito3 | @autozone pic.twitter.com/w9h01PvrvQ

— DAZN Boxing (@DAZNBoxing) December 3, 2022