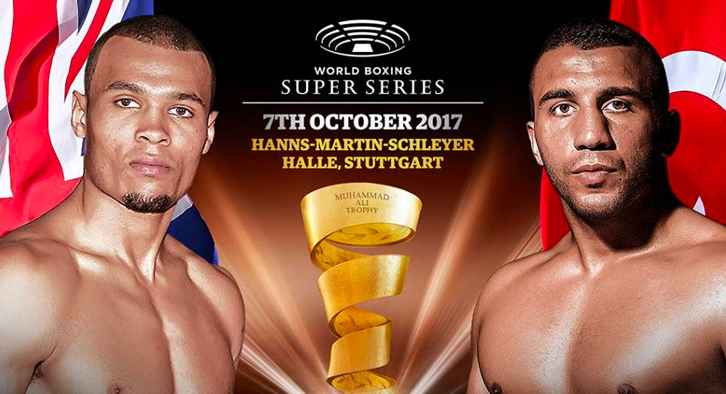 Chris Eubank Jr will take on Avni Yildirim  in Stuttgart, Germany, in the quarter finals of the World Boxing Super Series this Saturday night.
Eubank Jr was the British third seed and his father, Chris Eubank, chose Yildirim at the Draft Gala in Monaco as the opponent to either his son or Arthur Abrahams. Eubank Jr defeated Abrahams in Wembley Arena in July, confirming his slot in the WBSS.
Eubank Jr spoke about his opponent and said, "Yildirim's chin has not been tested, I will test it to the absolute limit and if it has even the slightest bit of weakness he will not last six rounds."
When asked about fighting away from home, Eubank Jr responded, "I don't mind about fighting in Germany. I honestly don't mind where I fight. I could be fighting in a phone box. It really doesn't matter to me as long as I get the win that's all I care about."
Yildirim, 26, from Istanbul, Turkey, said, "I am very happy that the fight is in Stuttgart because for me it is like a second Turkey and I am looking forward to entertaining the crowd," Training is going great, I know what I have to do. I have been training really hard, and I am fully focused on this."
The Turk was not impressed with Eubank Jr joining Mayweather's camp to train ahead of the fight.
"What is Chris going to learn there, apart from hide-and-seek? I like Mayweather, he is a special guy. But Eubank is not Mayweather. Seriously, what is he going to learn from a welterweight, to run away for 12 rounds? The fans want a fight, I want a fight! If he is man enough, me versus Chris will be a good fight."
Plenty of people believe it will be an easy victory for Eubank Jr but do not underestimate Yildirim. This could be a good punch up!
The winner will face either George Groves or Jamie Cox in the next round.