-The Eternal Saga of Evander Continues-
On January 22, 2011, the combined age in the ring will be 86 when 48-year-old Evander Holyfield takes on 38 year old Sherman Williams in a battle of Heavyweight veterans. This fight, canceled and rescheduled numerous times and now being held from West Virginia and shown on pay-per-view,  will have the two men competing for Holyfield's very marginal World Boxing Federation Heavyweight Title, which he acquired by taking out Francois Botha  in 2010. Holyfield is looking to use this fight as a stepping-stone to a future fight against current WBC Champion Vitali Klitschko.
Evander "The Real Deal" Holyfield
43-10-2 (28 KO's)
Atlanta, Georgia
Height: 6'2"   Reach: 78"
Last 5 Fights: In his recent fights, Holyfield has not shied  away from taking on some tough customers. He was defeated by the giant Nikolay Valuev in an attempt for Valuev's WBA title, and also lost to Sultan Ibragimov in a fight for Ibragimov's WBO title.  Both losses were by decision. On a positive note, Holyfield did defeat another veteran this year in Francois Botha. With this win, he acquired the vacant World Boxing Federation heavyweight title and is now at 47 (he will turn 48 in October). He is on a quest to take on the best in the heavyweight division and finally recapture the championship.
Sherman "The Tank" Williams
34-11-2 (19KO's)
Bahamas
Height: 5'11" Reach: 76"
Last 5 Fights: Sherman Williams has been on a hot streak at this late point in his career, winning 9 of his last 10 fights. Unfortunately, the one fight he lost is his most recent one, which came as an October 2009 decision loss to Manuel Charr. Although he has not taken on any fighters near the caliber of the fighters Holyfield has seen, Williams still looks to be a modestly tough opponent for Evander at this stage in his career.
Holyfield vs. Williams Preview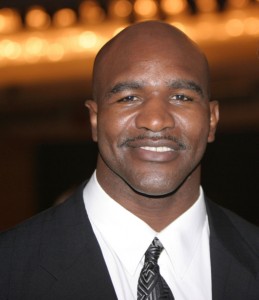 In a tale of the tape, Holyfield has every tangible and intangible advantage, other than age. He is taller by 3 inches, has a longer reach by 2 inches and has literally seen it all in the ring. He is the only 4-time champion in Heavyweight history and his professional ring experience spans the course of 26 years, his first 8 being undefeated. Williams does have the advantage of being 10 years younger and on a hot streak, but facing Holyfield, even an aging Holyfield, is a different experience than any of the fights Williams has been in recently.
Holyfield and his management have made it clear that they want the big Heavyweight fights. He has fought 2 of the best in the business recently (Ibragimov and Valuev) and if he gets through Williams, his next goal is an early 2011 fight with Vitali Klitschko. He has also been recently quoted as saying he wants a fight against WBA Champion David Haye. He is taking this fight against Williams to "stay active" and just to get some more 2010 fighting experience in before taking on the guys with the belts.
It seems as though Holyfield is so focused on taking on the top fighters in the division that he may overlook Williams. He may think that even if he loses this fight, the Holyfield name is so well known that he could still get in the ring against the top fighters, just because of the fact that he is Evander Holyfield. This is the only thing that could prevent Holyfield from winning this fight. Clearly it is a winnable fight for Holyfield and if he comes into the fight completely in the moment and not thinking ahead to Haye or the Klitschkos brothers, he should retain his title.
Holyfield vs. Williams Prediction
Although both guys are aging, Holyfield is the clear favorite in this fight. Williams is been doing relatively well in his recent fights, but doesn't have the experience against top-notch fighters, nor does he have the physical characteristics to defeat a fighter like Holyfield. Expect Williams to stick around and hang with Holyfield throughout the fight, but in the end Holyfield will win the decision.
Holyfield by Unanimous Decision