"There is no education like adversity" – Disraeli.
Heading into his fight with the Argentinean power puncher Marcos Maidana, Victor Ortiz was set to hit the boxing big time. His promoter Oscar De La Hoya said of the young Mexican American "Victor has the charisma, looks, smile and most importantly, he has the goods – the talent – to be the chosen one". De La Hoya should know, he was the chosen one and for many the young fighter he was talking about was to be his successor.
Like De La Hoya before him, Ortiz also has an endearing story behind his ascent in life after overcoming being abandoned by his mother and having an alcoholic, violent father setting up years of struggle. What Oscar failed to mention is that a silver tongue, golden looks and a platinum story mean little if you don't have a cast iron heart. And that's what Ortiz has been accused of ever since that night with Maidana, the night the young man who had shown great strength in getting to the position he found himself, quit in the ring.
'Vicious' Victor Ortiz vs. Marcos 'El Chino' Maidana was not just a good fight, it was one of the best in 2009. It was a real battle that saw Maidana knocked down three times and Ortiz twice. Ortiz suffered a bad cut and swelling around his eyes. While Maidana refused to quit, Ortiz did the unthinkable and gave in.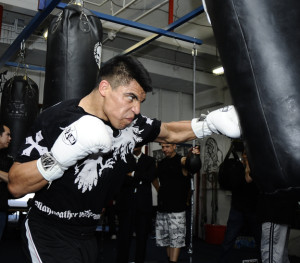 Large proportions of the boxing community criticized the young boxer, although many of those turning against him have probably never been in a boxing ring and most definitely will not ever be taking a beating like he did that night against Maidana. Fairly or unfairly, Ortiz has been hit by criticism and the night still haunts him as we lead up to his matchup with veteran Vivian Harris.
During a recent conference call between Harris and Ortiz, Harris questioned Ortiz's mental strength with statements such as "He has a lot of talent, don't get me wrong, but you have to believe in yourself and I definitely don't think he does…He doesn't have the courage…you don't ever, ever give up a match…I know once I land, he's got to question himself.  I hope he doesn't get flashbacks".
Ortiz has a lot of questions to answer, perhaps including to himself. He will never want to be lambasted for 'cowardice' again and he will want to prove his toughness in the toughest of sports. Quitting may actually have made Ortiz into a man; his darkest moment in professional boxing may have opened the curtains to a brighter future. We will only know when he gets involved in another war of attrition.
What's in the mind is crucial in boxing… Mike Tyson used to win fights before the opening bell by intimidating opponents who froze with fear. Evander Holyfield is one man he couldn't intimidate – and we all know how those fights ended. Recently the signs were there for Carl Froch when he gave inclinations that he didn't want to fight Mikkel Kessler on the arranged date, following doubts about being able to make the trip from England to Denmark due to Volcanic ash plaguing Europe's skies. He made it to Denmark but he had already taken his mind off the fight. During the twelve rounds the normally brave Englishman complained to his corner about the body shots that were hurting him and didn't seem to get his shots off like he did against Jean Pascal and Jermaine Taylor previously.
He hadn't changed as a person or as a fighter, but his mind wasn't right and consequently he wasn't as strong and lost for the first time against a very good fighter, and was clearly annoyed after the fight that he hadn't carried out trainer Rob McCracken's pleas to let his punches go. In the first fight between Roberto Duran and Sugar RayLeonard, Duran's taunting prompted Leonard to fight Duran's fight – a street brawl. In the rematch, Leonard played mind games and made Duran infamously quit. Ortiz will have to overcome demons in his own mind, his ability to do this will be the difference in whether he continues being a top fighter for years or ends up as a fringe contender. At the top level mental strength is vital, it's the difference.
Known as a psychology man in boxing, Teddy Atlas knows a thing or two about toughness and weakness. In his book 'Atlas: From the Streets to the Ring: A Son's Battle to Become a Man', Atlas talks about the mental fragility of his fighter Michael Moorer. When Moorer fought George Foreman, Atlas talks of how Foreman "could recognize weakness and fear in other men because he recognized it in himself. I always said that the old George Foreman, the forty-four-year-old man, would have knocked out the young George Foreman. He wasn't as good physically, not nearly so, but he was tougher mentally by far". In short, Foreman quit against Ali and had to live with that knowledge, and this made him stronger mentally.
Miguel Cotto was seen to give up in his titanic battle with Antonio Margarito and received similar criticism to what Ortiz has faced. Three fights later, Cotto faced off with Manny Pacquiao and received a similar beating. However, this time around the Puerto Rican showed incredible courage and bravery, showing genuine disappointment that he was stopped in the final round when he was saved by referee Kenny Bayless. For many he had redeemed himself.
The light welterweight division is very strong and Ortiz will inevitably encounter situations that require great courage at some point. He has the talent to rise to the top; soon enough he will get his chance to prove his character and banish the demons from that night with Maidana. Maybe he will have to prove himself against Harris on September 18th. Ortiz has been the subject of much hype. Outside the ring he has shown immense bravery, now he needs to show the same courage, the sort of courage few possess, in the ring. Did that night with Maidana shape him into a man, a warrior; or is he a "quitter"? Time will tell.