A True Grudge Match Has Always Been a Top Draw

Since the inception of the term "grudge match", it has become a fascination of sorts across all sporting disciplines and contexts. However, nowhere more so than boxing. Here,  the term can truly be appropriately measured and resolved because, by its very nature, the differences will be settled in the ring with no-where to run. There are no excuses and there's nobody else to blame. There is an explosive quality that makes these fights appealing to watch and can often be a key to victory for one or the other.
Leonard vs. Duran
During the early eighties, the famous bouts between Sugar Ray Leonard and Roberto Duran saw a stark contrast in styles with mixed results.  Duran resented the fact that Leonard was being paid considerably more and that he was seen as the apparent air to Muhammad Ali.
Their first bout, "the brawl in Montreal" provided a harsh lesson in reality to the groomed Leonard as he was bullied and drawn into Duran's type of fight trying to go toe-to-toe with him.  The entire fight was fought with great intensity and Duran won a unanimous decision.  In an almost polar opposite of that fight, the rematch infamously became known simply as the "No Mas" fight, as Leonard made Duran quit with superior boxing and indeed taunting.  Styles make fights but a person's emotions and the intensity of a rivalry can also be a deciding factor.
Haye vs. Chisora
Grudges have a habit of making their way towards becoming signed fights, as many of them have been sold to the public on the back of this very basic premise. Case in point was the recent David Haye vs. Dereck Chisora fight.
The brawl the duo had in Munich at a press conference sparked controversy as to whether or not the fight should be sanctioned. Irrespective of whose side you were on (Frank Warren's or the British Boxing Board of Control) there was no question whether you were going to watch it or not.   In the end, we saw a very legitimate (Luxembourg sanctioned), exciting sports event and an emphatic knockout by Haye to conclude any previous debate with both men burying the hatchet.
Barrera vs. Morales
Some encounters though have done little to temper the burning ill-will that some fighters have towards one another. The best recent example of this is between Marco Antonio Barrera and Erik Morales.  Those fighters have carried such animosity with them throughout their entire careers.  Their trilogy included 2 fights of the year in 2000 and 2004 but the bitter feeling still exists to this day.
Perhaps this is mainly because of their places of origin. One is from Mexico City and the other from the border-town Tijuana. Of course, not only were they born into a regional dispute, they were also fighting for the title of Mexico's Numero Uno, a title previously owned by boxing legend Julio Cesar Chavez.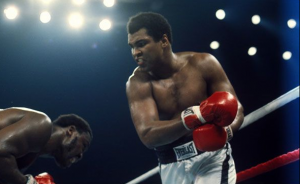 Ali vs. Frazier
Arguably the biggest grudge in boxing history was between Muhammad Ali and Joe Frazier.  Again, no amount of in-ring wars seemed to soothe the bad feeling that Frazier had for Ali who, in the build-up to Thriller in Manila, was seen punching a rubber Gorilla saying "it's gonna be a thriller in Manila when I kill that Gorilla," amongst other memorable and unsavory taunts.
The cringing memory of how Ali tried to get under the skin of Frazier is testament that even the Greatest at times can show a real error of judgement that can cause permanent resentment.  Long after they retired, and despite the best efforts of Frazier's family to get him to make up with Ali, his memory of Ali's taunts would hardly allow him to be in the same room let alone make amends.
Regardless of origins or outcomes, grudges provide the fan-base with a reason to get excited about boxing.  They have revealed flaws as well as perfectly suited game plans from fighters desperately trying to edge one another.
Most of all, the grudge match should be a vehicle to earn respect and put to rest historic differences. However, as we have seen, some fall well short of this.  When all is said and done, the grudge match remains among boxing's biggest draws, and with good reason.