Who Should Ricky Burns Face Next?

With his four round demolition of Kevin Mitchell this past Saturday, Scotland's Ricky Burns wiped away any remaining doubts about his status as one of the best lightweights in the world today. With avenues opening up for the 29 year old, now is an opportune time to have a look at who he could face in the near future, with several potential big fights on the horizon. Here are five of the possible options:
Antonio DeMarco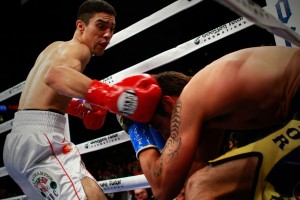 DeMarco has spent years fighting on undercards, lurking in the shadow of bigger names in higher weightclasses. Ever since his stoppage victory over the talented but fragile Jorge Linares however, DeMarco has threatened to revitalize the lightweight division with his stand-up, hard-punching style that appears tailor made for excitement.
In his latest outing, DeMarco blitzed a shell-shocked John Molina on route to a first round stoppage, a victory that has set him up with a potential showdown with Adrien Broner on November 17th. Regardless of what happens in that one, DeMarco's and Burns' styles would likely gel for an entertaining fight were they to meet down the line. Both men tend to box in an upright stance and have great stamina and endurance.
This fight would also bring together the best lightweights from Europe and North America in most people's eyes as well as being a unification match, thus it would probably attract a considerable crowd should it be held in Burns' hometown of Glasgow. DeMarco is fearless and it is hard to imagine him turning down the opportunity to enhance his reputation while earning a good payday for the sake of a plane journey. Throw in the fact that the fight would be for the vacant Ring magazine lightweight title, something Burns' covets, and this fight makes lots of sense.
Miguel Vazquez
Vazquez is another fighter who appears to have been operating under the radar for a number of reasons. This could be because no-one wants to fight such a talented young boxer, it could also be because Vazquez is content to sit on his title for now, perhaps it's a little of both. Either way, there is no doubting that he would give most other top 135 pound fighters hell were he to get in the ring with them.
Having got the better of what appears to have been a four man tournament featuring Lenny Zappavigna, Ji Hoon-Kim and Ameth Diaz, winning unanimous decisions against them all, Vazquez has yet to break out into the limelight. This may come as a surprise given that this is a man whose debut came against the fighter we all now know as "Canelo" (Saul Alvarez) and who went on to hand Breidis Prescott his first defeat following his bubble-bursting of Amir Khan.
Vazquez is a guy in need of a breakout fight, and what better way to announce yourself than by unifying titles and winning the Ring belt, which would be on the line should Vazquez be next up for Ricky Burns. Selling tickets is a big part of the issue here though, as the demand to see Vazquez – an awkward boxer with little noticeable knockout power – duel with Burns would probably not be so high. The fight wouldn't set fire the way a Burns-DeMarco clash might too, so this fight, while a possibility, probably isn't high on the agenda.
Adrien Broner
Having failed to make weight for his last scheduled super featherweight title defense against Vicente Escobedo, Broner made the wise decision to move up to the lightweight division. Upon taking this step, Broner has a clash with Antonio DeMarco penned in, without doubt his toughest test to date.
Broner divides opinion on both his performance inside the ring and his behavior outside of it. Some have, for reasons unknown outside of his shoulder roll defensive technique, labelled him the next Floyd Mayweather, while others have decided to sit on the fence as to the exact level of Broner's talents until he steps his opponents up a notch. No matter what stance you take on "The Problem", there is no doubt he will be a captivating addition to the lightweight mix.
Burns and Broner also have a history. When Burns held the WBO title at super featherweight, he opted to move up following several below par defenses instead of taking on Broner, his mandatory challenger at the time. Broner felt he had been avoided and made no attempt to disguise his ill-feeling towards Burns over the social networking sites. Broner is dramatic, offbeat and has the "love me or hate me" attitude that helps to sell fights with him cast as the villain of the piece. Burns has the grounded, "local boy done good" image down to a tee. The fight would be an easy sell in Britain, though Broner may not take kindly to going abroad to satisfy the masses.
John Murray
There was a time not so long ago when the majority of British fight fans considered John Murray to be the best lightweight their island had to offer. This, however, is no longer the case. Having held and defended the European belt, Murray was cast into a classic all-English match-up with Kevin Mitchell. Playing the brawler to Mitchell's boxer-puncher, Murray fielded blow after blow until he simply couldn't stand any more, losing by eighth round stoppage.
Following the Mitchell setback, Murray risked all by traveling to the States to trade punches with arguably the most dangerous lightweight at the time, Brandon Rios. Another bout of warfare followed, though Murray's face bore the brunt of it once again, losing by stoppage in the eleventh.
Wisely, Murray has taken an elongated break from the ring since then, though rumor was rife that he would be given the winner of Ricky Burns-Kevin Mitchell. With Burns triumphant, the idea of Burns-Murray now makes sense. It would give Burns the opportunity to clean out the British lightweight division further, while also affording Murray the chance at redemption he no doubt craves. It would also be an engaging clash of styles, one the Glasgow crowd certainly wouldn't say no to.
Scott Harrison
Out of the five opponents mentioned here there is no question Harrison is the least qualified. Having spent year after year frittering his career away with a series of out the ring incidents, he has left himself with a mountainous effort to return to the top.
A former world titleholder and Scottish hero, Harrison has found himself replaced to an extent by Burns. He found himself on the undercard of Burns-Mitchell, failing to impress while grinding out a points verdict over six against a relative unknown. He still looks the part, but it is unclear how much Harrison truly has left. Indeed, that is a question that will not likely be answered lest Harrison improve the quality of his opposition, something he will need to do quickly given that at 35, time is not on his side.
There is one situation in which Burns and Harrison could meet and it be for the greater good. Burns' promoter, Frank Warren, stated he would like Ricky to be out before Christmas in order for him to remain active. Who better as a stay busy fight than Harrison, the former darling of Scottish fight fans, a veteran who once held a title at featherweight. It may or may not be competitive, but the fight would be sought after in Scotland and as well as keeping Burns busy, would offer Harrison a chance at one last hurrah.