Boxing is a sport that can damage a human being in more ways than one. Often when a fighter becomes a parent they'll beg and pray their child does not follow in their footsteps.
Within the current crop of British fighters we have the second generations of Benn, Eubank, and most recently Hatton. Campbell Hatton has decided to lace up the gloves and pursue a career the same way his father, Ricky did.
The aforementioned Nigel, Chris and Ricky cemented their legacy in the sport of boxing, financially securing their future, and the future of their children, yet they have all still witnessed their offspring step through the ropes, but why?
"Just because if you look at the highs, how good they are," Campbell told proboxing-fans.com.
"Like any sport, if you having success in it, it's going to be a great feeling. But I think boxing or any fighting sport where it's just one against one, it's got to be times 100, because you know when you're getting them wins and having your success, it's only you that's done it.
"So that's why I think with boxing, it's got the highest highs, but, the lowest lows as well, because it's the same when you're losing. I think the highs definitely outweigh the lows. I just can't wait to get things going."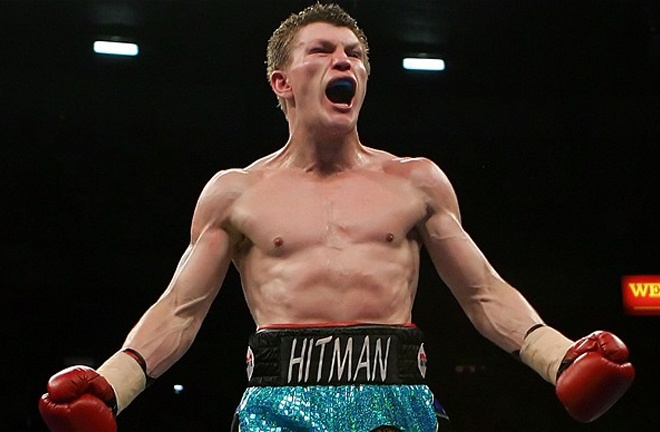 Ricky Hatton is a part of his son's management team and as a man who has not only been there and done it all he also will have naturally his son's best interests at heart.
"I've got the benefit of his experience, really, and his advice, which is one thing he didn't have.
"That puts me in a great position because I've not just got the advice of what to do in the ring, I've got the advice of what to do at home and how to deal with all the other things around it. So I am really lucky."
Often is the case with the British mainstream media the sporting superstars get shamed, plastered across the front pages as soon as they put a foot wrong. Ricky was no exception, labeled 'Ricky Fatton' after he would yo-yo in weight whilst not in training camp.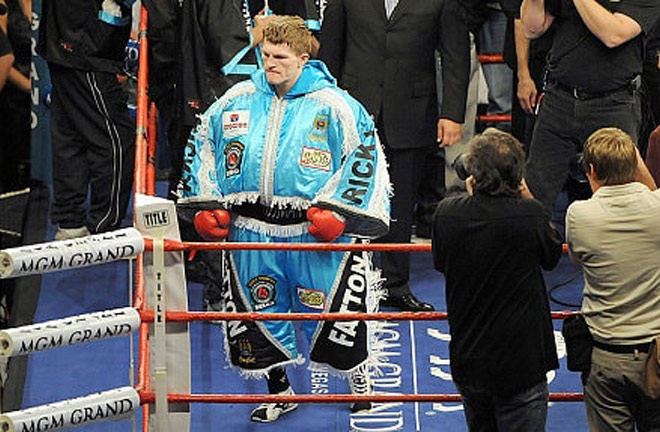 All of these dark life experiences is something Ricky has overcome and Campbell believes will hold him in good stead as there is no one better placed to advise him on the shit end of the stick.
"I think he'll be the first to say there's things he could have done differently and he won't let me make the same mistakes.
"I'm very similar to me dad, inside and outside the ring, but luckily I've got his knowledge, to see what could happen if you don't keep on it between fights as well.
"I know the effects it can have, and I know not to make the same mistakes myself."
Campbell made his debut in front of 500 fans in Gibraltar on the undercard of Dillian Whyte vs Alexander Povetkin in March. It was an opportunity to showcase his skills, get fans excited for the new breed of Hatton and to start becoming Campbell Hatton, not just Ricky's son.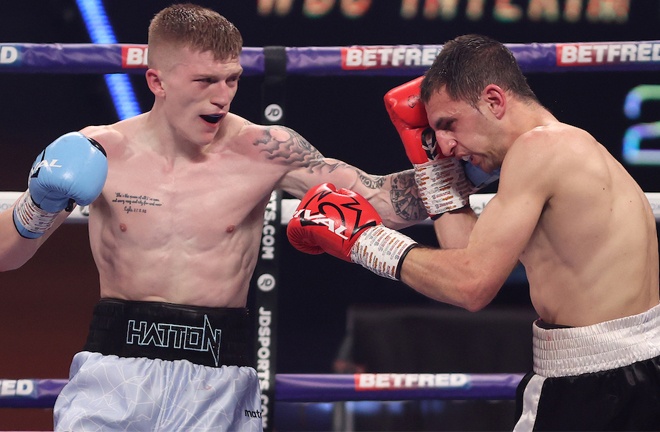 Social media was full steam ahead on the Hatton hype train all throughout fight week but as we've become accustomed to, social media is fickle and keyboards across the country were being frantically tapped spelling out words of dismay and negativity following Campbell's performance.
"I don't really pay much notice of social media," said the 20-year-old.
"Obviously, the opponent, ability wise, he was limited and didn't offer much to put me under pressure, but he doesn't get stopped.
"The people that are saying, 'oh, you have got to get him out of there,' are the people that don't really know boxing and don't know what these journeymen fighters are about.
"I didn't underestimate his ability because he didn't offer much offensively, but I don't think I'd mentally prepared myself just how tough these journeymen are.
"So going forward that's just another experience and another bit of knowledge I've picked up, but they don't just get knocked over. So going forward, I'll have that bit more patience. I know you can't just bulldoze them, they're there to do the job, aren't they? And then that's what he did."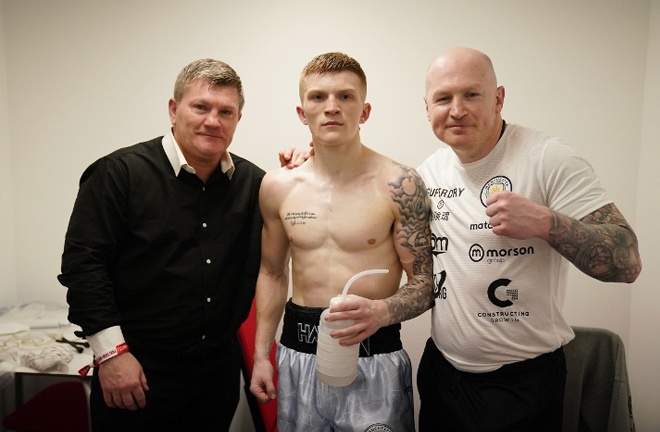 Hatton admitted that he felt he didn't produce even half of his capabilities in the ring but he is looking forward to May 1st and showcasing how he knows he can perform in his hometown of Manchester.
Reflecting back once more on his debut the super featherweight discussed how emotions were running high for his whole family. Father, Ricky was caught on camera shedding a proud tear as blue moon belted out of the speakers.
"It was a massive night for all the family, not just me dad and Matthew and myself. Back home, everyone was a bag of nerves as well, watching it.
"Everyone has been through it with me dad and Matt, and I think with the ring walk, even Adam Smith said on the commentary how it took him back.
"From what everyone's told me, they've just said it was scary, it was like going back all them years. That's what I want. Not just the success in the ring, I want the people to take to me like they took to me dad. My dad said that's his biggest achievement. To be loved by the fans in the same way, it'd be my dream."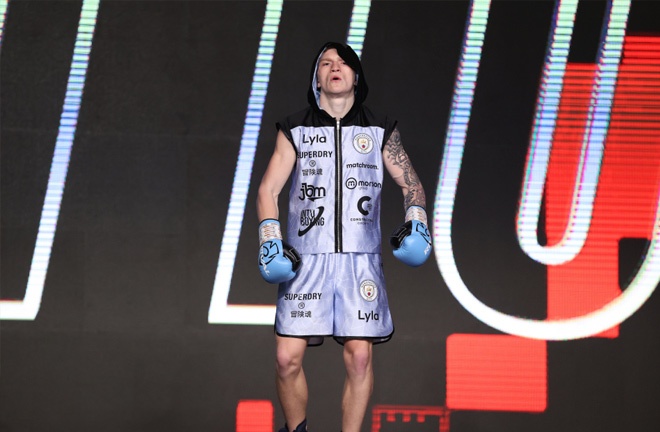 Campbell recognised his flaws from his debut, extensive media work contributed to the pressures, interestingly Hatton said, "I've always dealt with the pressure of the name quite well," and without the weight of his debut on his shoulders he is looking forward to a long and fruitful career.
The fighting Hatton before him, Ricky, advised his son that there were only positives to take from the professional bow.
"One thing me dad said to me is, 'if you want to be a champion, that's the sort of things you've got to deal with. So you're in a good position where now you've got a taste of it early, so it won't be as big of a shock to you down the line.'"
Looking ahead now one thing is for sure, Campbell Hatton is ready. A fighter like his father only comes around once in a blue moon and if he achieves half of what Ricky did he too will be a fan favourite.
Watch the full, uncut interview on video below: