"I've gone from making cups of tea and coffee, helping out at events, helping sell tickets, to overseeing the production of events, the development of events. It's been a fun ride and we're only just getting started."
They say that everyone must start somewhere and for Matchroom Boxing CEO Frank Smith that was no different.
Into his 11th full year, the 27-year-old has undergone a meteoric rise and now presides over Matchroom's biggest boxing events including Anthony Joshua's lucrative stadium fights and everything in between.
However, Smith has grafted hard to get to his current position, paying his dues in different and unique roles, after first entering the Essex base at 14-years-old.
"I was 16 when I started full-time," Smith told proboxing-fans.com
"I first met Eddie when I was about 14 I think I was and I pestered him for some work experience, so he gave me some jobs in the summer.
"I basically didn't have much to do so I used to come to the office, when you're at school and you have to do work experience, I think it's a two-week period.
"I did a week at my dad's business then I did a week here and I basically learnt how to flick poker chips in my week here, because there wasn't much for me to do, so between flicking poker chips and going into the swimming pool.
"When I was 16 and came here, boxing was still around for us but it wasn't as big a part of the business as some of the other sports, so I literally worked across everything, darts, snooker, golf, fishing.
"Everything we do, I'd just go and help out, I wasn't doing anything special I was just making the teas and coffees for everyone."
Found my infamous final warning from @EddieHearn from 2008 🤦🏼‍♂️ It could have all have been so different 😂😂 pic.twitter.com/unZOZ3zXFd

— Frank Smith (@Frank_1_Smith) November 20, 2019
Smith's versatility and willingness to work across any field even led to a spell as a mascot at Leyton Orient, which Barry Hearn was Chairman for until 2014.
Now fully focused on boxing, Smith admits he has seen all that the unpredictable business has to offer and despite the unsociable and prolonged working days, he admits that his drive for the sport and commitment to growing the business remains unwavering.
Asked what the toughest part of his job is, Smith replied: "The toughest thing is that it's literally 24/7, that's just the business we're in.
"But I wouldn't say that's tough as in complaining, because I love it and I'm lucky to do this. A lot of people especially in the times we're in now, it's tough times for people, so I'm very lucky to be in the position I'm in.
"So, I don't think anything's tough, I think it's a stressful business and you can get sucked into it and get sort of, as Eddie said before and other people say, get bitter from it, but you've just got to step away and just do what's the best for the business and the sport.
"Nothing really fazes us anymore, because we've been through it all."
Smith played a crucial role in overseeing the production effort in Diriyah, Saudi Arabia for Anthony Joshua's crunch world heavyweight title rematch against Andy Ruiz Jr last December.
Following months of continued, back-and-forth trips to the region, which before this had not been viewed even remotely as a location capable of staging an event of this magnitude, the Diriyah Arena provided the perfect setting for Joshua to reclaim his belts back and become a two-time heavyweight world champion.
However, this was almost not the case, with Smith revealing that all the hard work was nearly in vain after treacherous conditions nearly threw the main event into jeopardy.
"People don't see a lot of things going on,
"Saudi Arabia, for example. We go there months and months and months, lovely weather, amazing.
"We turn up on the night for the show and there's thunder and lightening, it's raining, it's windy and if the lightning came any closer that event was about to be pulled before the main event, you don't see those things.
"Wembley Stadium, it takes three, four, five months of planning to do an event for 90,000 people with hundreds and hundreds and hundreds of people involved.
"No one sees the work that goes into it, but ultimately not no one cares, but they want to see an event and it's our job to deliver it.
"We've been through last minute pull-outs, we've been through issues with the cards, issues with fighters, issues with venues, issues with crowds, so I think you've just got to be calm and get through it."
Despite the behind the scenes complications and the months of sustained planning, Smith sights Matchroom's venture into Saudi Arabia as his most satisfying moment of his more than a decade-long career.
View this post on Instagram
"I would say Saudi Arabia was one of the most rewarding events.
"Where we're very lucky doing what we do, there's not many businesses or jobs you can have anymore where you see the beginning and end product.
"I flew to Saudi mid to late August and they take you to this site which is just sand and rubble really from where they were getting everything ready.
View this post on Instagram
"I remember looking and thinking 'we're supposed to be doing this event in four months. there is nothing here.'
"I went back and forth, 15-16 times and to go from that to then see what was then created is just sensational.
"It's a good feeling, walking out and going 'you know what we were a part of this, we made this happen.'
"If we deliver a good event and people enjoy it that gives us a good feeling.
"We don't want to do a substandard crap night, because we walk out and get that feeling that this isn't good enough.
"If they're a good idea it's Eddie's idea, if they're a bad idea they're mine."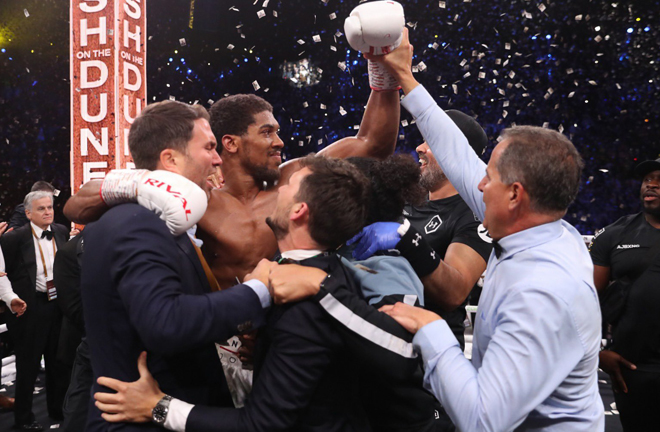 In May 2018, Matchroom Boxing signed a reported $1bn deal with streaming service DAZN to stage 16 shows in the USA to compete with the leading broadcasters at the time Showtime and HBO, with the latter now no longer involved in the sport.
Matchroom's roster in the USA is growing with Devin Haney, Daniel Jacobs and Gennady Golovkin spearheading the subscription service, whilst unified heavyweight world champion, Anthony Joshua fights on the platform, although is not exclusive, with a host of young talent supporting the protagonists.
And Smith believes Matchroom have made strides with their American venture on DAZN in a short window and with growing competition from ESPN, Fox and Showtime.
"I think it's gone really well. To think we've only been in the US for just over two years now, I think it's been a great success so far," Smith added.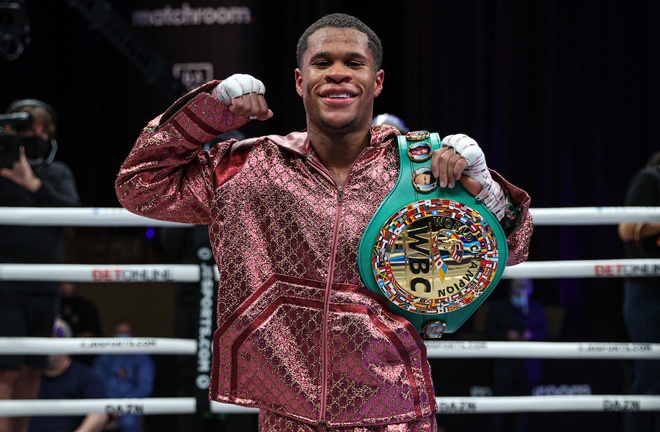 "DAZN have done a great job so far as a brand going into the biggest market in sport.
"It's always going to be tough when you're setting something up from day one, but I think it's gone really well.
"I think there's still work to be done for sure. It took us many years in the UK to get to the position we're in now.
"So ultimately, in a country where there's a lot more competition, there is still going to be work and pushes that need to be made, but I'm pleased with the progress we've made and DAZN have been a great partner and we're going to continue going in the right direction."
Smith works closely alongside promoter Eddie Hearn, the "face and voice" of the company, who infamously gave him a final warning in his early days at Matchroom.
However, any calls for him to take over the mantel should Hearn decide to step away from boxing in the coming years and focus on other areas of the business, Smith says are premature, not least because he does not expect Hearn to leave the sport any time soon.
"I am not Eddie Hearn, I'll always be compared to him. I'm never going to be Eddie Hearn, I don't want to be him.
"He is the best at what he does and I think I'm very good at what I do.
"We have very different strengths, which is probably why we work so well. He focuses on what he does, I focus on what I do and I guess it's natural progression over time.
"But, honestly, I know he says it but I can't see him going anywhere, he loves the sport of boxing, he's an expert.
"Maybe in five, seven, ten years time whatever it is, I might be a much more natural and think 'this is what I want to do.'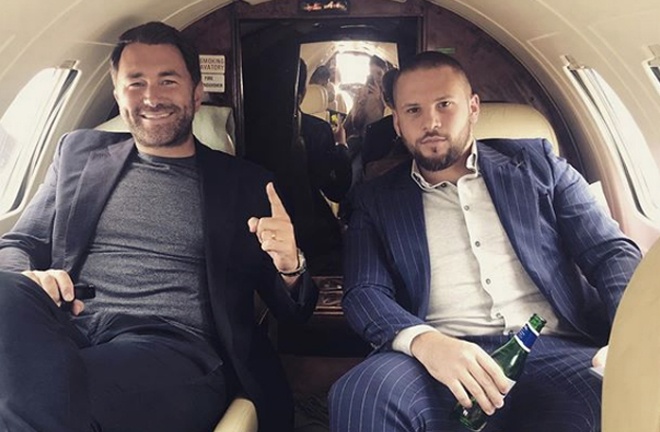 "But I think right now I enjoy the position I'm in, sit in the background and get things done.
"We always joke, it's like Eddie will go up there and sell it and then turn around and go 'right, you guys go and deliver it' and there's a big team of us that makes it happen."
Smith has experienced the highs and lows of the sport in a just over ten year stint at Matchroom Boxing and whilst he may not see himself taking the baton from Hearn as a promoter, Smith remains as dedicated and determined to continue breaking the boundaries and his biggest challenge may just be around the corner, with potentially the biggest fight in British boxing history, in Anthony Joshua vs Tyson Fury on the horizon in 2021.
Watch the full interview with Frank Smith below: