Britian's Top Prospect Sits Down to Talk his Amateur Career and Future Plans:
It's a Friday afternoon at Arnie's Gym in Manchester and having just finished a hard pads session Frankie Gavin is sitting on the ring apron. 18 months into his professional career, Britain's first ever amateur world champion is in on the brink of jumping into the mix for the major domestic titles and for the supremely talented 25 year old that jump can't come soon enough.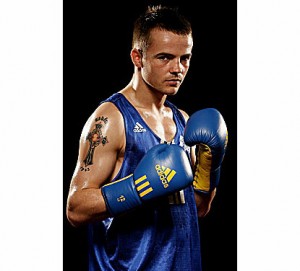 Since making his professional debut alongside 2008 Olympic gold medalist James DeGale and his teammate Billy Joe Saunders in March 2009, southpaw Gavin has made steady progress with 8 consecutive victories, 7 of those coming inside the distance. While the brash DeGale has gained the most headlines and attention, it is Gavin who is seen as British boxing's best prospect for many a year.
Gavin's lack of mainstream exposure can be traced back to the same Beijing Olympics which provided DeGale with the opportunity to claim his Gold medal. Gavin was named in the Great Britain squad and as the 2007 World Champion and was seen as a clear favorite to add the Olympic title. However, having qualified for the lightweight division, Gavin was struggling desperately to make weight and after his pleas for the opportunity to compete in a higher weight class were ignored, the agonizing fight to boil down to meet the 60kg limit proved just too much and Gavin was withdrawn on the eve of the games.
The lack of Olympic success may have hurt Gavin commercially but his amateur achievements ensure there are still huge expectations from those within the sport. "There's lots of pressure" says Gavin. "I was the best amateur in the world and I'm expected to be the best professional". Gavin is working on fulfilling those expectations at the aforementioned Arnie's Gym and is happy with how things have progressed so far "Everything is going perfectly, I'm unbeaten and haven't even lost a round so far."
In addition to Gavin, the gym is home to some of Britain's brightest talents including Commonwealth Light Heavyweight champion Tony Bellew, the promising Ronnie Heffron and ABA champion, and super flyweight hope Paul Butler. The gym's founder and trainer, former WBU Middleweight Champion Anthony "Arnie" Farnell has created a good atmosphere in the gym and the mix of lively characters such as upcoming Prizefighter competitor Stephen Bell, ensures there is a constant stream of banter flowing.
It seems like the Birmingham born Gavin (Who goes by the nickname "Funtime") has found the ideal place to set about fulfilling his potential. "I knew Tony Bellew and he recommended it to me. Tony knows his boxing so I trusted him. I was actually talking to Arnie for a year before I joined. He offered me the chance to come up and stay at his place for a week and try it out but I just said find me somewhere to live. We have a good laugh but also work really hard".
Now campaigning at the junior welterweight limit of 140lbs Gavin is doing his best to prove those who suggested the Olympic issue was down to a lack of dedication to the sport wrong. "Making 140lbs isn't easy but it's doable. You have to make sacrifices though if you wanna be successful". With ace strength and conditioning coach and old friend Kerry Kayes joining the gym soon, Gavin has the ideal team surrounding him. Kayes was of great assistance in helping Gavin with his weight prior to the Olympics. Had he been allowed to travel to China with Gavin, things may have been far different.
There can't be a better grounding for a fighter than winning a world amateur championship. Moving into the professional ranks presented a new set of problems though. Gavin knew he couldn't rely purely on his amateur skills and has had to adapt accordingly. His slick, rat-a-tat southpaw style raised doubts about how much power Gavin would carry into the professional ranks.With 7 stoppage victories so far, the work seems to be paying off.
"I'm planting my feet more. I'm not a banger but I hit hard enough to gain respect. I was used to constantly moving but now I'm learning when to stand. I'm working on my power all the time so it's only gonna improve" Gavin said "I've also improved my head movement. When I first started I found I was walking onto shots. I'm working a lot on my inside fighting on the ropes too. I've come on loads. Boxing skill wise I'm second to none".
With the gym work being complimented by a strict fitness routine Gavin has no stamina concerns. "Fitness wise I do a lot of long endurance runs and we're at the track doing sprints twice a week. We also do loads of ladder drills. I'm the best in the gym at them. Training changes every day. One day it'll be fitness, next day technique and so on. I'd spar every day if I could. It depends who I'm sparring as to how hard it is. We don't have technical sparring days".
Despite rumored interest from promotional giants Golden Boy, Gavin has placed his career in the hands of promoter Frank Warren. Warren has a history of matching prospects perfectly, choosing the right opponents at the right times until the chance to step up a level presents itself. Gavin however is chomping at the bit to stay on the title trail. Having picked up the Irish light welterweight title in his 8th fight, he next takes on the 16-4 Dean Harrison for the WBO intercontinental belt on December 11th.
The bout is Gavin's first to be scheduled for 12 rounds, something which would give Gavin valuable experience should he get his wish and be granted a shot at British champion Lenny Daws early next year. Rumors had been circulating regarding a clash with former professional footballer Curtis Woodhouse. The pair traded insults for months and the fight was building into a genuine grudge match.
However, Woodhouse recently suffered a defeat to previous Gavin victim Peter McDonagh and is no longer on Gavin's radar. "The Woodhouse fight has gone since he lost to McDonagh. I want Daws and the British title now". Daws has defended his belt twice and though an unspectacular champion, he represents a tough challenge. Daws generally starts off very slowly but builds up momentum as the fight goes on and attempts to eventually outwork his opponents. Gavin is unfazed though.
"I know Daws gets stronger as the fight goes on but he starts at zero. I start off at a good pace and just get stronger". When asked if he also has eyes for the lesser regarded English and Commonwealth titles, Gavin is clear with his thoughts, "The belt I'm fighting for next is worth more than the Commonwealth belt and when I win the British title then I'll also be the best in England so I'm looking past the English title too."
Warren has a history of sometimes bypassing domestic belts and using the WBO's rankings to move prospects forward. Gavin is open to that option but still has strong domestic ambitions, "If Frank wanted to go the WBO route it's up to him. He decides what's best. I do want the British title though and the European belt. I also want to defend my Irish title in Ireland". When pressed as to his future hopes Gavin is predictably ambitious "To be world champion. Maybe I'll move up weight divisions in the future but I wanna be the unified champion at 140lbs first".
With unlimited potential, the future is bright for Frankie Gavin. When he is eventually let off the leash there is no telling how far he will go. One thing is for sure though, "Funtime" Frankie will do everything in his power to ensure past troubles are forgotten and that he can once again be called "World Champion".
FRANKIE'S PREDICTIONS;
It seemed like too good a chance not to ask Frankie for his predictions on the big fights coming up in his weight class.
"Khan will beat Maidana. He's too fast. Maidana's only chance is to catch him and knock him out.  I see this as a 90/10 fight in Khan's favor whereas Bradley and Alexander could each outbox the other. I think Bradley will win. He's more well rounded. I was at the junior Olympics with Alexander. He was a good fighter back then."