The Tijuana Tornado Hits Dallas and Gets Warm Reception:
Thousands of fans turned out this weekend to meet three-time world welterweight champion "The Tijuana Tornado" Antonio Margarito in Dallas, Texas at the Tamale Festival. While Margarito has been getting slammed in the press following his illegal hand wrapping controversy against Shane Mosley in January of 2009, he's still getting the love from the Mexican fans, and he's eager to prove the doubters wrong about who he is come Saturday night.
Remember, come fight night, the place to be is ProBoxing-Fans.com, where you'll find live Pacquiao vs. Margarito results, including a round by round blog and fight coverage of the entire PPV.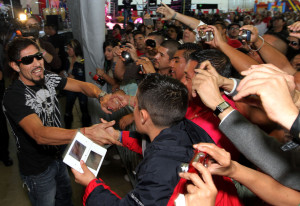 Margarito (38-6, 27 KOs), of Tijuana, México, takes on Fighter of the Decade, and new Filipino Congressman Manny Pacquiao (51-3-2, 38 KOs), of General Santos City, Philippines, for the World Super Welterweight Championship, this Saturday, November 13, at Cowboys Stadium in Arlington,TX.
Here are some of the posts you can find on the site about Pacquiao vs. Margarito:
Margarito and Pacquiao will conduct public workouts, Tuesday, November 9 at 1 p.m. and 2 p.m. CT, respectively, at the Gaylord Texan Convention Center – Longhorn Exhibit Hall E on the lower level.
Promoted by Top Rank, Pacquiao vs. Margarito will take place Saturday, November 13 in Cowboys Stadium in Arlington, TX. The fights will be shown on HBO PPV, and ProBoxing-Fans.com will be providing live round by round coverage of the event, and the entire undercard. There is an expected crowd of more than 60,000 for the fight, and promoters are hoping it breaks the indoor record for fight attendance of more than 63,000.
Keep checking in for more boxing news coverage surrounding Pacquiao vs. Margarito, as the fight nears and the guys finish their preparations. We have all of the coverage that you need, including 24/7 episode recaps, previews and predictions for the fight itself, and the undercard bouts, and much more. Take a look around and get ready for the fall's biggest fight.