At the 2008 Beijing Olympics, a lanky, 6'7″ heavyweight from Alabama named Deontay Wilder spared the US Olympic Boxing Team a humiliating rout by winning a Bronze Medal, and thereby allowed America to forgo its first-ever Olympic Games without winning a medal. Wilder turned pro in November 2008, and this weekend is set to square off with 15-6 DeAndrey Abron before a hometown crowd. Before his 15th professional fight, I was able to ask the undefeated Wilder several questions about the 2008 Olympics, the state of the heavyweight division and his immediate future in boxing.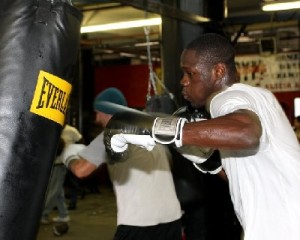 A number of favorites to win Olympic medals, such as Demetrius Andrade, suffered shocking upsets at the Beijing Games, and when you won the Bronze Medal at the 2008 Olympics, you saved the US Olympic Boxing Team from what would have been its first medal-less outing in history. Do you have any thoughts on why the US Team performed so poorly in Beijing?
DW: As for the Olympic team, there was a lot going on.  the scoring system, guys wanting their personal coaches in their corner and some had personal things going on.  I kept my focus and listened.  I give 110 percent.  That's what makes me.  I followed all the rules and I was coachable.  I didn't have my personal coach there either but I stayed focused on what I was there for.
Conventional wisdom says that America doesn't produce as many talented heavyweights as it used to because basketball and football attract the lion's share of our country's big athletes. As you contemplated a career in football and basketball yourself at one point, do you have an opinion on the state of American heavyweights and where our athletic big men are going?
DW: I think there are still a lot of good big men out there.  I don't think football and basketball is taking all the good big men.  The heavyweight division will always be there.  Guys just have to work hard and do the right things and we'll be back on top.

—->Take a look at the 10 American heavyweight prospects to keep on eye on

You are set to fight DeAndrey Abron in Tuscaloosa on February 19th. What do you expect from that fight?
DW: [A] knockout.

Derek Chisora will fight Wladimir Klitscho in April. Chisora is 14-0 and so are you. Do you think Chisora is ready to challenge the WBO-IBF champion?
DW: It is hard for me to say because I don't know anything about him.  If he's got heart and believes in himself anything can happen.  May the best man win.
The Klitschkos are often derided as able, but boring, and because of that it seems heavyweight action has largely been banished from the airwaves in the United States. Have any of the networks expressed interest in featuring you on a more regular basis and reviving interest in the ranks of the big men?
DW: I've been on ESPN2 three times and had highlights of one of my fights shown on HBO.  I hope to get back on TVsoon.  I think I have the speed of a lighter guy with the power of a heavier guy and that excites people and makes for good TV.
As I mentioned, you are 14-0 (soon to be 15-0, I hope) and 2 1/2 years into your pro career, and you once said you would like to be in a title fight by the end of 2011. When do you think you will be fighting a "name" heavyweight, and are there any established heavyweights you would like to get in the ring with for that first big fight?
DW: I don't really trash talk, but I'll fight anybody.  I work with my team and we gameplan and pray and go for it.  In due time I'll get to fight all the guys that can lead me to where I want to be.  This is a big year and we'll be moving in the right direction.