10 Best American Heavyweight Prospects: Who Has a Chance to Climb to the Top?
What in the world happened to heavyweight boxing in the USA? Certainly we've had time to become acclimated to the diminished presence of big men from the states. A look at the ratings now, however, reveals a situation that is as dire as it has ever been. While U.S. boxing has shown it can sustain without a top heavyweight attraction to speak of, it is clearly not beneficial to the sport domestically.
There are a myriad of reasons for this phenomenon. And make no mistake—it is a phenomenon. Consider the fact that Americans dominated top-ten heavyweight lists during the entire 20th century. Throughout the history of boxing over the past 100 years, every time you looked at the heavyweight rankings, you would see Americans, with maybe one or two fighters from somewhere else.  [The current ProBoxing-Fans.com heavyweight division rankings has three Americans out of 10 spots – and they are the final three, numbers 8-10].
Economics probably plays into it. There may be a recession in the states now, but 1990-2005 (the formative years of most contemporary pros) were boon times in the USA. As African-Americans continued to zoom up the social ladder, we started seeing less great heavyweights. When economic conditions are better, people feel the need to fight on a much lesser scale. It is no coincidence that virtually all the top heavyweights are now from the Eastern-Bloc or former Soviet republics, where life is generally not as easy.
In addition, top athletes big enough to become heavyweight champions have moved to other sports. Boxing is not as appealing of an option for an athletic kid who could make millions playing basketball or football. It doesn't help when most of the great American heavyweights from the modern era ended up in bad shape. Parents of prodigious athletes have probably taken notice that just about every other heavyweight champion ended up paying a steep price for choosing this sport. It doesn't resonate well.
Today, the top 3 American heavyweights—Chris Arreola, Eddie Chambers, and Tony Thompson—can be found on the bottom of some top-ten lists, as mentioned above. At the same time, it is highly unlikely that this trio will produce a truly great heavyweight. All 3 have already lost to a Klitschko. Other American heavyweights found in the top 50 are even more retrograde, with aging former contenders and champions whose limitations have already been roundly exposed.
In the not too distant future, the Klitschko brothers will fade into the sunset. The division should be wide open at that point. Perhaps some heavyweights from the U.S. can manage to position themselves well to vie for the top spot. To do so, they will need to compete with a plethora of rising European talent. The success of the Klitschkos and others has surely motivated countless big men from that part of the world to pursue their dreams. So even when the Klitschko brothers fade away, there will still be another wave of European heavyweights looking to fill the void. American heavyweights will have their work cut out for them.
To find the next great American heavyweight, we have to dig a little deeper. Perhaps among developing pros and hotshot amateurs lies a great fighter. But after watching fights on TV, attending live cards, and scouring the Internet in search of a great big man, the verdict is already partially formed: there are no Mike Tysons on this list. All of these fighters show potential, which could flower into something special down the line. It's going to take a lot of work, though. Here are some fighters who could represent the next wave of American heavyweight talent.
Top 10 American Heavyweights to Keep an Eye on:
Seth Mitchell, 20-0-1 (14 KOs)
Pros: Professionally, the most advanced fighter on the list in terms of number of wins and backing. Being a part of the Golden Boy stable at least ensures he will be given an opportunity to prove himself. "Mayhem" is not terribly tall at 6'2," but has good size and bulk—coming in at 240-245. You have to love that big thudding jab and good bodywork. His jab has potential and could develop into a dominant weapon. Is sneaky quick for his size and his shots are thrown with a lot of power. An edgy and mean fighter with a good fighting spirit. Should be a handful.
Cons: Despite a 20-0-1 record, is probably the least-developed boxer on the list. As is the case with any football convert, you wonder if he can actually fight. It's one thing to be a frontrunner and bowl over a bunch of lower-echelon journeymen with superior physicality, but what happens when he faces someone capable? It's hard to name a great heavyweight who began boxing in his mid-20's because they usually lack the innate fighting aptitude of more seasoned fighters. Can be hit, as his chin dangerously hangs in the air during heated exchanges. His noggin is simply too available. Average foot speed and not always very sharp with his shots.
Watch Mitchell Here>>>http://www.youtube.com/watch?v=7ObJSHXhX5w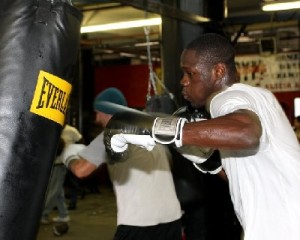 Deontay Wilder, 14-0 (14 KOs)
Pros: First became worth keeping an eye on in 2008, winning a bronze medal after only 21 amateur fights. Beat some pretty good fighters along the way, showing great aptitude for his newly-chosen sport. Has a big right hand that is developing nicely. When you can sling that missile down the middle on the drop of a dime, you're always going to be in good stead. His jab is also coming around well. Has decent instincts, as shown by his movement and anticipation for openings. A hard worker, Wilder has shown the willingness to learn and improve. Adheres to a very active fighting schedule.
Cons: While less than 3 years into a pro career, his opposition has been mostly horrific. I would probably be about 7-7 against these guys. While a brief amateur career and a late start makes this practice understandable; it is iffy whether this is the best way to develop Wilder. His handlers could be wise in this case, since Wilder has proven to be somewhat easy to reach. Despite advantages in height (6'7") and reach (84"), opponents have managed to tag him as he falls in, including journeyman Harold Sconiers, who dropped Wilder before falling in the 4th . Could also develop his hooks more so everything isn't coming up the middle. In addition, the nickname "Bronze Bomber" isn't really working for me.
Watch Wilder Here>>>http://www.youtube.com/watch?v=6epKuRJJpHI
Joe Hanks, 15-0 (10 KOs)
Pros: A guy with obvious talent and size who could blossom into quite a fighter. Built ideally at 6'4" and about 240. Basically is a big, cat-quick, tough, and loose-limbed fighter who can move his hands in combination. Has a decidedly hardened edge and is ready to break out on the big stage. Has a big right hand and throws hooks well for a guy his size.
Cons: You can only decipher so much when a prospect fights lower-level competition. Will be interesting to see how his skills translate against a more capable pro. Needs to slap a bit less with his punches and remember to keep his hands up.
Watch Hanks Here>>> http://www.youtube.com/watch?v=xVXCwbLoCqw
Garret Simon, 4-0 (3 KOs)
Pros: At 6'5" Simon has good size and also shows a diverse arsenal of punches. Started boxing at 6, which is always good. His shots are thrown with a nice velocity when he opens up and he has fluidity, which belies his age of 19. Not difficult to imagine him blossoming into a full-fledged 230-240 lb. heavyweight as he fills out in the coming years.
Cons: Currently fighting as a cruiserweight. Built somewhat flimsily, but should fill out into a more robust figure in the future. Is still a kid for crying out loud. As evidenced by the clip below, could probably be matched a bit less safely in his formative pro outings.
Watch Simon Here>>>http://www.youtube.com/watch?v=KzLEDB98E3s
Jeremiah Graziano, 13-0 (12 KOs)
Pros: A very offensive boxer with aggression to spare. Should become a popular fighter in the near future. He hits exceedingly hard and throws his punches in combination. A reasonable facsimile to Mike Tyson. The fact that he won the 2008 National Golden Gloves at heavyweight despite limited experience speaks volumes about his mental toughness and overall potential.
Cons: With all due respect, the nickname "Wyson," a combination of "white" and "Tyson," has got to go. With a name like Graziano, you don't need that. Needs to move away from the Tyson vibe in terms of style and identity and forge his own path. At an even six-feet, seems like the least likely guy on this list to blossom physically, which could affect his heavyweight future—not that I'm sure he's even looking for one. At 23, he can still mature, but might be a better fit at cruiserweight. Still a bit green with a lot to learn. Needs to not load up so much.
Watch Graziano Here>>>http://www.youtube.com/watch?v=YynZ_7WPweo
Joey Dawejko, 4-0 (1 KOs)
Pros: A young guy with fast hands, Dawejko is definitely more of a down-the-road darkhorse. "The Polish Tank" should have no trouble building a following in the Philadelphia/Atlantic City area. Only 20, he has a lot of upside. Moves well and is fairly tricky and sneaky for such a young kid. Seems to have good fighting instincts, especially when to throw punches.
Cons: Doesn't exactly have a physique you associate with world-class athletes. In addition, his weight ballooned over 20 pounds in his 4th pro fight. Regardless, will always be a smallish heavyweight. Without knowing much about his backing, 4 fights in his first 18 months as a pro is not inspiring. This seems like a talent who needs to be brought along thoughtfully, so why leave the amateur ranks to pursue a pro career with such a lack of gusto? At least he has time on his side.
Watch Dawejko Here>>>http://www.youtube.com/watch?v=Z-gMBLPmcMY
Nathaniel James, 3-0 (1 KO)
Pros: A big southpaw who can punch with the straight left, James is a physically imposing heavyweight with amateur credentials to boot, including a 2007 National Golden Gloves Championship at super heavyweight. Nice jab, something that isn't always seen from the southpaw stance, especially at this weight. Showed a lot of willpower by dropping a ton of weight to even be in this position. Deceivingly quick for such a big man.
Cons: Fighting sparingly and sometimes not impressively is no way for a 29-year old to get his career moving. Currently a free agent after his handlers only managed to get him one fight a year for 3 straight years. James and his entire camp need to get to work. Should be deserving of an opportunity to develop and make a little run.
Watch James Here>>>http://www.youtube.com/watch?v=m5ouOxdollg
Michael Hunter, Amateur
Pros: One always feels geared to watch amateur hotshots whose fathers were fringe contenders. His dad, Mike "The Bounty" Hunter was a successful 80's-90's cruiserweight/heavyweight. Hunter is similar to his father in terms of quickness and craftiness. Has good head movement, control of distance, and is poised during heated exchanges. Has a lot of guile like his pops and lashes out with fast, suddenly-thrown shots. Does good work going up and down to the head and body.
Cons: Is not a big man or a very hard puncher, making one think maybe that his ceiling is somewhere near the Eddie Chambers level. Can be tagged and might be vulnerable in the future to the more hurtful bodypunchers in the business. Sometimes gets winded during fights, another trademark of his old man.
Watch Hunter Here>>>http://www.youtube.com/watch?v=6xKxq26fd8Y
Steve Geffrard, Amateur
Pros: Seems to have a certain indescribable star quality. A very mature young man, whose advanced self-awareness and intelligence could help him in his future boxing endeavors. Very fleet of hand and foot, while showing excellent form. Manages to be flashy while not eschewing any of the sport's fundamentals. Possesses an underlying toughness and ability to battle it out in a war if necessary. One of the better conditioned athletes in the amateur ranks. Geffrard is humble, a hard worker, and a great athlete.
Cons: Will need to blossom physically to be a true heavyweight. Looks more like a small cruiserweight at the moment, but is still quite young. Seems to fight at different speeds, which is fine, but sometimes doesn't consistently flex his true powers.
Watch Geffrard Here>>> http://www.youtube.com/watch?v=FnkYAYuqrWM&feature=related
David Imoesiri, Amateur
Pros: For an aggressive fighter, shows a lot of guile and slickness—somewhat unusual for a young heavyweight. He thinks on his feet very well and has good awareness of what is going on in the ring. Has good defense and fluidity. Moves in very slickly and has a good disposition for a fighter. An improving young boxer.
Cons: 22-year old has time on his side, but will probably never be a big heavyweight. Hopefully, Imoesiri and others on this list will be facing fighters closer to their size once the Klitschko brothers fade away from the scene. Despite being tough, his chin can be reached with alarming regularity—which will need to be addressed as he continues to develop.
Watch Imoesiri Here>>>http://www.youtube.com/watch?v=zP7e9HaTvow
Message to fans: Feel free to add to this list. Is there any young heavyweight talent that you feel is worth watching? Who will be the next great American heavyweight boxer?