"I can't let it slip because I know where we've come from and I know how different our lives could have been. I've got the heart, I've got the dedication, I've got the opportunity and the timing is perfect for me to make something of myself and make a difference to my family and my community."
Oftentimes the only thing missing from well laid intentions is timing: a seemingly uncontrollable force of the universe.
Those what ifs that plague our runaway mind as we lay in bed at night. The could have beens that really should have been and leave you kicking your shins.
For Jordan Reynolds you get the distinct impression that timing has always been on his side even when it wasn't perhaps obvious. The soon-to-be professional has a multi-coloured hinterland.
From a troubled teen growing up in Luton to one of the most promising amateur boxers of a generation, his self-made turnaround has been remarkable.
"I was born and raised in Luton and I know what it's like to have nothing. [I was] angry, frustrated [and] insecure when I was growing up.
"I hated everyone and I had no belief in myself. I saw a lot of things with my mum and dad that I probably shouldn't have done and everything seemed to build upon that.
"I hung around with the wrong people and the choices I've made have seen me in some horrible situations but, at the same time, I've always been wise enough to get myself back on the right path."
A former baggage handler at Luton Airport, his life has rarely been as 'regular' as planes on the landing strip.
Having to step up from an early age, owing to circumstances around him, resulted in trialling teenage years, but ones that Reynolds refuses to brush under the carpet.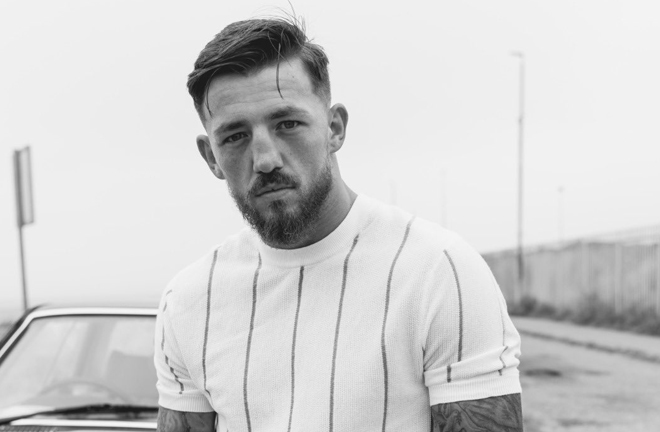 "I don't try to forget the memories because they've shaped who I am today.
"I know how to treat people with respect, I know right from wrong and you need to remember the negatives so you don't go back to them.
"I was the man of the house at the age of 16 and when we lost the house and we were going to be homeless I would find any way to save money or make money.
"My mum and sister used to work at M&S and once a week they'd get rid of the sandwiches and I'd be by the bins waiting to take them home to make sure we had something to eat."
At times 'choosing the right path' was as literal as it sounds.
Coming out of school the bottom of the hill would call and with it the lure of criminality. At the top of that hill stood a gym, but for a 16-year-old whose relationship with discipline was flirtatious at best it posed a challenging question: can you hack it?
"It was probably the first time where I felt as though no-one could hurt me.
"I felt like a superhero when I went there, if I'm honest. I still had that street ego where I liked to fight and I saw these pros and I was just thinking, 'I'll have them, I want to spar, I want to spar.' 
"Before I'd even put the gloves on. I was bugging Graham [Earl] and eventually he said, 'go on then.'
"Then this pro dropped me with a body shot and another but my mind just couldn't understand how. From that moment I was obsessed.
"I had to make sure I went back because I hated getting dropped, I hated being second best.
"I had to prove to myself I could do it and I look back on that moment as the one where everything clicked."
Perhaps Reynolds' first fateful dalliance with timing.
'The Wanderer', now wandering free, has had opportunities aplenty since dedicating himself to life at the gym.
Multiple amateur titles followed for the Middleweight in those nine years and international success saw him travel across Europe.
I asked him if he realised how much he'd achieved, but there was a sense that all this is still 'in the moment.'
"I have to laugh when I look back, because I never even thought I was going to be able to drive or afford my first car.
"They're small things, but I look back and think, 'I did that, I did that off my own back' and, yes, I'm getting more parking tickets than I'd like, but I've still proven to myself that I can do these things that ten years ago wouldn't even have crossed my mind.
"I've got a long, long way to go [in boxing] so it's hard for me to fully appreciate everything I've achieved so far but I know my life could have been incredibly different if it wasn't for the sport."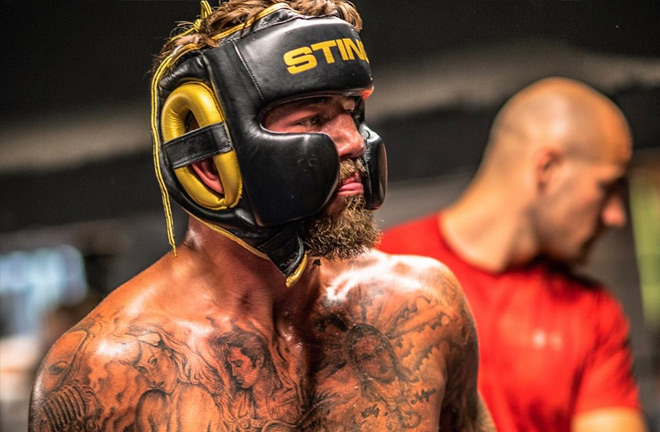 Last year the Team GB star set up his own boxing academy in order to provide that same catalyst to the at-risk youths straddling his same path. Alongside their education, it provides an opportunity to hone discipline and channel their aggression.
Reynolds stated that "every decision could change your life completely." None more so than when he was 17 and working in a butchers, when the sliding doors of all his previous choices flashed before his eyes.
"The first choice I made in my life was to go up that hill and get myself into the gym. I got out of Luton, moved to Essex, and after a few months of nothing happening I was having doubts.
"My best mate, who lived two doors down from me in Luton, gave me a phone call and invited me to a house party [at Marsh Farm].
"It seemed like good timing, because I was getting restless so I said yes.
"In the back of my head I knew I'd be tired for work and for boxing so something made me ring back and change my mind.
"It was in the early hours of the morning that I got loads of texts from my friends saying he'd been shot. In that moment everything just dawns on you and all day long I think, 'that could have been me.'"
Timing, again.
Reynolds flippantly remarked "you'd almost think there is somebody looking over me the amount of times I've just scraped past trouble." Yet the more he divulged the more that rang true.
Following on, unprompted, the two-time national champion recalled a narrow escape with a knife-wielding thug back on home turf.
"I was back [in Luton] with my sister to get my tattoos sorted and we'd had them priced up at the shop and as we've left two lads have bumped into me.
"I've not thought much of it, because I'm with my sister then all I can hear is, 'are you dumb?, Are you fucking dumb?' Over and over again.
"I was trying to tell them to leave it out and just get on with my day, but this guy has walked towards me and thrown a punch.
"We both ended up on the floor and this other guy has pulled out this knife.
"As someone with a lot of pride there was the question in my mind of 'do I back myself to land a shot or do I run?'"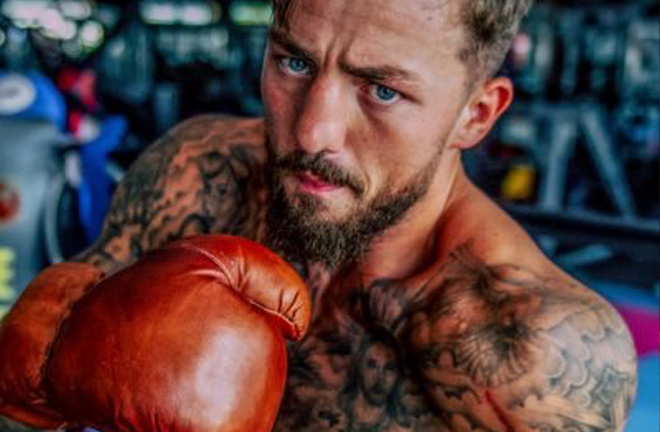 Had this been a few years earlier, before Reynolds had concentrated on boxing, you suspect this story could have ended disturbingly differently.
"He took a first step", Reynolds continued, "and I just thought, 'fucking hell' and made my way back to the tattoo shop where they've barricaded the doors.
"He's followed me, shouting from outside, still wielding the knife and wanting to do me harm. 
"I look at that and, still, I think he's angry and frustrated, just like I was. That could have been me if I hadn't have changed paths."
Seemingly all paths from his first encounter with Graham Earl led to a blossoming amateur career. Having competed in the World Series of Boxing, lifted national titles and produced a solid catalogue of wins in 2019.
There was real optimism – bordering on expectation from the outside – that Reynolds would be a cold-cut candidate for Tokyo 2020.
Prompt dismay, then, when Team GB's squad for the first qualifiers, to be held at the Copper Box in April, were announced.
No mention of Reynolds on the list who was seemingly blindsided by the hierarchy's decision not to include him.
"That was the moment where I kind of started to reconsider things.
"I'd won two national titles, I'd had a great 2019 and was picking up plenty of wins so I was confident I'd do the job.
"That hurt and I wasn't going to wait another four years: there's no way I could watch [the Olympics] without thinking that I should have been competing."
That inevitable frustration simmered away, but was soon turned into optimism with Reynolds making the decision to focus his energy on turning professional.
MTK Global climbed on board from a management perspective whilst Pete Taylor, father of Katie Taylor, will be guiding Reynolds from his base in Dublin.
A pro debut is scheduled for October and I asked the Bedfordshire boxer which of his amateur foes he'd wish to revisit in the paid ranks.
"I'll have all of them, man, any and all of them. It's rough and ready in the pros and they've either got that in them or not. What better way to find out than by getting it on again?
"I was involved in some really good fights as an amateur against some really talented guys and I can't wait to see those names again. I'll make sure people get their money's worth.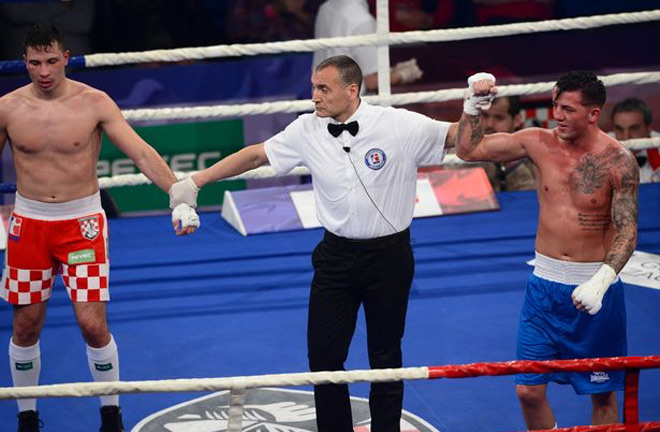 "Regardless of who I face I'm not looking to hang around because I've got plenty planned for my life.
"Pete has been exceptional with me and you know MTK can deliver the goods.
"I've just got to keep working hard and take the opportunities they give me. I'm not messing about, trust me."
The 25-year-old spoke with assurance and promised to combine his old-school love for jazz and Lindy Hop in order to be 'a throwback fighter.' His unique selling point, on the surface anyway, is how normal he comes across.
Despite his confidence and background there is no bravado or braggadocio, but a man that feels relatable. In many senses he comes across like Marty McFly playing Johnny B Goode at the Enchantment Under the Sea dance: "guess you guys aren't ready for that yet."
Our conversation ended with a moment of deep reflection as Reynolds encouraged everyone to "pursue their passions no matter what people say [and] be true to yourself at all times."
As we had begun, an hour previously, it seemed appropriate for the family man to return to just that when summing up his hopes for the future.
"Our family has been through the lowest of the lows with literally nothing to our name: homeless and not knowing where to turn for help.
"It's a really hard one to talk about, because even now it is so confusing in my mind to comprehend everything we've been through.
"Obviously as a kid you're not told the full picture, but you can see things with your own eyes and you know things aren't always right.
"My mum has been through it all. I remember her selling her jewellery just so I could afford to train and now I've got the chance to give back to my family and provide a better life."
Written by Oliver McManus.