"The highlight of my career was June 9th, 1978, when I fought Kenny Norton for the championship of the world at Caesar's Palace, Las Vegas. 15 rounds of fighting, it was a great fight. I mean, they gave [it to] me and I won by one point, but I thought I won it by a little bit more than that.
"So, I thought as I beat Kenny Norton that was it. That made me open the door for the rest of it."
Larry Holmes had achieved what he had set out to do from the age of 19. The Heavyweight champion of the world.
Heading into the final round of the bout the two men couldn't be split on the scorecards, whoever won the 15th round would be champion. The round began with Holmes confident he was already the clear winner.
As the bell tolled for the death of the fight, both men would raise their hands in celebration but it was Larry who would leave the ring jubilant.
"I didn't feel that I was really going in it, because I was beating him with the jab and the right-hand combinations.
"But he put a lot of pressure on me, applied pressure, and I thought I won the fight by more, but Kenny Norton thought he won the fight.
"So, but that's the way boxing is, I won and then I won 47 more fights after that, [19] championship fights.
"I was happy because a lot of people said that I couldn't do it, they said I would never be champion.
"And I proved to them that I could be a champion by beating the best fighters in the world and Ken Norton was one of them, he was just the first one."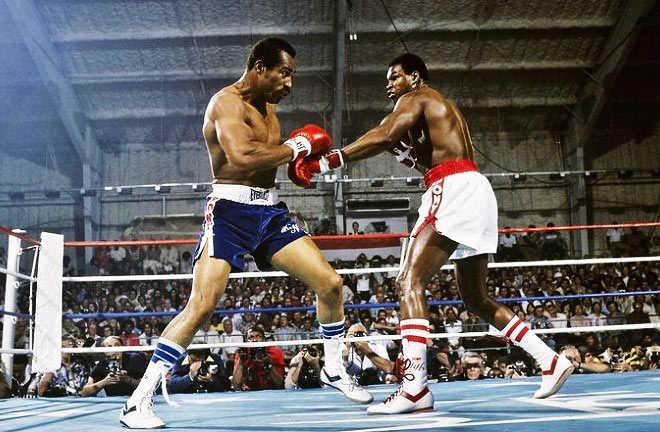 'The Easton Assassin' would go on to be widely recognised as one of the greatest Heavyweight boxers to have graced the sport. Ending his career with a record of 69 wins with just six returns, today Larry enjoys his retirement as he makes the occasional appearance at meet and greets or dinner shows.
However, this Hall-of-Fame career may never have started, as an 11-year-old boy, Holmes would repeatedly quit boxing throughout his childhood. It was when he started manhood at 19 when he started to take the sport seriously and invest in boxing. No more a stop-start past time.
"Well, I was always athletically inclined, I liked football, basketball, baseball, I played all of those.
"Then what happened is, I dropped out of school. You don't need it to go to school to box.
"You had to go somewhere else, so I went to the gym and I started learning how to box, and I liked it.
"Then I took over from there. I had [as an] amateur 23 fights, I won 22 of them, and after that, I turned pro and went professional."
In the professional ranks, we witnessed the Heavyweight king take on all comers, a plethora of elite punchers, Gerry Cooney, Michael Spinks, Mike Tyson and Evander Holyfield amongst the many. But, it was Muhammad Ali who brought Holmes his reputation and in a full circle, it was Holmes who diminished Ali's.
To begin his career Larry figured he needed to learn from the best. This led him to reach out to Muhammad Ali to be his sparring partner. A strange ploy to some, but there was a motive behind the actions.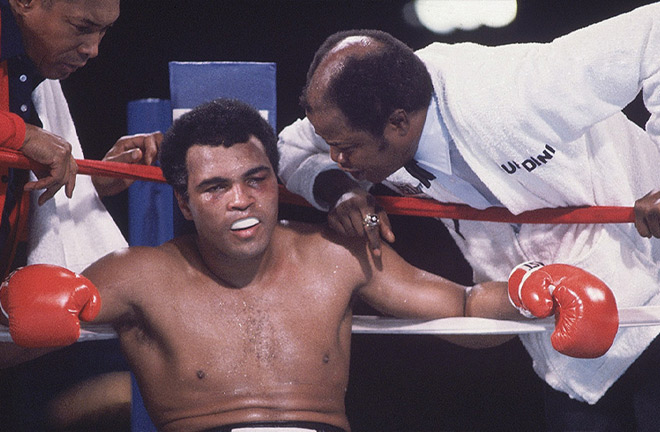 "Yeah, well you want to learn how to fight, you got to start with the best. So I asked Ali to give me a job as his sparring partner, and he said to me, 'Can you take it?' I said, 'Yeah, I can take it.'
"So he gave me a job to test me out for a couple of weeks, and then I was okay for him.
"And that was it, and then next thing you know, I had a job and same thing with Joe Frazier.
"The word was out that I was a good boxer, and I worked with Ali and then Joe Frazier.
"My intention was not to be a good sparring partner. My intention was to make some money, and box with the best fighters, and learn from them as I can. And that's what I did."
The lessons learnt years before were to be taught once more. This time it was the student delivering the schooling.
Ali came out of retirement in the hope he would become the first-ever four-time Heavyweight champion on October 2, 1980.
It all went to plan… for Holmes. Dominating proceedings from the first bell, fans endured a painful viewing of 'The Greatest of All Time,' as he was dismantled before, finally, Angelo Dundee, trainer to Ali, put an end to the display.
"It felt good boxing Ali because I knew what he could do. I knew because I sparred with him, I knew what he could do.
"And his jab was like my jab, his jab was fast, my jab was a little bit faster.
"I didn't take punches, that would be him that took the punches.
"And I was doing that while I was training with him, but when I got in the fight, I had to do the same thing.
"You learn how to jab, you learn how to duck punches, and learn just watching them. Ali used to do a rope-a-dope.
"I learned how not to do that, because I didn't want to stay up on the ropes to get hit.
"But I just learned everything I can learn from Muhammad Ali, I stayed at his camp. I ate there, he took care of me and that was okay."
Larry Holmes continued winning, 35 unbeaten after claiming Ali as a victim.
Number 39 would come in the shape of the 25-0, 'Great White Hope' Gerry Cooney. A career-high payday for both fighters and on paper as close to a true 50/50 bout you could find.
Unfortunately, the fight was overshadowed by the racial overtones applied during the build-up to the fight.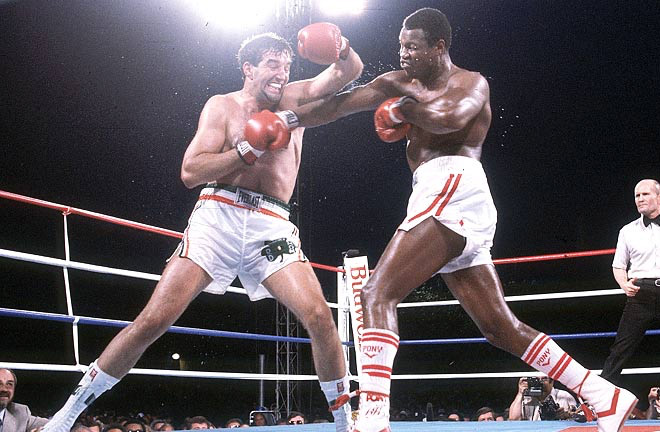 "Yeah, that build-up, I guess, promoters Don King and Dennis Rappaport prompting them, building it up like that to get the most out of the fight.
"You know, because that was the biggest payday that Gerry and I had to fight each other.
"Gerry Cooney was a big guy, still is. Big guy, strong punches, good… he had it going, he had everything going.
"But I had more experience, I was quicker than he was, and I took the punches that he had.
"And I knew that I could beat him, I knew that I could beat Gerry Cooney.
"But it was a white-black thing, white folks want the white man to win, and black folks want the black man to win.
"And I knew I wanted to win, and I knew Gerry Cooney [did too] because there was a racial thing. I came out victorious with it."
A record now in sight, the 'Assassin', was ten fights away from matching Rocky Marciano's unbeaten record of 49-0.
Unrivalled at the time, Holmes took a few "easy fights". An easy way to tally up the victories saw Holmes brush aside Randall 'Tex' Cobb, Lucien Rodriguez, Tim Witherspoon, Scott Frank and Marvis Frazier.
"They were easy fights, and I was making a lot of money, so I wanted to take the easy way out.
"I wanted to fight easy, I'll fight hard. It all depends on how much money they would pay me, and they would send me a lot of money to fight Marvis Frazier.
"Because they wanted to make it like a fight, because Joe Frazier was there.
"He was training his son, and his son fought like him, and they made a big thing out of it.
"But it was nothing really big as far as I'm concerned. He fought like his dad, and I was good at fighting his dad because I was training with his dad.
"So I knew I had to fight, but he wasn't strong enough to fight me.
"Should have waited a couple of years and then maybe he could've been all right."
After taking Fraizer's undefeated record, continuing his own, Holmes then overcame James 'Bonecrusher' Smith, David Bey and Carl Williams. Inflicting the first loss upon five of his opponents before the record-breaking bout.
The opportunity to become 49-0 arose, in the opposite corner stood yet another man who held a perfect record, Michael Spinks.
Despite being vastly less experienced than Holmes in the paid ranks, it didn't seem to matter on the night as Spinks joined only Bob Fitzsimmons as the only two to win World titles at Light-Heavyweight and Heavyweight at that time.
A result that Holmes disputes still to this day.
"They didn't want me to break his record, that's why they gave it to him.
I know I beat him, he knows I beat him, everybody knows I beat him.
"But that's the way boxing is, so I did what I had to do and they took the fight away from me, so that's the way it was."
Larry went on to lose to Micheal Spinks once more before retiring. Not for the first time. The cruel temptress that is boxing lured Holmes back in far too many times as he competed until 2002.
17 years removed from his maiden loss. The reason for the further four losses on his almost immaculate record. Perhaps the reason some fans overlook the great achievements Holmes earned.
In a recent social media debate it was decided that Anthony Joshua would've beaten Larry Holmes if both men faced one another when they were in their prime.
When asked how he would fare against the champions of today, Holmes initially indicated he would be at a disadvantage, "Well, I'm 70 years old, so…" One of the greatest jabs in the sport may have deteriorated, but his sense of humour hasn't.
"Yeah, well this isn't my time, you wouldn't hear of these guys.
"We'd beat these guys up, we'd beat them up.
"They don't have the abilities that we have, but they would've given us a pretty good fight.
"But when you got guys like Kenny Norton, Joe Frazier, Muhammad Ali, Ron Lyle, Larry Holmes, got a lot of good fighters out there when I was fighting.
"They couldn't stand a chance when I was fighting. When I was fighting, Sugar Ray Leonard was out there, Marvin Hagler was out there, [it's] no contest."