If you think of sports in San Antonio you think of the NBA side, San Antonio Spurs. Now, Mario Barrios has put boxing back on the map for the Texan city after claiming the WBA Super-Lightweight World championship.
Barrios' win brought the city its first world championship from a major sanctioning body since 'Jesse' James Leija claimed the WBC Super-Featherweight crown in 1994 with a win over Azumah Nelson.
"That was awesome. Coming back home to the amount of love and support, it was great. Even now I go to places and people know me, they ask for pictures and stuff. It's always a good feeling.
"It had been brought up that it hadn't been done for so long. But, I didn't take it as the pressure I took it as motivation, you know. It was huge for my city, going into the fight I knew what I was representing. It was worth that risk. That was kind of like a big push in those late rounds when you feel like you have nothing left, so you're still giving it your all."
Barrios claimed victory over Batyr Akhmedov in a classic at the Staples Center, Los Angeles as the pair met on the undercard to Errol Spence Jr vs Shawn Porter as one of three World title bouts that evening in September.
"It was my toughest fight to date, no doubt! He had a late rally and he had every intention on leaving with that belt. I tip my hat to him, he's a warrior. We were able to give the boxing community a fan-friendly fight."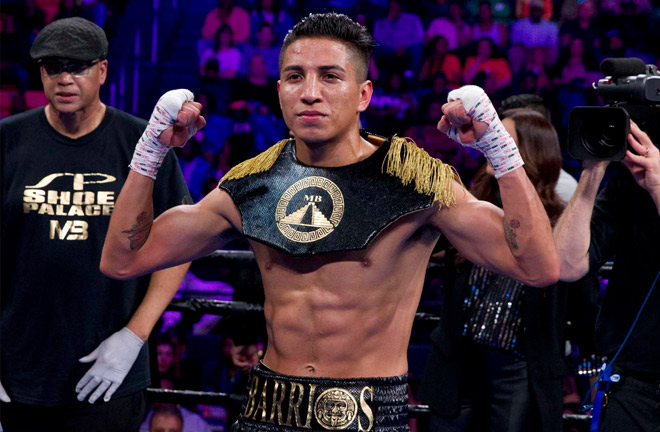 Boxing was bred into Barrios at a young age. Initially disinterested in the sport it took years and eventually trophies to attract Mario to the sport fully, he wasn't the only fistic Barrios neither.
"I was six-years-old, there was a lot of other fighters there, bigger fighters. I began to grow a passion over time. I think when I was twelve or thirteen, I won my first national tournament and that's when I really began to enjoy and really graft. I really made myself open to learning as much as I could.
"Me and my sister, Selina, we're very close. We started the sport together, my first day walking into the gym was her first day [too]. Like I said I was six but she was nine-years-old and to this day we still train together, we still push each other. Whenever she fights I'm in her corner, whenever I fight she's there ringside.
"It's been amazing. Boxing is a hard sport to go through [alone] but having my sister with me it's as close as you can get to it being a team sport. She knows exactly what it's like to go through this lifestyle and she's able to relate very well. We always push each other, we know to give each other advice when we need to."
Growing up in a rough neighbourhood is something you hear from many boxing backgrounds. Sam Antonio notoriously has one of the worst crime rates in America with one in 21 residents said to be a victim of crime. Barrios decided to keep his head down inside the gym, once he had completed school there was only one thing on his mind. Turning professional.
"I grew up on the east side of San Antonio. It wasn't the best neighbourhood. I started boxing and that's where I started the sport. I graduated high school and then I turned pro shortly after."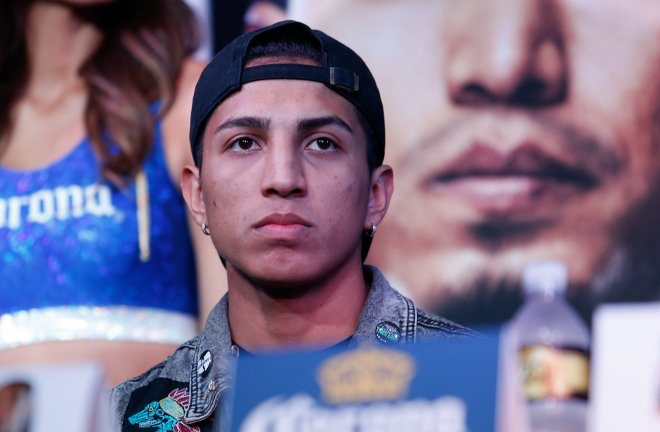 Now Barrios finds himself unbeaten in 25 professional bouts and a champion of the world at the tender age of 24. Matured beyond his years, Barrios has mapped out his forthcoming year.
"My focus is to go through the Junior-Welterweight, 140lb, division and I'm looking at taking over. I feel like I can give the boxing fans the best fights out there, the most entertaining.
"My goal for 2020 is to capture as many titles as I can before I outgrow the weight class. I have a huge frame for this weight class and I am still very young."
Once more a wise remark from a young man. Barrios recognised during the camp in the lead up to the Akhmedov bout he was struggling more than usual to make the 140lb limit. Mario realised the sport is tough enough without taking needless risks when it comes to cutting weight.
"We know it's going to happen. I've been at this weight for the past three years of my career and you can see how much I've grown into it. In the last fight, in terms of making the weight, we had a little more trouble than we expected but we know there are certain changes that could be made. We know it's only a matter of time, we will take it fight by fight and try to take over as much as I can before we decide to move up."
Judge, Zachary Young scores the bout between Barrios and Akhmedov 114-112 in favour of Barrios. However, taking into consideration the two knockdowns the Texan has scored it shows just how razor-thin the win was.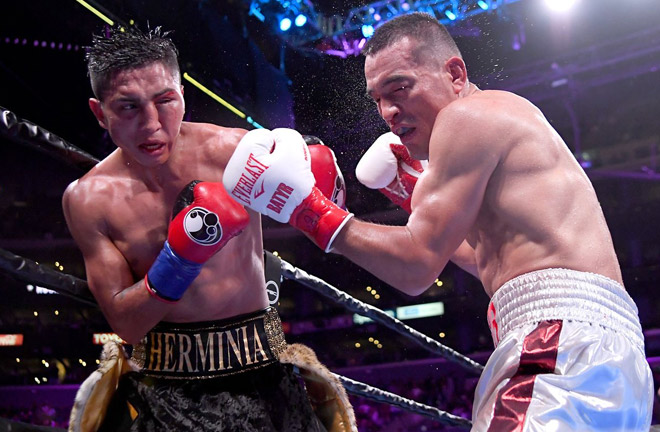 "Going into the final round I actually had it even. My corner told me I needed a knockdown or a knockout to win. There was no impression that I was up in the fight. I knew I had to make something happen and I was able to to put him down, thankfully. [Batyr] Akhmedov came on strong in the second half of the fight. It wasn't something I was expecting.
"I feel like, you know, when I knocked him down in that twelfth round I feel like even his corner knew that in their minds that [knock down] would solidify the win [for me]. When he touched the canvas I went to the neutral corner, I looked at his corner and their faces went from being very excited, very eager to just being very quiet and they had a look of disappointment on their face."
Even with the final round knockdown, uncertainty would've still played a part in the mind of the American. Once the referee had raised his hand and the words 'and the new' bellowed across the sound systems, that was it. San Antonio had their champion.
"It was a lot to take in. I was very excited, I was tired, exhausted, my face was swollen and hurt, it raised my spirits, I was super happy. I can't even put it into words."
There was talk of a rematch after the closely contested first bout. However, that doesn't seem likely to be an immediate rematch. With big fights on the horizon, Barrios is looking forward to an exciting 2020.
"Akhmedov's team had mentioned a rematch immediately after the fight. I believe they are in negotiations as they wanted a tune-up fight [first] I believe that's what we're getting ready for. We are trying to be as active as possible. If the WBA order the rematch I'll be more than happy to give it to him.
"I believe I was boxing very well in the first half and the reason why Akhmedov pushed on in the second half of the fight was because of the swelling of my eye and the cut, that was due to head butts, so that's why I had to change the way I was fighting as I knew I couldn't fight on the inside as I had wanted to. There are a few changes I could change looking back and we'll work on those in the ring."