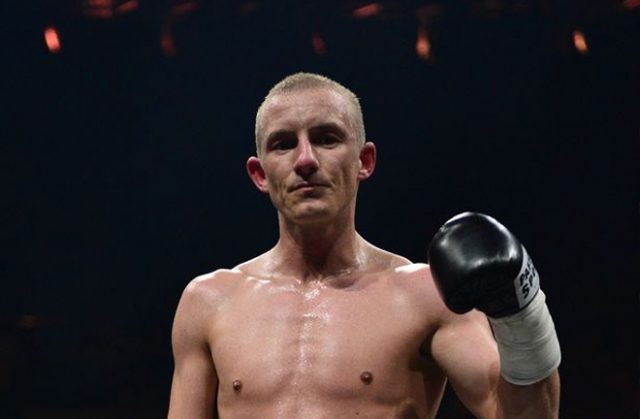 After a 36-minute battle, he was no longer just a prospect, he was champion of the world. All after just seventeen professional bouts.
In 2014, Paul Butler travelled to Newcastle as one of the hottest undefeated prospects in the country. He arrived in the North East with one intention, to snatch IBF bantamweight World title away from local favourite, Stuart Hall. Mission accomplished.
Unexpectedly, his reign as a World champion came to an end just twelve months later when his clash with fellow rising star, Zolani Tete, ended in dramatic fashion.
Although a crushing experience at the time, it is a defeat that Butler now looks back on as an educational one.
"You have to learn to live with it and obviously Tete went on to be a multiple-weight World champion and I can't moan with the result, obviously.
"Looking back, I could have done with a more solid game-plan, but he was unknown, and he has just blasted on the scene that night. But, I learnt from the things that happened and I am a better fighter for it."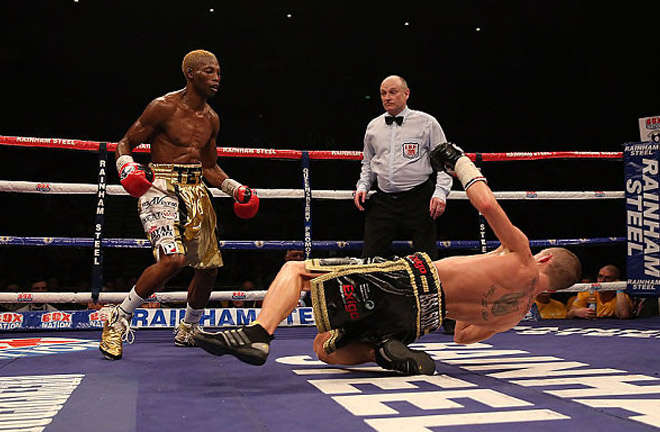 As one would expect, things have naturally changed in the preceding six years. Perhaps most importantly, Butler has restructured his corner team.
After turning over under the guidance of 'Arnie' Farnell, he bounced between a couple of gyms before finding a place he can call home in Manchester under the tutelage of former Ring magazine trainer of the year, Joe Gallagher. A partnership that Butler treasures.
"Joe is relentless. Every single day he is just studying opponents down to the finest detail and he just knows the game inside out. In the corner he is so knowledgeable and gives brilliant advice but it's not just in-between rounds, it's the constant guidance he gives throughout the fight, its priceless to me.
"The first day I ever came down to work with him, he was training Callum [Smith] at a local fitness gym. We agreed to do a two week trial and one of the first things he ever said to me was bring your swimming trunks for the session and that was completely alien to me and different from anything I had done before.
"I was the worst swimmer that day, I still am in the worst swimmer but it was a complete eye opener. Around the time I joined, Liam Smith was training for 'Canelo' and Anthony Crolla was training for Jorge Linares, I remember thinking this is just another world to anything I had seen before."
But, it's not just the opportunity to learn from Gallagher that the former World champion treasures. He is quick to point out the benefits of belonging to a stable that holds so many world class operators.
Every day he walks into the gym, he is surrounded by the likes of Callum Smith, Callum Johnson, Liam Smith and Natasha Jonas. All fighters that he studies, daily.
"Every time I walk into Joe's gym, I smile like it's my very first day four years ago. I still get that little buzz and although it's a bit different now with everything going on, the place is still thriving and bouncing.
"Before, I was just in a gym on my own and I would do my session and go home. Now, I have got teammates and they just keep the intensity and every day we are all trying to better ourselves and each other. You can't beat that; we push each other to the limit.
"You can't help but improve in this gym. Even after my own sessions are done, I make sure I watch the likes of 'Beefy' [Liam Smith] and Callum [Smith] and they will do things and I notice then try to adapt them to my own game.
"You can't beat that sort of company. You never stop learning in this gym and believe me, even though I have been a World champion before, I am learning every day and getting better too."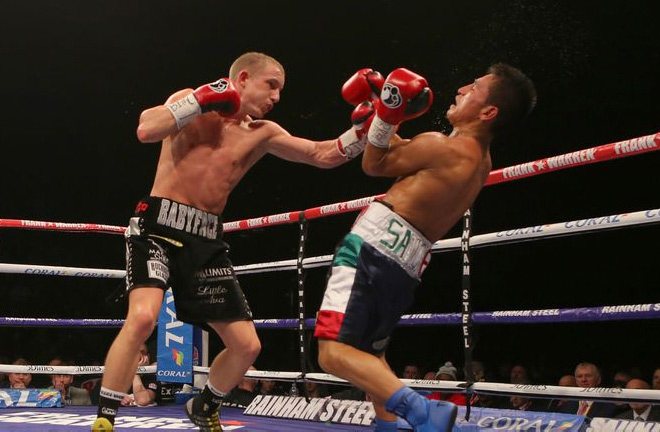 The first acid test with Joe Gallagher in his corner came in 2018 against Puerto Rican, Emmanuel Rodriguez. The Ellesmere Port man was ultimately beaten on points by Rodriguez but he always felt he was fighting at a disadvantage due to the brutal weight cut a day earlier.
"I missed weight and I was gutted but the reality is, I took the fight on four weeks notice. I was never going to not take the fight because I had the chance of being in the World Boxing Super Series, but it wasn't easy.
"I was getting abuse on social media, but these people don't know the full story. I know what I put myself through to make the weight that day, it was absolutely brutal. I tried everything. It wasn't like I was just sat in McDonald's without a care in the world.
"On the night, I actually felt OK but the left hook he put me down with shouldn't have had the effect that it did and that is because of the weight cut.
"I grew into the fight eventually and to be fair, I took bigger shots than the one that put me down, but I could just feel that the weight cut had a detrimental effect on my performance. The upside to that fight was too much for me to pull out and that fight could have been much closer, that annoys me still.
"I would love another crack at Rodriguez in the future with a ten-week camp under my belt. Maybe the result wouldn't change but I would love to find out."
Despite the two losses on his record, it is undeniable that Butler is comfortable at world level. As all athletes will point out, in order to remain competitive at the elite level, you have to find ways to continuously improve. For Butler, he has found a new lease of life in the shape of coaching at his old amateur club, Wirral CP.
"I love it and over the last year, I have got really involved. They are all good kids, they listen, they want to learn, and I love helping out. But, even at this stage of my career, it is helping me learn and Joe has noticed it also.
"The way I coach, I make sure the kids are doing everything correctly down to the small details. I am a perfectionist and as I am preaching these small details like making sure the left hand is up when its coming back from a jab.
"So, when I get on the bag myself with Joe, I am practicing what I preach and for Joe to notice the difference in my technique. It proves that my game is improving and I put that down to the hours I spend with the kids in the gym."
On a more serious level, Butler is aware of the benefit of an elite athlete providing guidance to the younger generation. With the temptation of heading down the wrong path always prevalent in today's society, he welcomes the chance to have a positive impact on youngsters in his area.
"I think it is so important for the kids, especially in this generation. They look forward to coming to the gym and it gives them purpose whilst also keeping them away from the streets.
"The stuff that goes on nowadays with gangs and violence if I can do my bit to help push them in the right direction then I will. The more kids that are coming through the doors of an amateur boxing gym the better."
The unprecedented times we are living in has brought the sport to an abrupt halt for four months. Like many fighters, the news of a countrywide lockdown couldn't have come at a worse time as 'The Baby Faced Assassin' was just days away from announcing what he describes as a "massive fight."
"I had been tied up as a reserve in the super series tournament and I was just waiting for a chance for a big fight and when I got this one sorted, I was over the moon.
"It would of got me right back to where I need to be and to be honest, we were literally about to announce it. Joe [Gallagher] had sent me the fight posters and said just keep them to myself because it was being announced in the next couple of days.
"Before you know it, all this stuff with the virus shut the country down. We were ready to go, and I was in a great place in the gym, but it is just one of those things you can't control. I know that fight or another big fight is just around the corner and when it comes, it will be worth the wait."
As we approach the second half of 2020, boxing is slowly returning, and shows are being announced on a weekly basis. With the sport getting back to its feet, matchups are once again being touted on social media and there is one man who has continuously chased a fight with Butler for years, Prince Patel.
Patel is enigmatic and divides opinion in the sport of boxing.
Despite fighting in the UK at the start of his career, the 27-year-old has spent the last couple of years parading around Europe picking up minor and often obscure titles.
Butler has been aware of Patel for a while and states he would be happy to put an end to the talk, once and for all.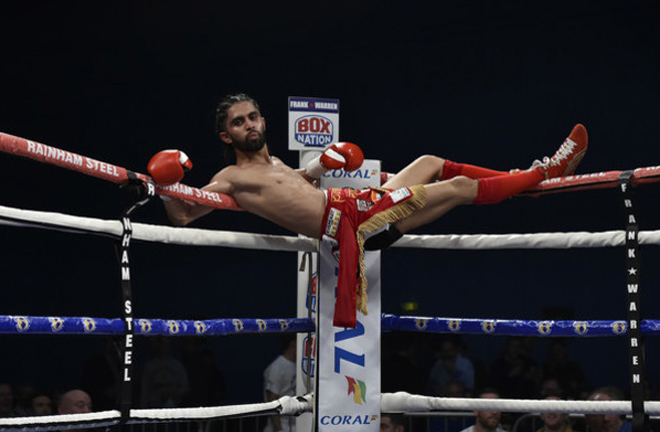 "I would take the fight and obviously I would be confident in punching holes in him. He talks a good game but look at where he is fighting.
"He is beating kids in Europe that wouldn't get a medical card in our amateur club, but these fights are IBO World title eliminators and that's why it interests me now. I want to show him what world level looks like.
"I don't ever expect him to take it though, he thinks he is a superstar and I predict he will use the excuse 'money' when it comes to the time to sign for the fight."
In December, Butler will have been a professional boxer for ten years and unlike most people, he has reached the pinnacle of his profession. The 31-year-old could be forgiven for resting on his morals as his legacy of being a World champion is written into history, forever.
However, as the talk of the future is brought up once again, his laser focused approach is contagious and although the goal of becoming a two-time World champion remains the priority, he is keen to provide his loyal fan base with more priceless experiences before he hangs up his gloves.
"I would love to go and fight in America or somewhere abroad. It is something all my fans constantly ask me, and they would love a proper away day. A few years ago, we were close to going to Ireland for the Jamie Conlan fight, but it didn't quite come off and it is something I know I would thrive off.
"I won my world title in someone's back garden and I would love to silence an arena again and at this stage, I think that would bring the best out of me and as I said, I would love to give my fans that opportunity to experience that."
The story of Paul Butler already has several intriguing chapters and he retains all the ability that took him to top of the bantamweight division before, but it feels different this time.
He will now walk to the ring armed with the experience of a ten-year professional career. 'The Baby-faced Assassin' believes he can reach the pinnacle of this sport once again and this time he plans on staying there. When you hear the drive in his voice, you would be brave to count him out just yet.