Four traveler boys, brothers, brought up on boxing. All representing the famous green and gold of Repton Boxing Club. But, only one went on to be a success in the ring, his name was Andy Lee, the former WBO middleweight champion of the world. His brother, Roger found that his destiny was to be outside the ropes.
Andy Lee is now known for his roles in punditry and coaching, recently teaming up with Joseph Parker, but it's his little brother who has been occupying the trainer position since he was just 17.
"My goal was to be a boxer. That was the goal." Roger told proboxing-fans.com.
"I never ever had any interest in training or coaching. Never did anything like that, I helped out, even when I was boxing.
"I stopped boxing and then I was out of the gym for maybe two years and I just missed it completely, just missed it, just missed me being in the gym. The amateur coach said, 'Why don't you come down and help out with the kids?'
"So, I went down and started coaching doing a little bit, holding the pads, and just seeing how it went. And I enjoyed it. I enjoyed it more.
"So, that's what happened and then when Andy turned pro and went to America, I went with him. We were over there for six or seven years and that's when it really started picking up, the coaching side of it, because it was with Emanuel [Steward] and stuff like that. So, that's how I got really into it then."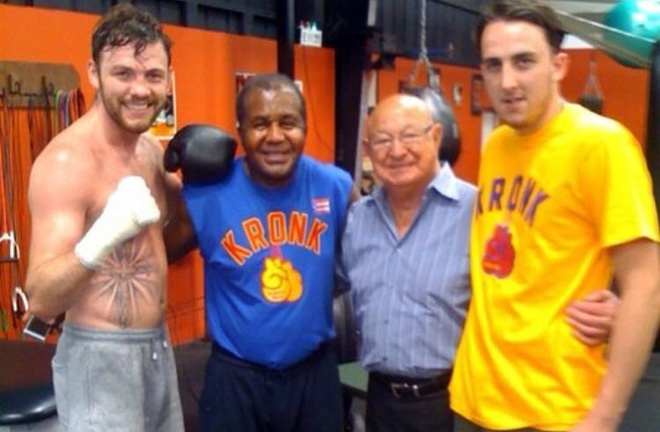 Lee, a fresh faced teen found himself in Detroit alongside his brother with a set of pads ready to learn from the master.
"If I think back before I met Emanuel, I didn't know anything about boxing. Everything I probably know now, he taught it to me. Just in and out of the ring, like just preparing fighters and what to do, what not to do, and how he just went about his business was… It's why his record speaks for itself.
"He's had so many world champions, but he was a really, really, really nice man on top of it.
"So, I'd say, yeah, as far as an education goes for a young coach, I couldn't have got a better one really. I lived with Emanuel in Emanuel's house on and off for maybe five years. I was with him every day mostly. So, I picked up a lot of things. I just soaked it up like a sponge. And it was a really, really good education for me."
For a man who was a prominent figure in the sport, Steward left his mark on every soul he met. Rarely if ever a bad word gets spoken about the Kronk legend and Roger digresses into why he had such a positive impact on him.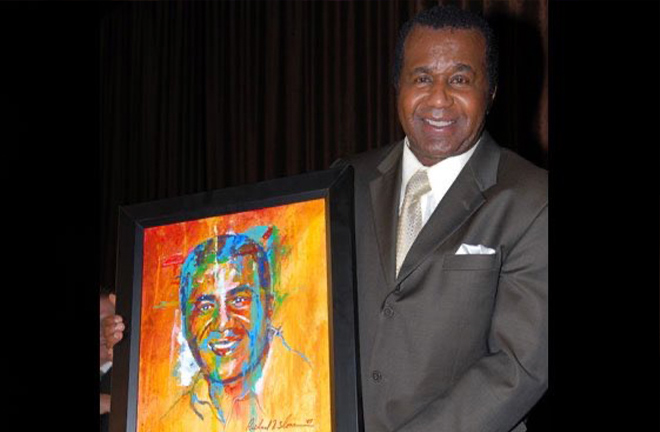 "Emanuel was a very, very generous man with his time. He was a very busy man, but he always had a lot of time for people, whether it be fans or people who want an autograph or a photo. He'd always have time.
"I didn't impose myself on Emanuel when I got there. I was just there. Basically, first of all, I just went over there to be with Andy, because he went to America on his own and just went over there for a bit of company.
"But yeah, as far as his coaching, like teaching you things, he had plenty of time for everyone. And if you wanted to learn, then he had no problem trying to teach you. He was a very generous man like that."
Time in Detroit came to an end for the Lee brothers after seven to eight years and it was time for pastures new. Redhill, Surrey was a long way from Detroit but it's where the journey continued.
'The Dark Lord' Adam Booth was tasked with guiding Andy Lee through the latter stages of his professional career and also the man to give Roger the opportunity of taking charge of his first corner.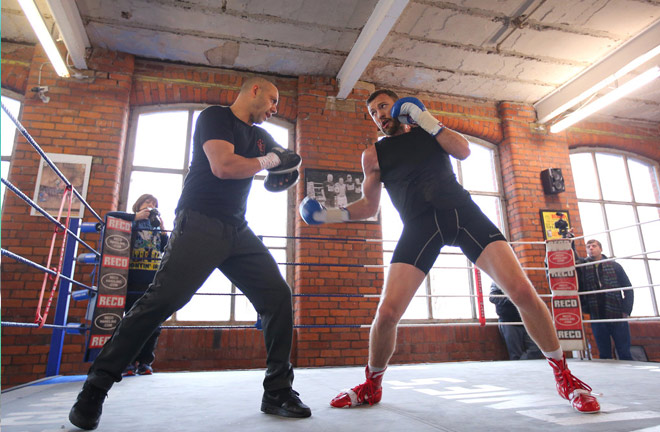 "It was amazing really how similar he was to Emanuel. He listened to the same kind of music. Very welcoming guy. A lot of time for you. And he did a really good job with Andy I thought.
"He added a few things that Andy didn't have when he was with Emanuel. More defensively. I think he was a little bit of a better defensive fighter when he was with Adam. Also conditioning was a little bit better.
"So, I think he added a lot to Andy, but also just a really nice fella. Yeah. I don't have a bad word to say about him. I think he's a brilliant, brilliant coach, but a really good man as well.
"When Andy worked with him, with Adam, I was still working with Andy a little bit, was involved training him and that. Then he went with Adam and I started working only with Andy, not with any of Adam's other fighters. Just helping Andy out.
"Then Adam said, 'Would you like to be my assistant?' And so we just went from there really. It was more of a natural thing. Nothing was put in on paper or anything like that. It was just organic. We just started working together.
"When Andy retired, I still worked with Adam for maybe another three or four years. I've only just recently stopped working with Adam, maybe about in the last two years."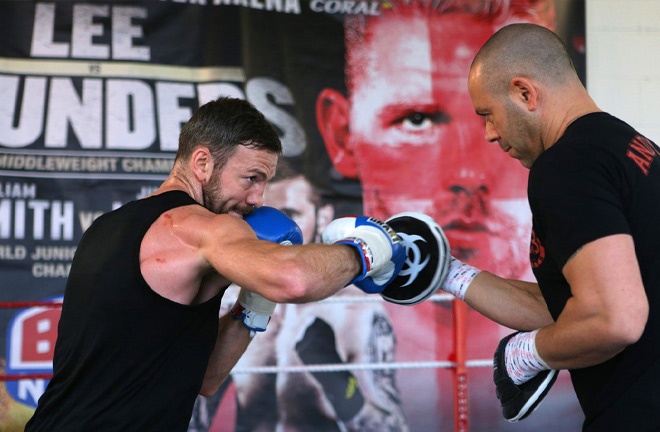 Roger witnessed firsthand the changes Booth had implemented into Andy's arsenal and he experienced his own adaptation to his coaching style.
"So, little things that he added to Andy, I picked up on. I try and work on them as well. So, I think, for me, what he added was a lot of little simple things that when I was with Emanuel, we didn't work on a lot.
"Like just holding on the inside and putting your body in the right position for when you're on the inside. And staying calm. Just little things like that, little technical things.
"So, I'm thankful for that really, because the stuff I learned off of Emanuel and Adam, it's a really good mix. Because I'm coaching a fighter at the minute and yeah, putting the things I've learned into here. Mostly it's having really good, good results. You know?"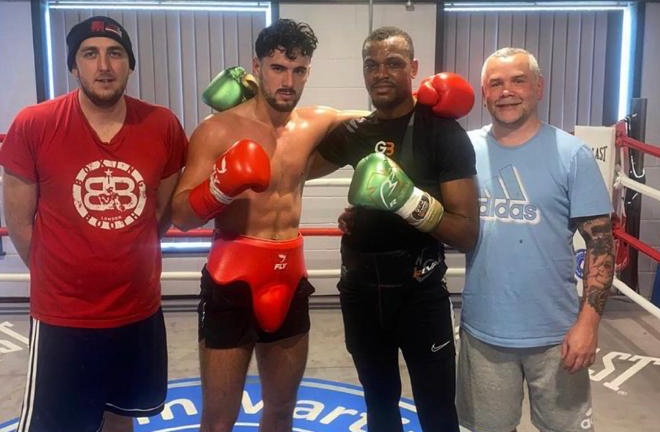 After spending all of his professional life inside two of boxing's great minds Roger is aiming for success with his fighter, Johnny Ward.
"Johnny Ward. Yeah. He's super middleweight. He's 2-0 at the minute. He's 20-years-old. Really good boxer, a good boxer-puncher. He can punch a little bit. He can box. Good amateur career. Turned over when he was 19 and then he had two fights pretty much straight away.
"Then the COVID came in, so he's been inactive since late 2019. So, just trying to get this COVID out of the way and then hopefully getting back in the ring, and get some more fights for him.
"But he's still working. He's been training all the way through the lockdowns and stuff like that. Inspiring some top quality opponents and he's progressing. He's young. He's got plenty of time on his side, so that's a good thing."
Andy is now learning his craft all over again this time from the ring apron following in his little brother's footsteps. Roger is the first person he'll call for advice.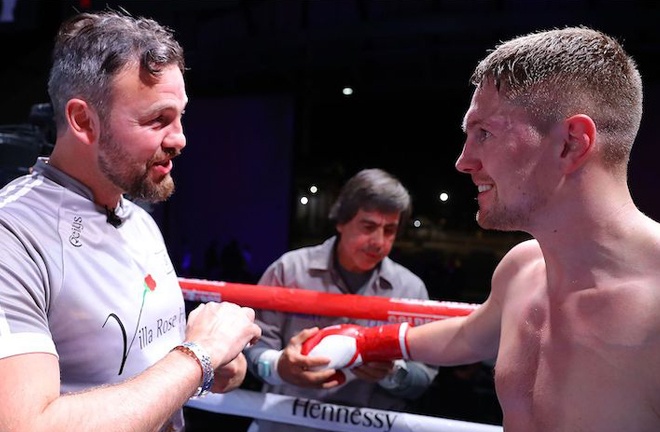 "We speak all the time. He'll send me some little clips of pad work, or bits of sparring, and see what I think. And I do likewise to him.
"He'd probably say I have a little bit more experiences coaching, but I also like talking to him because he has the experience of being in there at a really top, top level.
"So, if I can get a little bit of information off of him and pass it onto my fighter, it's invaluable. So, we talk all the time about coaching, about boxing. It's funny, because when we were younger, we never used to talk about boxing really."
Andy boasts a stable containing Joseph Parker, Jason Quigley, Paddy Donovan whilst helping Javan 'SugarHill' Steward with Tyson Fury.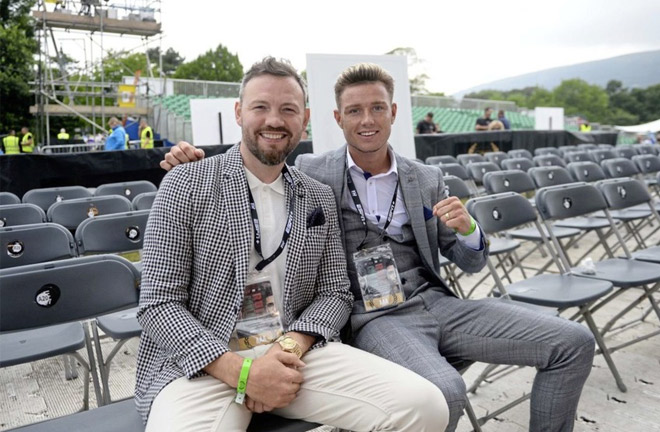 The former world champion himself confesses he would never have got into coaching had it not have been for 'The Real Deal' Donovan but Roger too played a big part in the transition for Andy.
"I think Andy's a very intelligent guy when it comes to boxing. Even his TV work, when he does his analytics and stuff like that, I think he sees a fight really well.
"I think it would have been a shame really, but yeah, he just fell into it. Paddy Donovan approached him about coaching. He was talking to me. I remember when it first come about, because I knew Paddy from the amateurs in Ireland. I used to coach in a gym that he started off in. So, I coached Paddy when he was a little kid, maybe 10 or 11.
"So, I said, 'Paddy has got it.' And even then he had talent, so I said, 'Paddy's got a talent.' So, he said, 'Yeah, I'll try it out.' And he's built up a reputation as a good trainer. He is a good trainer."
Whilst Roger would like to see his stable grow and one day own his own gym, for now his priorities remain his family. Seeing his two young children grow up before committing himself to his craft is the here and now but the future could bring world champions and glory.