"You put me at Lightweight against any of their hungry lions right now and I will tear that lion apart. If they don't want to sign me they are fucking crazy."
There's a steely edge to Romeo Casanova Valentino Romaeo as he's ready to pick up his boxing career after a four year hiatus – one that was sadly needed.
When he burst onto the Lightweight scene nearly seven years ago, he certainly turned heads. A cocky boy with a bodybuilder's physique and long dreadlocks.
Word quickly spread about a talented kid who was living an unorthodox lifestyle.
A BBC documentary filmed in 2015 revealed more.
At the age of 12, Romeo's father, Tony, had moved him out of the family home, and society, to live in a forest.
The documentary shows Romeo, 19 years old, in a Peacock gym t-shirt deadlifting logs, running through streams, encouraged by his father.
The Lightweight boasts of eating roadkill, and vows he has never once eaten chocolate, sweets or drunk a fizzy drink. In his own words it was "beyond extreme."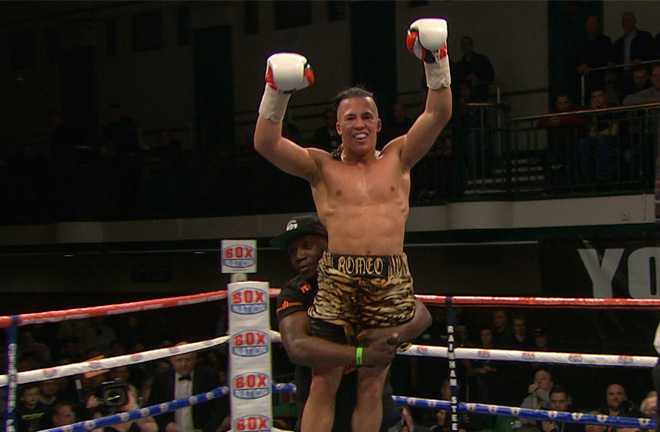 His last fight was against Czech Republic's Michael Dufek at the York Hall in March 2016 which he won via a seventh round stoppage.
Other prospects fighting on the card at that time were Archie Sharp, Gary Corcoran and Anthony Yarde.  
They went on to better things. Romeo simply vanished with his 10-0 record.
Four years later, he is back. So where has he been?
"You can tell in my tenth fight, that it's a different me you know?" he said.
"You can see there's something on my mind and you see there's pictures being taken of me, I wasn't smiling, I wasn't happy.
Romaeo continued, "I went through a lot the night before the boxing up here [pointing to head]. It was breaking me. I needed time out, I needed to escape.
"Like with Tyson Fury, he went down a downwards spiral with depression and mental illness. That's exactly the same as what happened with me.
"There's only so much that someone can take and I can take a lot. My mental health was always up there, I was mentally strong."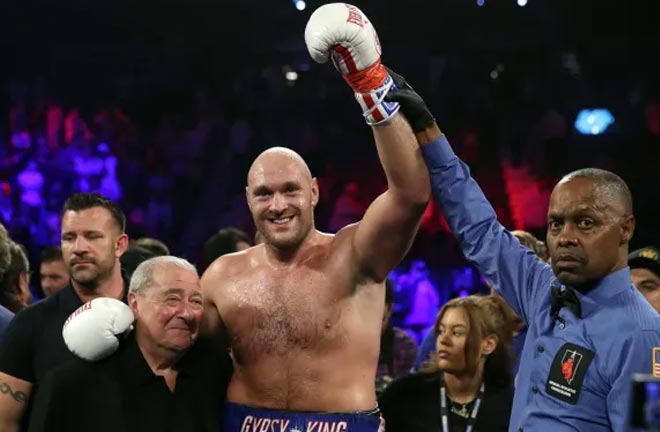 "I've got my kids to think about now, I've got a family to think about I'm doing this for them. I'm doing it for myself and I'm doing it to prove a point to people that I am not this pathetic, young, flamboyant arrogant prick that I was back in the day."
Part of the need for his escape was a decision to leave his father. They have not been in touch since.
"You can throw anything at me and I won't give a toss, I don't fear no one, I don't fear anything.
"But like I said, it was so much from the age of 12 when he took me to live away from my mum to live in a forest. It's only so much until your brain goes pop."
Romeo's routine, designed by his father, was gruelling, training three sessions a day between 5am-7am , 11am-1pm and 5-9pm seven days of the week.
The lack of any normal semblance of life compared to a typical teenager, let alone a young sportsman, weighed on him. 
While other young boxers still had time to socialise, build relationships and do normal things like visit a coffee shop, Romaeo's life remained dedicated to training and little else.
"It was to the point where I went upstairs at the Peacock Gym bathroom late at night, that's where we used to sleep at night in a unit behind the Peacock Gym.
"I am very thankful for the Peacock Gym for what they have done for me. They let me stay at their gym and they are great people there.
"But every single night, I used to go up to the Peacock Gym, go up to the bathroom and I would cry and cry. I used to cry myself, banging myself." Romeo continued.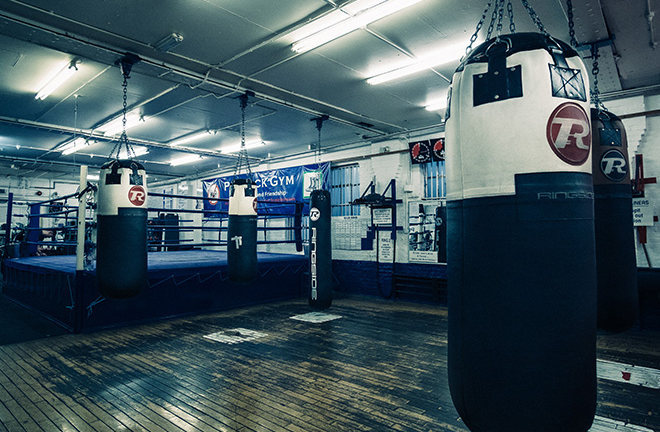 "I used to look at myself in the mirrors, slam my hands on the sinks and just knock my head. I used to say to myself, 'what the fuck. I can't do this no more.'
"There's only so much that I could take from being a young boy, by the time I reached the age of 20 I just couldn't hack it anymore. You know, I was lost. I was a lost sheep and I needed to get away and I was seriously ill.
"So I just got out and left, tried to find my own feet but it all went kind of downwards for me. I just needed to find my own feet but it took a fair few years for that. Just to recover, find my own self you know?"
Romeo's promoter at the time, and one of his childhood heroes, Frank Warren, was concerned about the flamboyant young star and tried to get to the bottom of it, inviting him to a boxing show to try and find out what was going on.
"I went up to the boxing show and sat next to him and although we didn't talk about exactly what happened, he looked at me right in my eyes and said, 'Romeo, if you need anything and you want to talk, I am here to talk with you.' He said, 'do you want to talk?'
"Being a young boy at 20, he asked me such a question like that I said, 'no.' At the point when I really needed someone to talk to, after everything that had happened I needed someone to actually say 'sit down, let's work things out.' We need to talk – get all your emotions out.
"I took all the pressure on my own. The amount of mental breakdowns I've had, sad thoughts I've had. I had to do it all on my own."
Romeo visited his mother, Elaine, who he hadn't seen in seven or eight years, but not even she could get him to talk about his issues. Romeo was suffering from depression and did not know how to deal with it.
"I was on the streets, I then went to my partner. I was trying to sort my head out, my head was all over the place, I didn't know what I was doing.
"Everything went downhill, trying to get myself back together and everything, I was out drinking, I was trying all these bad foods, I was out partying.
"It wasn't me. The only thing I didn't do was take drugs. I never went through that. But I was having suicidal thoughts."
Two years ago Romeo briefly resurfaced and signed a contract with management company S-Jam led by Sam Jones.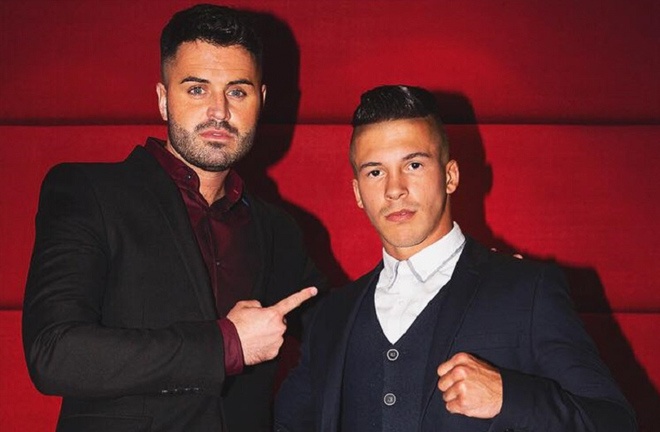 However, training camps in Bournemouth and Scotland, where he teamed up with Billy Nelson, were unsuccessful, and Romeo was still struggling with his mental health. He went to ground again.
After much soul-searching, Romeo decided to get back in touch with his partner, who in the meantime had given birth to Romeo's first daughter.
"I thought the most important thing was who needed me most, and that was my partner at the time so I ended up getting back in contact with her. I missed my first child's birth. I saw my little girl, it was upsetting. I should have been there.
"But it brought me back to the realisation, to the real world, and what I should be. I am the fighter you know, I am the fighter that people need to see. I have the real fight in me. I'm not someone who gives up easily.
"It was my family who brought me back together and told me to snap out of it, they told me that they were there for me and they were going to help me get me back into the swing of things with the training.
"I go out running, I tell my partner I've done a 10 mile run and she'll tell me to go out for another mile! Because that's what I need. And my partner tells me she's proud of me every single day.
"How that feels, to look into my kids eyes and they tell me they love me. To see the love in their eyes they have for me. And fighters think they can put their foot in my path, trying to destroy my life? What I was meant to be?
"I was meant to be a World Champion and I would've been a World Champion by now. But fuck the past, it's all about the fucking now. I'm going to prove, I'm the World Champion everyone knows I can be.
"I'm going to make my family proud, make sure I make my little girls proud, make sure I do myself proud and I'd love to say I will make Frank Warren proud."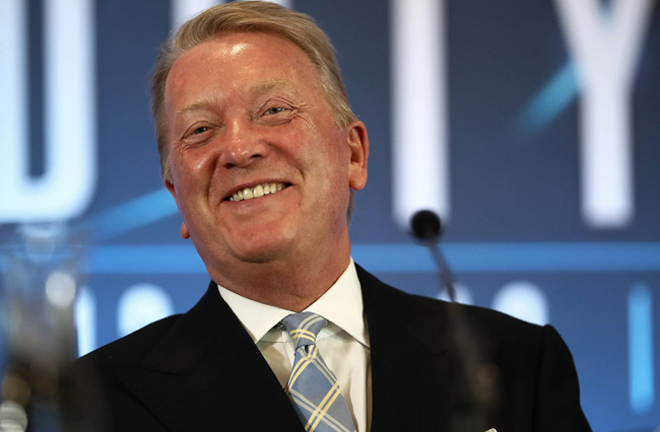 For Romeo, it's time to start afresh and he explains he just wants an opportunity to get back into the sport.
He is remaining tight-lipped on who in the boxing industry he is currently working with, but promises there will be news soon of an elite trainer.
He also has the small matter of re-applying for his boxing licence, an issue which is further complicated by COVID.
"Look, when I get back in there's going to be no messing around, there's going to be no pussyfooting around.
"Whoever is going to be stepping in my path I am going to be demolishing them left, right and centre. I'm not going to let my mouth run away from me but I'm going to cause some problems to people.
"The Romeo Casanova Valentino Romaeo – the forest boy who grew up to eat no chocolate, the body builder, great body, great physique, this, that, and the other that everyone used to rave about. 
I know there's people out there that would love to have me on their record. They would love to say that they've beaten me. Well let's go then.
"You can ask Don Charles himself. I was with Don Charles for a little while. When he took me on his pads when I told him I was coming back and I was delivering those serious left hooks, he felt my power.
"I am that hungry and that eager to go out there and actually demolish people right now.
"I'm 24 now, in my last fight I was 20. I have got my man strength now. I feel incredible. I'm in good shape and I've always kept up with my fitness, all my training, and I think it's now.
"It's time to show the world that this is the Romeo that everyone has been waiting to see."
It remains to be seen if he will fulfil his dream of being a World Champion, but one thing is for sure – there's definitely another few chapters left to write in Romeo's story.
He issues one final warning… "Everyone is going to be seeing a completely different Romeo now. I just want to be knocking people out. I'll be showing them what raw power I do have now.
"I'm dangerous. I need to unleash all this build up that I have in me and show the world what they've missed in the last three or four years."
Written and interviewed by Matt Aplin.