Entering the first title unification match of his career—despite being WBA World middleweight champion for over five years—Sturm has gone on record as stating that he's viewing the upcoming bout with Australia's Daniel Geale as the biggest of his career.  Although that may seem like an overstatement for a man who fought a very game, albeit post-prime, Oscar De La Hoya, it would a very appropriate statement to make about Geale.  The 31-year-old holder of the IBF middleweight strap is taking a well-calculated risk in facing Sturm.  A victory would undoubtedly be the biggest of his career and would immediately launch Geale into the spotlight and potential higher profile bouts as well.
When: September 1, 2012
Where: Koenig Pilsener Arena, Oberhausen, Nordhein-Westfalen, Germany
The Pugs and The Prize
Felix "Leonidas" Sturm (37-2-2, 16 KOs)

Height: 5'11 ½
Nationality: German
Age: 33
Fighting out of: Cologne, Nordhein-Westfalen, Germany
Stance:  Orthodox

Daniel "Real Deal" Geale (27-1, 15 KOs)

Height: 5'10"
Nationality: Australian
Age: 31
Fighting out of: Mt Annan, New South Wales, Australia
Stance: Orthodox
This will be a title unification bout with Sturm's WBA Super World middleweight and Geale's IBF middleweight titles up for grabs.
Sturm vs. Geale Preview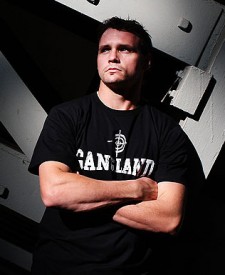 It's easy to pull for a guy like Daniel Geale in the lead-up to this fight.  He's toiled away for years and only recently really gained credibility as a very good fighter.  What he lacks in the name recognition of Felix Sturm, he more than makes up for with skill and determination.  Boasting a solid record, the knock against Geale still remains that despite good marks, he really hasn't faced a plethora of world-class opposition on his way to the IBF strap.  Again, not to diminish what the man has done in his career, but by facing—and potentially defeating—Sturm he will eliminate any doubt regarding his place in the sport.  Geale's last fight was a unanimous decision victory over Osumanu Adama back in March.  His sole loss came via split decision to Anthony Mundine back in 2009.
In the other corner, Felix Sturm has taken a bit of a more confounding path in his career.  Following the De La Hoya loss in 2004, Sturm disappeared from the US boxing radar.  Much of that was his own doing, choosing to defend his middleweight belt in the friendly confines of home, while avoiding overtures from big name, talented American opponents. That helped him run off a 17-1-2 record since that night in Vegas, although he has received his karma back in turn from that poor decision on at least several occasions. Sturm is coming off of victory over Sebastian Zbik in April, when Zbik could not come out to start the ninth round.
The Analysis
Geale cannot allow this fight to go to the cards, plain and simple.  There is nothing to imply that any misdoings may be afoot, it's just common sense: don't let the judges decide when you're fighting a guy in his backyard — and that backyard is Germany, and that guy is Felix Sturm.
To ensure that a decision is reached before the final bell of the 12th round, Geale is going to have to do something that few before him have been able to—hurt Sturm.  If this match comes down to pure boxing, the decision could just as easily go in Sturm's direction.  A better natural talent, Sturm has the pedigree and international success that has allowed him to thrive throughout his career.  He won't overpower Geale, but he can certainly outbox him the longer the fight progresses.
Geale will need to carry the same intensity with which he starts the fight throughout the entire bout. Not to imply that Geale has taken rounds off in the past, but this would certainly not be the fight to do anything remotely along those lines.
Sturm vs. Geale Prediction
This truly is a fight that middleweight fans everywhere should be looking forward to, regardless of allegiances.  Expect Geale to be the aggressor to start the fight.  The Aussie will look to set the tempo while simultaneously drawing Sturm out of his comfort zone. Key to this will be quick strikes, taking the fight inside whenever possible and not being afraid to unload with his powerful right hand. Sturm will be the more patient throughout the early rounds, relying on quick combinations of jabs and straight rights to keep Geale to the outside, being constantly mindful of his opponent's ability to go all-in with a full body attack at any moment.
The key for Sturm will be to neutralize Geale's power by relying on his quickness and pure boxing ability.  He'll keep moving throughout the early rounds and, once he feels he's ahead, the focus will shift more toward scoring points and picking shots.  On the other side of the apron, Geale will need to make the fight look as if it's his from the opening bell.  Take big shots, and step back; allow the reverberations of a solid combination echo through the heavily partisan crowd.  Sway the judges and, perhaps, a handful of the Oberhausen faithful.  Geale will need to fight his fight, while remaining mindful that the odds are not in his favor if this goes the distance.  A stoppage may be what he'll need in order to walk away with the 20 pounds of gold.
It may not seem the most likely of scenarios, but what is going very right for Daniel Geale right now looks like it will overtake that which may not be going as smoothly for Felix Sturm.  Sturm's a better technical boxer, but the wear is starting to show a bit.  Hard to call this one a true "upset," but look for Geale to unify the titles in a controversial finish.
Prediction: Daniel Geale by split decision